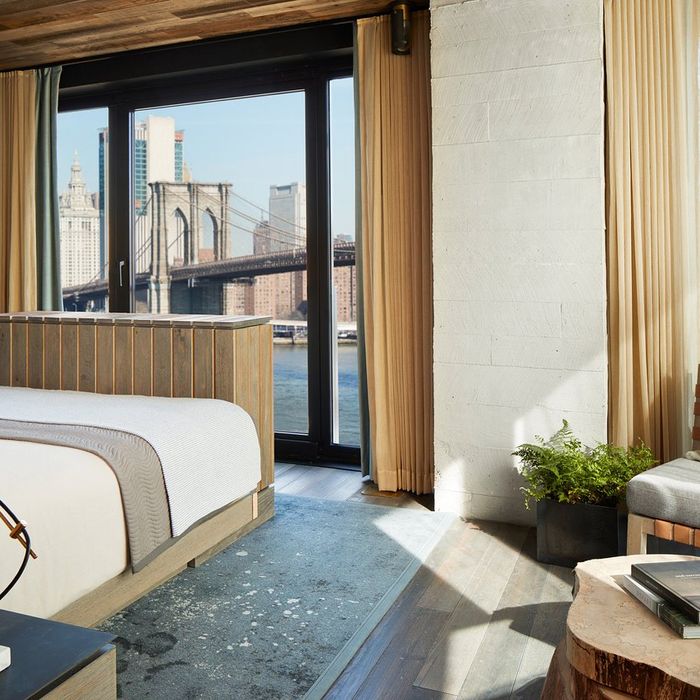 Photo: Courtesy TripAdvisor
Here at the Strategist, we like to think of ourselves as crazy (in the good way) about the stuff we buy, but we get even more obsessive when it comes to the places we visit. After all, you can't return a hotel stay like you would a carry-on suitcase or travel pillow. And as much as we'd like to, we can't stay everywhere. That's why we've expanded our People's Choice rubric to include TripAdvisor, in which we follow the wisdom of the crowd to find the best-reviewed hotels and single out the most convincing ones. (You can learn more about our rating system and how we pick each item here.)
We read through over 200 hotel listings to find the ten best hotels in Brooklyn, according to the most enthusiastic reviewers on TripAdvisor.
Best-rated boutique hotel in Brooklyn
214 Franklin St., Brooklyn, NY 11222
Franklin Guesthouse, a 30-suite hotel located in Greenpoint and run by the same folks who own the highly rated Greenpoint hotels Henry Norman Hotel and Box Hotel, stood out to many reviewers for its design. The loft-style suites and studios feature spacious layouts with hardwood floors, marble bathrooms, and, according to one traveler, "unique art and knickknacks that don't scream 'hotel.'" The suites, which all come with fully stocked kitchens, are described by dozens of reviewers as apartmentlike. One reviewer from Houston describes the décor as "somewhat of a Scandinavian style," thanks to the clean white and gray accents and light-wood furniture. But aside from the rooms, reviewers praised the staff's hospitality and, in particular, an employee named Dwight. One reviewer explains that when she called the hotel for an early check-in owing to her husband's migraine, it was unable to accommodate. However, Dwight met them at their restaurant and offered to bring her ailing husband to urgent care or fetch an Advil. And when another traveler, who'd stayed at the Franklin for three weeks, went to check out, he was delighted to find a farewell greeting card signed by all of the staff.
Best-rated chain hotel in Brooklyn
125 Flatbush Ave. Ext., Brooklyn, NY 11201
This Hampton Inn, located in Downtown Brooklyn just a few blocks from the A/C Jay Street–Metrotech Station, has dozens of repeat customers, like one who stayed here twice in four months for over 13 nights in total. He says a standout feature is the complimentary breakfast, which offers fresh fruit, bagels from a local bakery, turkey sausage, and homemade waffles. Nearly 100 more guests call out the complimentary breakfast as a highlight, with many saying that even compared to other Hampton Inns, the choices were "a notch above," as one reviewer puts it. The all-day fresh-baked cookies in the lobby were another culinary highlight, but the rooms themselves are "what you would expect from the Hampton Inn, simple and clean," writes one reviewer from Chicago, who was in town for the AfroPunk Music Festival. "There wasn't anything flashy or incredibly high-end about the room, but it had everything that you need to have a good experience." The hospitality, especially from manager Brian, also made reviewers' stays feel more personalized. One Manhattan resident stayed at the Hampton Inn for her wedding and says Brian brought bagels to her room as well as a floral bouquet on the day of the event. Another reviewer, who also stayed there for her wedding, booked over 40 different rooms for 80-plus people and found that Brian made check-in and check-out the fastest any of them had ever experienced.
Best-rated (less expensive) hotel in Brooklyn
46 Nevins St., Brooklyn, NY 11217
For those looking to get in a proper workout while away from home, the Even Hotel, located in Downtown Brooklyn, has a comprehensive gym and in-room fitness equipment, including yoga mat, exercise ball, resistance bands, and workout guides. "The emphasis on physical health with in-room equipment and yoga mat is very creative for folks who lose their routine when traveling," writes one reviewer, who notes that Even offered "a positive, relaxed environment during a busy workweek." One more reviewer appreciates that you can easily "workout without stepping out of the room." The rooms are simply decorated but have enough floor space for travelers to practice yoga each morning or get in some ab exercises. And lots of travelers say that they feel rejuvenated after staying here, including one New Jersey native who stayed here for two nights on business. "From the check-in where I was treated to a flavored water and warm moist towel, to my room which had its own exercise equipment, to the fully equipped gym which included free weights, to a shower, to the room itself, to the amazingly healthy and delicious food, everything combined to make me feel mentally and physically fantastic."
And now for some micro-picks for every type of hotel in Brooklyn you might be looking for.
Best hotel in Brooklyn for a restaurant and bar
77 Box St., Brooklyn, NY 11222.
Located in a converted factory, the Box Hotel features 130 spacious rooms that each have high ceilings with industrial details, including exposed pipes and dark hardwood floors. The décor errs on the modern side, yet reviewers still say the rooms have a homey feel, with footed beds and plush sofas. But the one amenity that stood out in nearly 500 reviews was the in-hotel restaurant, the Brooklyn Lantern. The moderately priced restaurant and bar is open all day, with basics like burgers and truffle fries for dinner and eggs Benedict for brunch. One traveler from Manchester says he "had one of the best burgers ever there." And another recommends the French toast for breakfast. Reviewers who stopped by the bar specifically mention the bartender Dave. One traveler who stayed at the Box Hotel "for 30 days on business" writes, "Dave in the bar was truly a master mixology." (He advises future customers to try his old-fashioned.) If you want to eat outside the hotel, though, reviewers suggest you look for Felix, the driver of the hotel's old-fashioned car. He'll travel within a mile of the hotel and take you to the restaurant of your choice, an experience that one reviewer says "made us feel like celebrities."
Best hotel in Brooklyn with a pool