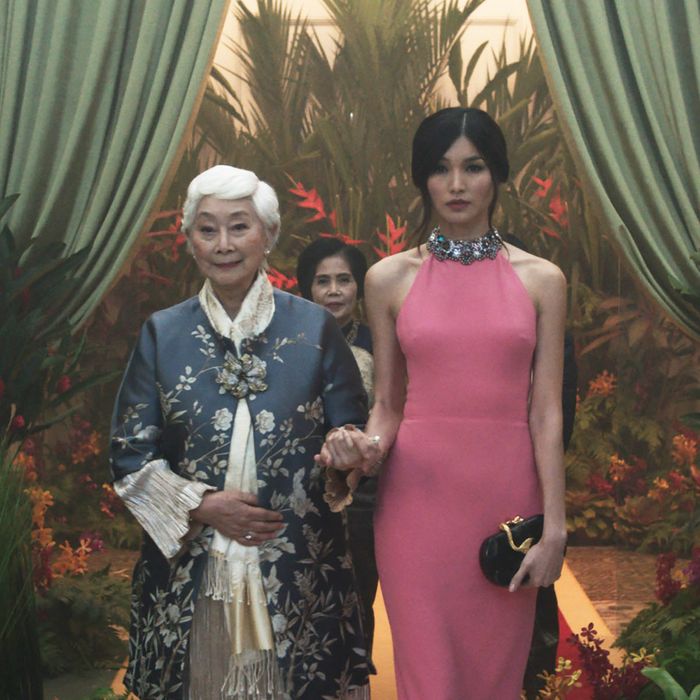 Photo: Courtesy Warner Bros. Pictures
In reporting this story, I dropped by my own grandparents' house to ask my Nana what she wanted for Hanukkah this year. "I just love spending time with you, sweetheart," she said before launching into a story about how Hanukkah never used to be a gift-giving holiday. While incredibly charming and, I guess, informative, it was not exactly helpful (sorry, Nana) — and thanks to the pandemic, it's not exactly practical either. Shopping for grandpas is easy enough (a nice pair of argyle socks or books about past presidents or retired athletes tend to go over well), but shopping for grandmas is a bit more challenging — especially if they're anything like mine.
To find the best physical gifts to buy for someone who only wants to smother her grandchildren with love, affection, and food, I spoke to my Nana and nine others — between the ages of 52 and 89 years old — as well as a couple of granddaughters who've had success shopping for their own picky grandmothers. And because the holidays will be a bit tricky this year, due to travel restrictions (not to mention a potential second wave), we even found some gifts that would be particularly great for those who aren't able to see their grandmothers this season.
According to all ten grandmothers I spoke to, the next best thing to being with a grandchild is having a picture of said grandchild. Even though almost every inch of my Nana's kitchen (including her fridge) is plastered with framed family photos, she told me she'd welcome more. Vox Media programmatic sales director Kat Miller told me that her grandma is "a Chinese grandma to a T, and the toughest cookie you'll ever meet. She literally wants nothing." But a few years ago, Miller got it right by gifting her an album of her wedding photos. "She loves seeing memories of the family. Her house is littered with photos of everyone, even dating back to old photos of my great-uncles and so forth." Kathy Van-Etten, who has four grandchildren under the age of 4, agrees, telling us that framed photos of her grandkids would make her happy. When we tested online framing services last year, Framebridge came out on top for its wide variety of framing options, all of them high quality and user friendly.
But if you can't deliver your gift in person, Framebridge also has a selection of frames it thinks work well for gifts — and they come specially wrapped in a nice olive-green box complete with a satin ribbon, so your grandmother will still have the experience of opening a gift from you (and it might even be wrapped a little better). You can customize size, orientation, and frame material, then send it off to her home.
If you want to gift a frame that allows your grandma to see more than one family photo, MaryEllen Sayegh, a grandmother of one, recommends a digital photo frame. She bought this pricey Skylight Frame for her mother — who is a grandmother of five (and great-grandmother of one) — and now hopes to receive one herself. Sayegh says the frame allows her to easily "send her pictures and videos, especially of Penelope [her great-granddaughter], through the cloud to her mom, and she enjoys them immensely." Because our time with our grandparents will be limited this holiday season, you can make sure they see what you're up to by updating it regularly.
Donne Davis, founder of the GaGa Sisterhood — a community for grandmothers who go "gaga" for their grandchildren — and grandmother to three, prefers the brand NIX, which is much less expensive than the Skylight frame. The frame doesn't have cloud capability, so you can't upload photos for her without going to her house — but if that makes you nervous, Davis doesn't think you should underestimate your grandmother's tech skills. "So many grandparents now are real tech-savvy," she says, so chances are your grandmother will be able to upload images you send her herself. "My granddaughter is even teaching me how to use Instagram — we're very capable and definitely need more credit," she adds.
But in case her house truly is overflowing with picture frames, Davis suggests a custom ornament with pictures of grandchildren instead. "If the grandchild is young, something like 'Baby's First Christmas' would be nice with a good picture of them," says Davis. And even if you're grown-up, it'd still be a nice gift, especially if you have a big moment to commemorate, like a wedding or engagement. Shutterfly offers multiple shapes and sizes for custom ornaments, and this one even allows you to customize the message, so it'll feel particularly special.
After she told me she just wants to spend more time together, my Nana elaborated on the types of actual gifts she'd like. "I don't need anything like jewelry anymore, but I love when you get me books because you pick out something you think I'd like, and I appreciate that you put a lot of thought into my interests," she told me. Three other grandmothers I spoke to agreed that books are always a welcome gift, including Sayegh and her mother. Sayegh adds that "sharing experiences, whether you are near or far, means the world to a grandparent," so she suggests taking this gift one step further and reading the book together. Then you'll each "make time for conversation and discussion," she explains, which your grandmother would love more than the book itself. While your book choice might depend on your grandmother's interests, Brit Bennett's The Vanishing Half comes recommended to us by book experts and is being turned into a miniseries on HBO.
Davis loves board games as gifts because it shows that — again — you want to spend time with her. And if you're unable to see her while the pandemic is still underway, experts say you can easily play this one over Zoom or FaceTime, and it's great for a wide variety of ages. (If you're not sold on this particular one, we have 16 more expert-approved games you can play together over video chat.)
For grandmothers with younger grandkids, Davis suggests giving coloring books and colored pencils, so they can color together. Not only is it a great socially distant activity, but it can also be done on a video call if you can't actually be together. Plus, it can be relaxing during a particularly stressful time. Actress Angela Kinsey recommended this one because "all of the pages have these really cool, sci-fi, magical-looking places." And these colored pencils come with 50 different color