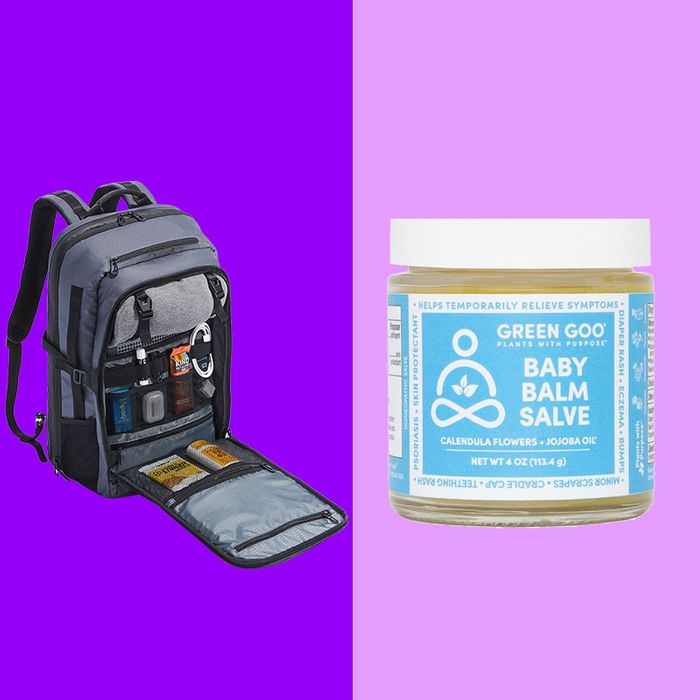 Photo-Illustration: retailers
Along with getting married and becoming a parent, becoming a grandparent for the first time is one of life's universal milestones. If you know someone who's about to welcome their first grandchild, you may have had the (correct!) instinct to look for a gift to mark the occasion. But what exactly do you get for folks who, yes, have been parents, but have not yet been grandparents?
To help figure it out, we talked to 17 grandparents about the things they think would make the best gifts for anyone joining their ranks. Their ideas range from practical (state-of-the-art car seats and locks for cabinets) to sentimental (books and "smart" teddy bears; yes, they exist) to just plain wise (hotel gift cards so grandma and grandpa have a place to escape when newborn and parents need alone time at home). On top of covering a diverse range of interests, our grandparents' 43 gift ideas below come at every price point, making it even easier to find the right thing for the new grandparents in your life.
Sentimental gifts for new grandparents
Eight of our 17 grandparents recommended giving some sort of sentimental gift that can be personalized either by the giver or the grandparents receiving it. The most mentioned of all these types of gifts was a digital photo frame, with Lisa Carpenter, who runs the grandparenting blog Grandma's Briefs, explaining its appeal this way: "A digital frame not only allows grandparents to proudly display photos of their precious babe, but makes it easy for new parents to update those photos via email or text." (She and the other folks who suggest a digital frame note it's an especially great gift in a pandemic because of the risk posed by in-person visits.) When it comes to choosing a digital frame, two folks we talked to specifically recommend this one from Nixplay. According to DeeDee Moore, who manages the grandparenting website More Than Grand, the Seed stands out for its ease of use: "Parents can add new photos and video clips from their phone or computer, and they instantly appear in the frame. It means my family is always just a glance away."
Like all electronics, digital frames can be found at a range of prices. The above option is a solid affordable model, but if you're looking to invest in one, a few folks we spoke to told us about the frames from Aura. One of them is grandmother Ellen Friedler, who says, "I can see all the pictures I love without needing to understand how this frame works, because all of my children and even a few friends upload photos to it through whatever magical process they use." For those who care to understand how it works: Anyone who has the Aura app and access to your frame can send photos to it from wherever they are in the world. The brand sells its frames in various styles and finishes; this metallic one is far nicer-looking than many we've seen and is comparable in size to the Nixplay frame above, but with a higher-resolution display. It also has unlimited (free) digital photo storage. (If you want to shop around, the brand's frames, like this classic black style, start at $179.) Friedler likes Aura frames so much she's given them as as gifts herself, as has one of the writers of this story (Lauren Ro), who gave this frame to her parents so they could always have a running slideshow of photos of their grandson.
A puzzle custom designed with a photo of the grandkids would be another sentimental gift that's a bit more fun. Grandmother Barbara Shannon received one from Shutterly (which can make puzzles that range in size from 60 to 1,1014 pieces), telling us, "It kept us busy and entertained as we eagerly worked towards the end product of a photo of our two beautiful grandchildren."
Carpenter reminds us that a classic frame with a picture of the new baby could be an equally thoughtful gift. She likes this silver-plated one because it "features space for a cherished photo of the new grandchild as well as a sweet sentiment for first-time grandmas." (We found a similar frame for grandfathers, too.)
Grandmother Susan Johns tells us she's been a fan of Hallmark's recordable storybooks ever since she made one for her first grandchild. It's another great idea for our era of social distancing, she explains: "You press a button when you first get the book to record yourself reading it, and then it saves the recording. Our grandkids still find and listen to them sometimes."