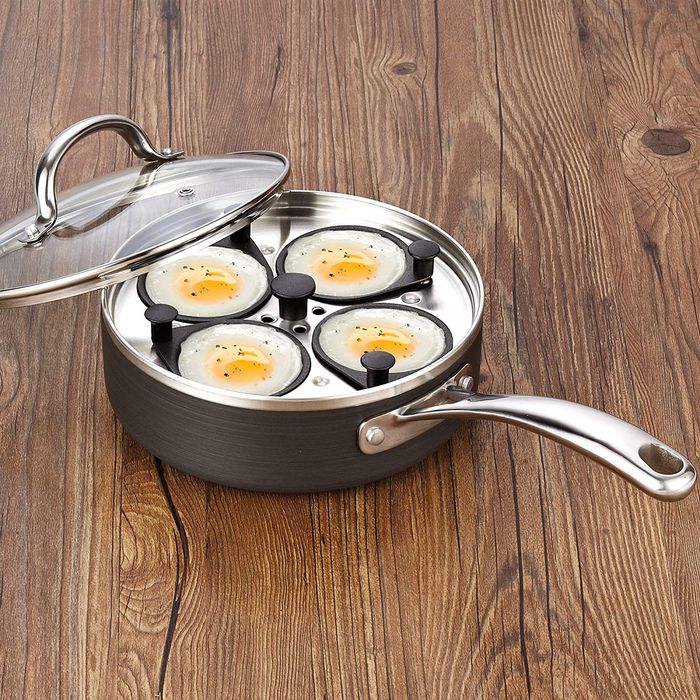 Here at the Strategist, we like to think of ourselves as crazy (in the good way) about the stuff we buy, but as much as we'd like to, we can't try everything. Which is why we have People's Choice, in which we find the best-reviewed products and single out the most convincing ones. (You can learn more about our rating system and how we pick each item here.)
And while we've written about lots of kitchen gadgets — including the best bread machines and the best Instant Pot accessories — here, we've rounded up the best egg poachers, as praised by the most enthusiastic reviewers on Amazon.
Best-rated egg poacher
"You know those objects that are totally unnecessary, but you see them and fall in love and live forever in happiness with your random kitschy thing? This is that thing," claims one reviewer, who adds the poached eggs this cooker makes are "tender and melt in your mouth over toast." Another who thinks this is an "ingenious cooker for a single person" says, "I've always liked poached eggs but they are such a mess and you have to be very diligent with its cooking process." But now "this little cooker does it perfectly with no fuss, no hassle!" Even one user, who "reluctantly purchased the Dash Rapid Egg Cooker" after their Eggcetera from the '70s died, was pleasantly surprised by this machine. "This is the cutest appliance I have ever seen!" they write. And it does so much more than just poach eggs, they add. "Not only can you soft- or hard-boil your eggs, and poach them — you can also make omelettes in this … I have to admit, my poor Eggcetera has been surpassed."
Best-rated (less expensive) egg poacher
Many reviewers mention how often they poach eggs with this easy-to-use microwave poacher. "Our family uses this several times a week for a quick breakfast," says one customer, because the device makes "quick, easy, and perfectly poached eggs!" Since the poacher uses the microwave rather than the stovetop, it cooks eggs in a matter of minutes, which is especially appreciated by reviewers with busy mornings. "I love that this takes less time to make eggs Benedict than it does to boil water, and it's easy to clean," says one reviewer, who advises that others start start with a two-minute cook time (at 80 power for a 1,000-watt microwave) and adjust by ten seconds less per every additional 100 watts ("i.e. use 1:40 at 80 power for a 1,200 watt microwave"). Another reviewer, who recommends that you "play around a bit with your own microwave to figure out the best timing for your preference of doneness," says that she enjoys this product so much, her daughter also bought one. "Great product at a great price!" she says. And the low price tag is a selling point for many reviewers, including one who calls this product the "best $5 I've ever spent. I don't EVER have to make breakfast now! We have already saved way more than we paid in time and money," she says, adding that these eggs come out "better than the local restaurants."
Best egg poacher pan
"This is the greatest egg poacher of all time," writes one reviewer. Nearly 70 percent of reviewers give this pan five stars, including one who says "After all these years of trying to perfect eggs Benedict the old fashioned way, I aced it with this on my first attempt." Reviewers give this egg poacher pan top marks for it's construction as well. "I was honestly surprised at how heavy this was," one confesses. "I expected normal heaviness and for the price I assumed it would not be necessarily made well. It is though and I am very happy about that." Another says, "The stainless steel pot is made of a nice heavy gauge quality. The glass lid is also well made. The knob handle on the see through glass lid stays cool for lifting without a potholder." Users also say it is easy to clean as "All of the little cups come out of the pan and so they can be washed separately."
Best single-egg egg poacher pan
"For those of us who just want to make a perfect poached egg for one, this is the product for you," one reviewer writes. "It is stainless steel and reliable in that it would be difficult NOT to cook a perfect egg." Another, who calls this "the Cadillac of all egg poachers" says, "I never thought that I would find an egg poacher this nice to replace my old one that could be considered an antique." This new version could very well withstand the test of time to become vintage one day as many reviewers praise it for being long lasting. "I've enjoyed mine for more than a decade, and have bought additional ones as gifts, this one for my granddaughter," one notes. Reviewers also mention that this works for jumbo and large size eggs as well, but no matter the size reviewers say this works perfectly."A quick and easy way to poach an egg and easy to clean," one concludes.
Best 4-egg poacher pan
For one customer, "this is exactly what I was looking for." "It's really well-made, and I like the smaller size, since I'm the only person in the house who likes these beautiful, runny eggs," they write, adding, "This is a winner. I'd give it ten stars, if I could." One reviewer who admits this is "one of those utensils that seemed not really necessary," but is pleased with their purchase. "If you are like some of us egg snobs that demand a perfectly poached egg, you will agree as we have that the pan does indeed deliver a perfect egg,"they say. Dozens of reviewers praise this pan for being so well made. "Very good quality," one user writes, adding, "IMHO it can be easily compared to Caphalon's egg poacher skillet except the Cooks Standard is offered at a much lower price." Many also love it because of how easy it is to use, even for this egg making newbie. "I'm a novice with eggs, but an expert with this pan!" they write, adding " It's super easy to use, makes a great poached egg, and is super easy to clean." Many comment on its non-stick feature with one saying "I used Pam and the eggs slid right out of the cups."
Best 12-egg egg cooker
"Forget all the other cookers — this one is the best," according to one reviewer. "We've owned 3 different cookers that all leaked and cooked inconsistently," they continue, "This one works perfectly every time. We cook about two dozen hard boiled eggs per week and make several omelets. No leaks and perfect eggs." The volume is another selling point for reviewers, like one who writes, "I like that it can handle any number up to 12 eggs instead of only 7," like our best-rated pick. For another, that makes this a holiday game changer. "I got the lucky job of deviled eggs for all family potluck meals from now until eternity for some reason… I always do everything the same, but sometimes the eggs just don't want to peel… NO MORE," they say. "This EggMan, as I lovingly call him, has changed my life. Seriously. For Christmas, I did 36 eggs and only lost 3-4 to peeling problems."
Best electric egg poacher
"I think this egg cooker may be my favorite purchase ever," one customer reports of this stainless steel egg poacher, which gets rave reviews for its durable material. "I'm happy that this one had the stainless steel option," says one reviewer, whose family makes eggs every day and has gone through two plastic electric poachers to date. "I think this one will last us longer," she adds. Reviewers also love how simple this egg poacher is to use, with over 1,500 five-star reviewers using the word "easy" in their reviews. "When making two poached eggs, I placed two eggs in the egg poach dish and they turned out perfectly," one explains. "There is a little plastic cup that comes with this and right on the cup it tells you how much water to put in for whatever type of egg you want to make." The system is so foolproof that even one user, who says "I have never been able to make a simple poached egg that ended up tasty and held together in a fairly attractive package,: was able to finally make "my first 6 poached eggs. Great!" This egg cooker also makes omelets and hard and soft boiled eggs, which dozens of users say are easy to peel. "I have not been able to peel an egg this easy in a looooong time," one writes. Another says, "Poached eggs are perfect and soft boiled eggs are, well again, perfect."
Best egg poaching rack