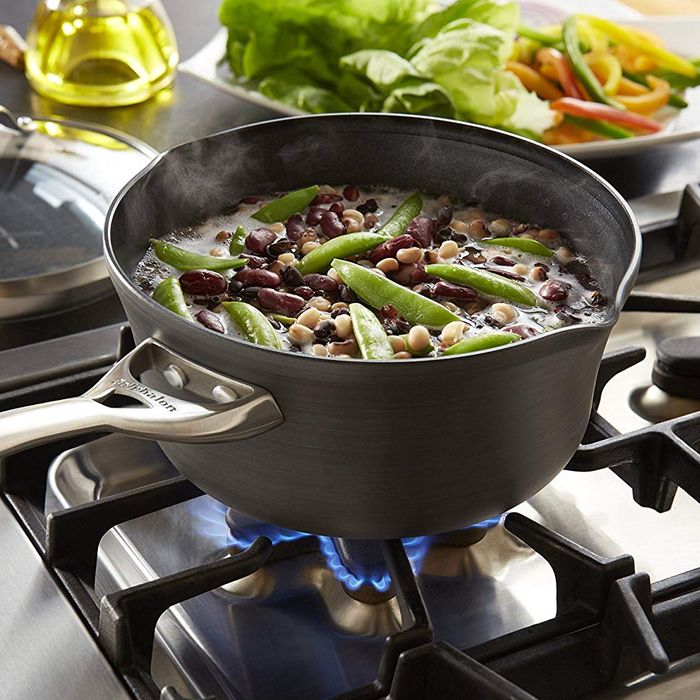 Photo: Courtesy of Amazon
Here at the Strategist, we like to think of ourselves as crazy (in the good way) about the stuff we buy, but as much as we'd like to, we can't try everything. Which is why we have People's Choice, in which we find the best-reviewed products and single out the most convincing ones. (You can learn more about our rating system and how we pick each item here.)
While we've written about slow cookers, cookware sets, stockpots, frying pans and skillets, and Dutch ovens, and even asked chefs about their favorite pots and pans, here we're rounding up the best saucepans you can find on Amazon.
Best-rated saucepan
These pans are as popular as they are beloved. "THEY STILL MAKE THEM SO THAT'S HOW GOOD THEY ARE" shouts one reviewer. "GOODEST" shrieks another. It seems a lot of people are only replacing this pot because, after about half a century of determination, they've finally managed to kill it. "Forty-five years and never had one let me down," says one reviewer, "except for the time I went off and left an egg boiling in one and came home [ed note: came home?] to find the bottom separated from the rest of the pan." She's "hoping the new one will be much harder to melt," as are we all.
What people really love is the rim, which, in addition to being softly rolled, features a pour spout on each side. And the added convenience of being able to choose a lid with straining capability instead a regular lid for the same price. Ultimately, they last: "The one this replaced was about 45 years old," says one happy customer. "If this one lasts that long, replacing it won't be a problem for me!" she says, almost too cheerfully.
Best 1 1/2 quart saucepan
One guy, who's "not a cook" but has "washed many pots and pans," was so moved by the sheer spectacle of opening his purchase that he felt compelled to write a review to "just comment on the pan itself: what a beauty, very shiny and bright with a solid, well anchored handle" that is "well proportioned." You don't even have to be human to appreciate this saucepan's many charms. "I ordered this to make herbal teas for my parrots," says one reviewer, "and I love it!!" "I was looking for bird safe cookware," begins one completely unrelated review, "and this works perfect for me," adding that it's a "good size for making soup" but remains vague about how and if the birds fit into that. Another man, who did not mention parrots, tea, or soup, says he "bought this for [his] mom," and that "she loves it and talks about it every time we talk on the phone."
Best 3-quart saucepan
The MC in MCP stands for "multiclad," which means that this saucepan has more layers of stainless steel to provide better and more even heat distribution. Yes, it's heavier: Many reviews include phrases like "very heavy", "quite heavy" and "too heavy," all while simultaneously praising the saucepan's unsurpassed performance and quality. "I guess I can't have it both ways," concedes the lone lucid voice in the bunch. "I own plenty of high end cookware," says another reviewer, "but this 3-quart stainless steel pot is the most frequent one I use." Reviewers also note that the saucepan is good for candy making: "the sides of the pan heat as evenly as the bottom does, plus, the pan is deep enough for the mixture to rise safely without boiling over."
Best nonstick saucepan
It's a "nice pot" but a "weird shape," note many reviewers. The flared shape doesn't "seem to negatively impact the cooking at all," says one reviewer, "but it does on occasion make scraping the sides cumbersome." Another reviewer points out that this saucepan can "cook 12 hard boil eggs at once." "I am over 50 years old and I finally found a decent saucepan!" says one relieved customer. "My old saucepan burned everything! I thought I was a bad cook!" Other reviewers extoll its "many uses" that make it "perfect for camping," particularly if your backpack has too few rocks in it and you want to bring the heaviest cooking vessel you can find along with you.
Best stone nonstick saucepan
"You won't get stuck with this pan," says one pun-happy reviewer, and that appears to be the unanimous opinion. "The first thing I cooked was over-easy eggs," says one reviewer, "and I was excited when I went to just move the pan and the eggs slid across it." "Literally the best pan I have ever owned!" says an experienced cook. "Best non stick I have found," says another. "It's my favorite new pan! It's like having a cast-iron skillet!" says someone who must live in a county where you can't have a cast-iron skillet. "You can fry meat, boil noodles, and steam veggies all within this one pan," says one 5-star review. "This was a gift to my daughter," says a pleased parent. "She sends me a text every time she uses it about how she loves it."