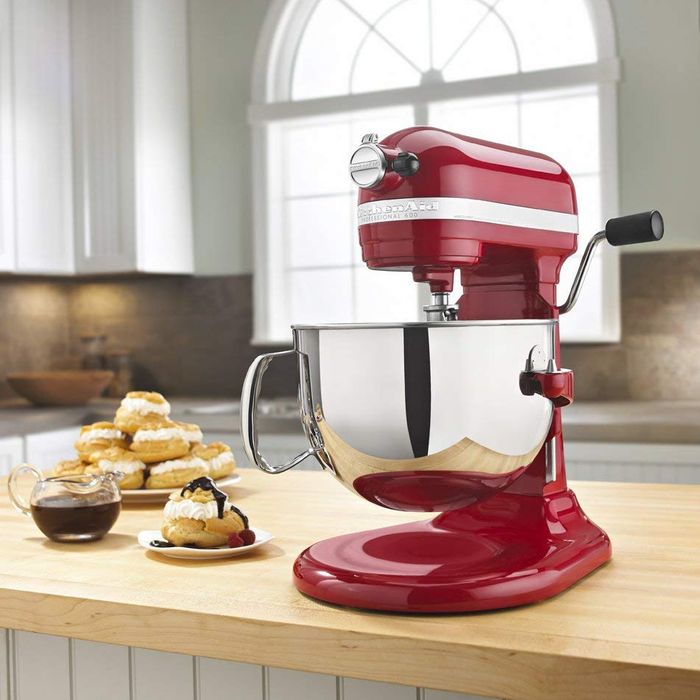 Photo: Courtesy of the Retailer
Here at the Strategist, we like to think of ourselves as crazy (in the good way) about the stuff we buy, but as much as we'd like to, we can't try everything. Which is why we have People's Choice, in which we find the best-reviewed products and single out the most convincing ones. (You can learn more about our rating system and how we pick each item here.)
And while we've written about all the best gadgets for your kitchen — including the best rice cookers, the best toasters, and the best slow cookers— here, we've rounded up the best stand mixers, as praised by the most enthusiastic reviewers on Amazon.
Best-rated stand mixer
"Did you know KitchenAid was built to withstand the turbulence of the sea? The Navy designed this thing to be rugged and lasting," one reviewer writes, before adding, "Time and time again, I found that KitchenAid ruled the market for a reason." That heritage is why hundreds of customers mention their moms or mothers in their five-star reviews of this KitchenAid stand mixer — and lots of reviewers are please with the durability and performance of this Artisan model. "I am pleasantly surprised that I like it as well as my old one so far," says one. Over the years, the company has made some improvements, like beefing up the motor power to 325 watts and increasing the mixing bowl size. "Only time will tell but for now, the improved design features and the lovely new colors make this mixer a winner in my book," says a longtime fan. Reviewers rave about all the attachments available, which makes it even more versatile. "I've bought several attachments such as the ice cream maker (fabulous easy homemade ice cream), the spiralizer (sooo much better than the Vegetti), and the food processor attachment (love it!)," a commenter says. Others speak to the integrity of the product. "It has never misbehaved and never let me down," says a proud owner since 2003. "The finish is still as shiny and unmarred as the day I bought it."
Best-rated (less expensive) stand mixer
A quarter of five-star reviewers appreciate the price of this Hamilton Beach stand mixer, with many pointing out that it works just as well as their old KitchenAid for a fraction of the price. "I have had a KitchenAid but gave it to my daughter when I downsized thinking I could get away with just a stand mixer. Guess again," one reviewer writes, adding, "I really missed my stand mixer but didn't want to pay the big bucks again. After reading many reviews I decided to go with this one and I'm happy I did. It is quite simple to use and it works great," says a commenter. Another reviewer calls it a "Good alternative without having to spend hundreds of dollars." While it only has seven speeds and the mixer's body is made out of plastic, at least one commenter likes that it's "not a heavy mixer to lift." Others say its orbital mixing action is another plus, like one who says: "The machine did a wonderful​ job mixing all the ingredients and reaching the bottom and sides of the bowl with very little help from a spatula."
And now for some micro-picks of every type of stand mixer you might be looking for.
Best stand mixer for baking
Over 100 five-star reviews mention cookie dough, but the baking experiments don't end there. "I wondered how this model would handle bread doughs and delicate cookie doughs and both turned out just perfect," writes one reviewer. And with ten speeds and a so-called PowerHub for attachments, there are myriad baking projects that customers can embark on with this stand mixer. "The selling point for me with the KitchenAid Stand Mixer is the versatility of uses, and all of the additional attachments that can make cooking and baking easier," says one. "So far I've made successful meringues, pasta, shortbread cookies, and focaccia bread. I have a lot of hope that this will be a durable staple in my kitchen for years to come." Another asserts, "I think everyone needs one of these if they are serious about cooking."
Best stand mixer for bread
About a sixth of five-star reviewers of this KitchenAid Professional model use it to knead bread dough, though pizza dough and brioche are also popular. "The dough was not just kneaded, but kneaded well to the smooth elastic stage. My wrists are quite happy about that," says one customer. The bowl-lift design creates better contact with the beater, and the 575-watt motor allows it to handle long periods of use without damaging the machine. "The dough is always heavy and thick, but this mixer handles the load for 12 minutes with no problem," shares a commenter. Many compare the quality to professional-grade models: "I like it because it's the closest I've seen to a real commercial mixer. I wouldn't be at all surprised if it is used in commercial kitchens for smaller jobs." Another writes, "I have had this mixer for over six years and it has never disappointed me."
Best all-metal stand mixer
This stand mixer gets top marks for its sturdy quality, and commenters are impressed by the die-cast metal finish on the Hamilton Beach model. "I think the only con would be the weight. It is VERY heavy. Don't expect to easily move it around your kitchen. This machine needs to be placed in one spot where you can get to it easily and leave it there," says one. The 400-watt motor kneads thick doughs "like a champ," according to one reviewer. "I have made noodle dough, bread dough, and dough for other projects like bagels and rolls and buttercream frosting, which needs to be whipped for a LONG time. Much quieter then my old KitchenAid," one writes. And as for the style, many call it attractive, retro, and even beautiful. "In this day and age of buying crummy cheap products, this was a pleasant surprise," says a satisfied customer.
Best tilt-head stand mixer
Over a dozen reviewers proclaim that their "wife loves" the KitchenAid Classic Plus. "She wanted a cheaper mixer and I thought we should get her this one. She is very glad to have it, and it gets used a LOT," writes one. Compared to the other Classic model, the Classic Plus has an impressive 275 watts, increasing its kneading and mixing strength. "It's powerful enough to plow through the thickest doughs and I bake a lot of bread," shares a reviewer. Another suggests that it's "perfect for beginners and pros alike." "It is compatible with plenty of stand mixer attachments such as a meat grinder, pasta maker, and spiralizer that make you look like a professional."
Best compact stand mixer
While this 12 ½-inch tall Cuisinart may be small (nearly two inches shorter than the KitchenAid Classic), it's still a favorite among bakers. "Fits under my cabinets. It is also very elegantly designed so it looks nice on the counter," says a customer. The durable die-cast metal base impresses its fans. "The mixer isn't nearly as heavy as I was expecting, but the construction is rock solid. The head locks in both the up and down position so you don't have to worry about a heavy ball of dough pulling it back down," shares a commenter. Reviewers notice that it doesn't "walk across the counter" like other mixers often do. In addition to having 12 speeds, it has a countdown timer that shuts off the mixer automatically. "I didn't think I'd use the timer as much as I do but it's nice to set it and walk away," one writes.