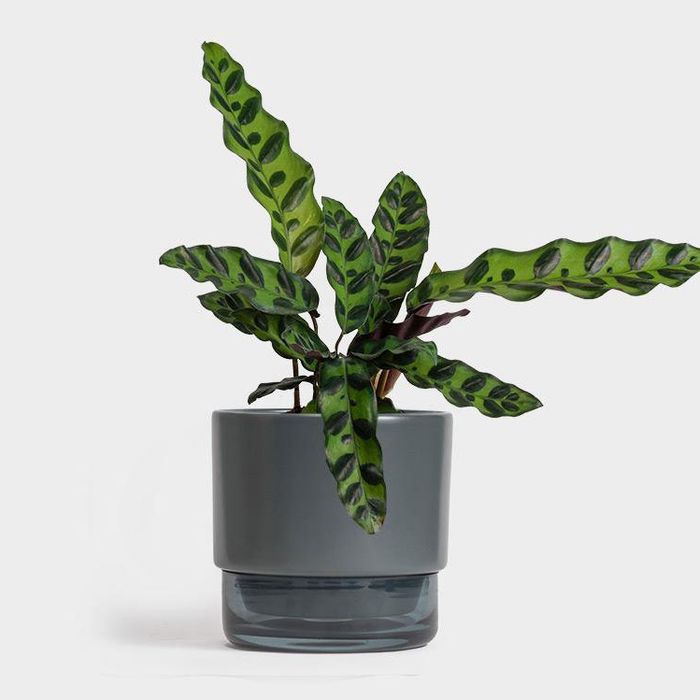 Photo: Courtesy of the retailer
While there's no shame in gifting a bouquet of flowers, if you want to give a piece of greenery with some staying power, you're much better off going with a plant. But choosing a houseplant to gift — especially when you don't know what kind of light the recipient's home has or how dedicated your friend will be to keeping a plant alive — can be challenging. To find the top giftable species (that not only dazzle but aren't a burden), we asked five experts to recommend the best plants to give anyone from total beginners to home-gardening pros. For an extra-special touch, choose an equally good-looking pot or planter. We've also got picks for the next status planters for someone who has already moved on from the Group Partner boob pot.
Best overall plant to gift
Slightly more challenging to care for than a total-beginner plant (we've got ideas for those below) but not actually that difficult, calatheas were recommended by several of our experts as the ideal plant to give. "Visually, they're super-appealing, so it's a nice change from a really lovely bouquet of flowers," says Erin Marino, director of brand marketing at the Sill. "These plants are just as colorful and ornate, so they're gorgeous to give." Marino likes that they're safe plants even if you're not sure of the light conditions at the recipient's home; these can thrive in moderate light. "They definitely have a beautiful look and texture to them, and it's a great way of bringing in color," says Rebecca Bullene, founder of Greenery NYC. "A lot of them [like the Medallion variety] have purple coloring on the underside of the leaves."
Bullene explains that calatheas are nicknamed "prayer plants" because, like hands folded in prayer, "their leaves actually open and close throughout the day, depending on the time and the light they're receiving." This also makes them particularly special. They need to be watered only about once every seven to ten days (depending on light conditions), so they're not particularly high maintenance. And since they're "completely nontoxic and considered pet safe by the ASPCA," according to Marino, calatheas are a good option for friends with cats or dogs.
For something a little different, Ariel Ries, a plant specialist at Tula, likes this rattlesnake calathea variety. "It has really beautiful markings [that] kind of look like watercolor," she says.
Best gifts for beginners
If you're gifting to someone without any plant experience, experts recommend the sansevieria, commonly known as the snake plant. Bullene says it's "pretty much indestructible," so "it builds someone's confidence and makes sure they're gonna be set up for success." She notes that while "most plants release oxygen only when they're photosynthesizing, the sansevieria family actually releases oxygen at all times," meaning they're great for enhancing your recipient's home air quality, as well as being very easy to maintain. "They can be quite neglected," says Tara Heibel, founder and owner of Sprout Home. "You're not burdening the recipient with something they have to constantly monitor."
While the zeylanica is one of the more common sansevierias, Heibel is especially fond of the cylindrica version, which has leaves resembling spears or fingers instead of being flat. "They have different configurations which are very sculptural, and I love the nod to the '70s that they have," she says of the popular mid-century office plant.
Another great option for beginners is the equally hardy ZZ plant. "If the person travels a lot, it only has to get watered once a month," says Ries, while Bullene explains that, since ZZ plants are native to Africa, "they're used to periods of flood and drought, so they're really drought tolerant. It's a great plant for someone who travels a lot or maybe is going to forget to water for a few weeks." Compared with the structural-looking sansevieria, which might be a better fit for a modern-style home, Bullene calls the ZZ "a softer plant aesthetically" with "these really beautiful, glossy lobed leaves." They're also a favorite of Casey Godlove, creative director at PlantShed, who says they "have a glossy, deep-green leaf and require very little care to thrive." They can even survive without direct light, making them great office plants.
One of Marino's top choices for plant newbies, trailing pothos is both easy to care for and a good introduction to learning the language of plants. Marino says it doesn't take a lot of experience to know when a pothos needs watering, because the leaves have a "visible wilt" when thirsty. Unlike with other plants, there's no need to touch the soil to get a feel for the moisture level. "They're super-hardy, so they bounce back right away," she says. "The plant pops up and looks a little more lively again after a good watering." Marino also likes that, "because they're trailing, new growth is a little more visible than on some of the other plants, so [they] offer some confidence in the gift recipient that they're doing the right thing."
Best gifts for plant enthusiasts
Commonly known as the Chinese money plant or coin plant, the flat-leaved Pilea peperomioides is one of our experts' top picks for plant hobbyists who have already mastered the ZZ and sansevieria. "What's super-fun about this guy is it pops out these little babies in the soil, so it's multiplying constantly," says Marino, who loves that the recipient can go on to give the propagations as gifts themselves. "In giving someone one plant, you really have the potential of giving them 50 plants over time," says Bullene, who thinks this plant's unique shape is especially beautiful.
"If you forget to water a fern, it's not going to be happy," says Ries, which makes these plants best suited for home gardeners with a little more experience. Fern varieties range in difficulty (maidenhair is one of the more challenging), and the bird's-nest fern lies somewhere in the middle. Godlove says they're "great for plant owners who are already committed to a watering schedule, since they need more than most."
Like the beginners' plants, the hoya, Heibel's choice for an intermediate-level gift, can tolerate some dry time but will need more attention than a ZZ or sansevieria. The hoya is a flowering plant with what Heidel calls "the most amazing flowers," but it's a slow grower and is best for plant parents who don't need instant gratification to keep up their confidence. "It does take a while for them to bloom, so you have to be patient," she says, "but once they do, they're really amazing."
Best gifts for plant aficionados
While the standard monstera leaf has become ubiquitous, the patterned, variegated variety is much more rare and would thrill even the most seasoned plant owner. "It's a very difficult plant to come across commercially because it's not widely commercially grown," says Marino. "So if you're gifting someone that, they kind of know that you put in a lot of legwork to find it." Bullene explains that it's truly a plant for experts, as the genetic modifications that create the unique pattern also cause it to be weaker and less resilient. "It takes a lot of patience and care to even propagate them and then to actually care for them long term," she says, but she agrees they would be very impressive gifts for people who know their plants.
An unusual-looking white cactus, Euphorbia lactea is another gift that would get plant lovers excited because of its rarity — and how challenging it can be to maintain. "People think succulents and cacti are easy, but you have to keep them on a regular schedule," explains Ries. You have to wait for the soil to fully dry out between waterings. Ries calls the "White Ghost" euphorbia "absolutely gorgeous." Marino says plant lovers will appreciate these cacti, since they're more difficult to find (they're grown only in a few states with an ideal climate) and they can already be 10 to 15 years old —they're "super-slow growers."
"A really weird, awesome houseplant," according to Marino, the ancient dino plant is "pretty much a living fossil." Dating back to prehistoric times, this strange species is known for its ability to lie dormant for years without water and then quickly come back to life. "They call it a resurrection fern because it will dry up completely and look like a tumbleweed, and then if you submerge it in water it opens up and [becomes] a living plant," she says. It would certainly be a conversation-starting addition to any plant parent's collection.
The Strategist is designed to surface the most useful, expert recommendations for things to buy across the vast e-commerce landscape. Some of our latest conquests include the best acne treatments, rolling luggage, pillows for side sleepers, natural anxiety remedies, and bath towels. We update links when possible, but note that deals can expire and all prices are subject to change.