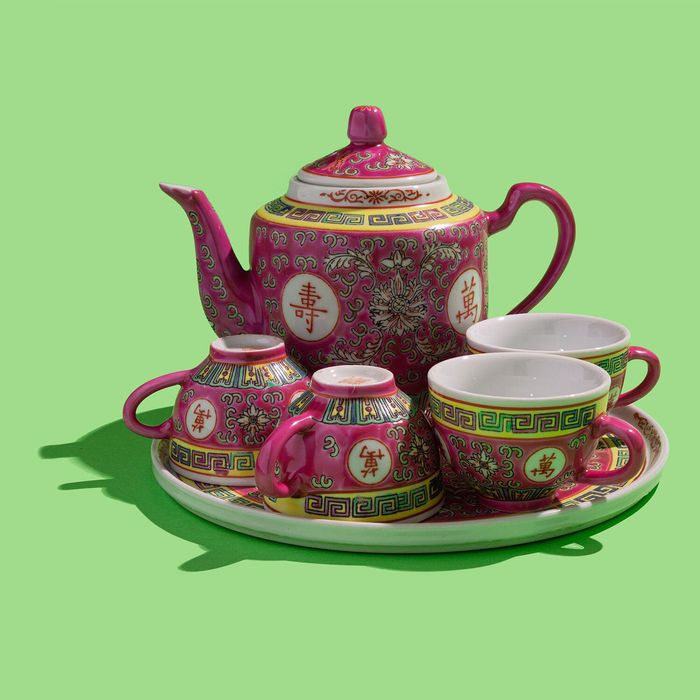 A enamel tea set from Wing On Wo & Co. — the oldest store in Manhattan's Chinatown — that you can buy online.
Photo: Wing on Wo & Co.
One of the most direct ways to support the Asian American and Pacific Islander community is to shop at AAPI-owned businesses. Over the past year, we've made a concerted effort to highlight some of these for our readers, with guides to the best gifts under $50 from AAPI-owned brands, the best pieces of wall art from Asian American artists, and even the best tea from Asian producers. But in writing up these specific shopping guides, we realized that we had featured lots of businesses with AAPI founders and designers in our reporting, even if we hadn't yet called them out as such.
So in June 2021, we created this evergreen directory of more than 70 AAPI-owned businesses in five categories: beauty and wellness, fashion and accessories, food and drink, home and design, and miscellaneous businesses that don't fit neatly into any of the other groupings. All of the recommendations were pulled from our archives, meaning we've covered at least one item from every single one of these companies before. This year, we updated the directory with even more AAPI-owned businesses we've written about this past year — now 98 businesses in total. They've all been vetted by our writers and editors, recommended to us by celebrities and experts alike, and, in several cases, become best sellers among our readers. We've also gone through the list and added our favorite product or two from each brand so you get some shopping inspiration. (If the product we originally wrote about is sold out, we've included something similar.) Lastly, if you want to jump to a specific category, use the links below.
Beauty and Wellness | Fashion and Accessories | Food and Drink | Home and Design | Miscellaneous
Founded by Lauren Jin, Cle Cosmetics makes minimalist K-beauty products that are nontoxic, vegan, and cruelty free.
The dental floss from this brand has been recommended to us by dentists and Chris Carrabba of Dashboard Confessional.
Our beauty columnist Rio Viera-Newton first wrote about Cocokind's culty chlorophyll mask in 2018, saying it had not only brightened and cleaned her skin but also "calmed and reduced the size of an angry red spot that had made itself at home on my forehead."
Korean American journalist and activist David Yi — whom we interviewed about his very good skin back in 2017 — founded Good Light, a skin-care brand that isn't marketed around gender norms. (This toning lotion is one of SuChin Pak's favorites.)
Created by Soko Glam Labs, Good (Skin) Days is Soko Glam's first exclusively owned brand. Rio says the site as a whole is "the place to find the most innovative, new-to-the-market K-beauty products out there."
Another favorite of Rio's, these pimple patches are superthin, super-sheer, and ideal for the daytime treatment of zits.
Oral-hygiene brand Huppy makes toothpaste tablets it says are more sustainable than your traditional tube.
Created by beauty influencer and YouTuber Liah Yoo, Krave Beauty makes simple skin care (that comes recommended by another YouTube star, Hyram Yarbro, and that Rio describes as Gen Z–approved).
We first featured this oddly shaped massager from an "under-the-radar ecofriendly Taiwanese ceramics brand called Acera" on the Strategist in January 2020, and it's also a favorite of Pak's. She says it "simulates a hot-stone massage and can help melt away tension and boost circulation."
These custom-fit, stick-on gel nails were recommended to us by Franci Girard, founder of the Sixes, who called them one of the best things she bought in quarantine.
Mount Lai makes gua sha tools and facial rollers inspired by founder and esthetician Stephanie Zheng's grandmother and traditional Chinese medical practices.
Naturium
Co-founded by Korean American beauty reporter Susan Yara, Naturium's affordable yet high-quality skin-care products have been recommended to us by Pak, who says the exfoliant and retinol cream are the two star products.
Photo: Courtesy of the Vendor
Photo: Courtesy of the Vendor
Neuro
Another favorite of Pak's, these mints from Neuro are specially formulated with natural caffeine and B vitamins to help you focus (and lift your mood) whenever you need to.
Photo: Courtesy of the Vendor
Opte
This first of its kind device intuitively scans skin for dark spots, age spots, and sun spots, then "prints" coverage only where you need it.
Photo: Courtesy of the Vendor
Pak says that "these mineral peels for the body and face are the next best thing" to getting an exfoliating treatment at a Korean spa.
Alicia Yoon is the founder of Peach & Lily, which started as a place for carefully curated Korean beauty products and has since begun making its own skin-care line. This hydrating serum is a favorite of Rio's and our readers'.
Rio calls this combo pack of a rose-quartz gua sha tool and facial oil the "perfect duo for gua sha beginners" — especially because, for $20 more, "you can purchase the duo with an added gua sha workshop hosted by a traditional Chinese-medicine practitioner and gua sha expert."
According to former Strategist writer Lori Keong, this BB cream from Purlisse "combines the dewy effect of Asian beauty products (thanks to its Chinese herb extracts) with the natural feel of French apothecary brands."
This gua sha tool from beauty guru Sarah Cheung's brand, SACHEU, is made of stainless steel, so it has self-cooling capabilities and is easy to clean.
SLMD is owned by Dr. Sandra Lee (a.k.a. Dr. Pimple Popper), who told us that this exfoliating cleanser is the best-selling product from her line.
Founded by Amy Ling Lin, Sundays started as a brick-and-mortar nail studio and now makes nontoxic and vegan nail polishes in a rainbow of colors as well as this long-lasting top- and base-coat set.
Another line of skin care from Soko Glam, Then I Met You makes some of Rio's "can't-live-without staples in both my morning and evening routine."
Tower28 is a Los Angeles–based, nontoxic skin-care and makeup line created with ultrasensitive skin types in mind (and the lip jelly is one of Rio's favorites).
This tattoo-care line was created by Dr. Woo — who has tattooed the likes of Drake, Miley Cyrus, and Justin Bieber — to help tattoos heal and last.
This larger gua sha tool from Dr. Ervina Wu's brand, YINA, is an excellent option for both face and body.
Founder and designer Sheena Sood's colorful clothing is produced in small batches in India and Peru — and during the pandemic, the company started making surprisingly stylish tie-dyed masks to match its tie-dyed hoodies and joggers.
We first wrote about ADAY and its seasonless, sustainably made staples in 2019, when trend forecasters raved about its "sloungewear." Our friends at the Cut also recommend its leggings.
Model Yumi Nu found this brand — designed by a Korean woman named Aeri who lives in San Francisco — when she was looking for big silver jewelry a while back. "I own the Sadie ring, Hana ring, Smiley Flower necklace, and so much more," says Nu. "I'd have to look at my full collection to tell you everything. Anytime you see me wearing silver jewelry, it's Aeri Go."
It's hard to count the number of times we've written about Baggu's totes, purses, and pouches on the Strategist — but the standard Baggu, which the brand has been making since 2007, is still a classic.
Building Block
Founded by sisters Kimberly and Nancy Wu, Building Block sells bags, wallets, and other leather goods, all of which are handmade in Taiwan at a family-run workshop. Pak says she has carried one of BB's bucket bags for years and that it has "never gone out of style."
Photo: Courtesy of the Vendor
Y2K-inspired jewelry brand BONBONWHIMS creates charmingly chunky pieces with a nostalgic flair. You can find anything from oversize resin heart rings to fluffy leopard-print bags that someone like Dionne from Clueless would proudly use to store her hot-pink flip phone. Best of all, for each purchase, the company gives back to AAPI organizations like Send Chinatown Love, Stop AAPI Hate, Heart of Dinner, and AALDEF.
We first heard of Caraa because of its well-made work bags (which can do double duty as gym bags), but at the start of the pandemic, the brand pivoted to making face masks that we described as "comfortable and well fitting" and that eventually became reader favorites.
Founded by Tiffany Ju, Seattle-based Chunks makes very colorful, high-quality hair clips that draw inspiration from Memphis design.
If you need a bag, Dagne Dover probably makes it. The brand has been recommended by lots of stylish folks in our guides to the best work backpacks, fanny packs, weekender bags, gym bags, and work bags for women.
Evolvetogether makes some of our best-selling — and surprisingly stylish — disposable face masks, though the company is now expanding to make other daily essentials like mosquito patches and water bottles.
Founded by brothers Tim and Dan Joo, Haerfest makes spacious, easy-to-carry bags that are excellent for travel.
Singaporean Chinese–owned brand Hey Maeve makes delicate gold-plated jewelry and partners with i=Change, so $1 of every sale goes toward a women's-empowerment cause or charity.
Julia Vaughn comes recommended by SuChin Pak, who told us that "Julia has become my one-stop shop for both old and new pieces; her inventory sits squarely in the middle of small dainty chains and over-the-top show jewels."
Photo: retailer/Copyright 2020. All rights reserved.
When we tested the best fine jewelry that you can buy online, we said Kinn Studio was tops for solid-gold pieces for less than you would pay at a typical department store.
Another recommendation from Pak, Laos Supply was founded by Salong Namsa, who immigrated to the U.S. after years of living in a Thai refugee camp. Of the designs, Pak says, "Salong's cultural pride helps make what would otherwise just be utilitarian streetwear feel a little more unique."
M.M. LaFleur started with practical but stylish workwear for women and has since branched out to more out-of-office options like leggings, T-shirts, and this jumpsuit (with pockets), which was recommended in our roundup of jumpsuits for tall women.
Not Impressed
This NYC-based label's founder makes all of her jewelry pieces to order, including these hand-beaded Croc flower charms.
Jessica Tse's Notte Jewelry draws a lot of inspiration from aughts fashion with daisies and smiley faces and even an occasional puka shell, but everything is adult enough to wear to the office.
Paper Project makes clothing and socks out of Japanese paper yarn, which is naturally moisture wicking, odor eliminating, and quick drying.
Pepper makes bras specifically for women with smaller busts — in this case, AA, A, and B cups — both with and without underwires.
We're fans of Sandy Liang's fleece jackets for humans and for dogs. (Liang even wrote a haiku to her favorite pair of fleece-lined clogs for us.)
Sari-Sari General Store
Sari-Sari General Store is full of beautifully designed products from Asian American, Black, brown, and other makers of color. Pak says she's especially taken by its button-up shirts and polos.
Photo: Courtesy of the Vendor
Another recommendation from model Yumi Nu, Tank Air makes clothing out of deadstock or leftover fabric from other brands.
As the name suggests, the Little Bra Company, founded by Emily Lau, makes actually nice-looking bras for women with smaller bust sizes and frames.
The Wax Apple
The Wax Apple sells a curated collection of everyday objects from Taiwan, ranging from steel kitchen knives to hinoki soap dishes. Former Strategist writer Hilary Reid calls its silk theater shoes a luxurious, beautiful object — "something pleasing to admire."
Most of the recommendations for AAPI-owned tea brands on this list come from Lisa Li, herself the founder of a tea brand called the Qi. She likes this herby lemongrass-and-ginger tea from Alaya, a company founded and run by Esha Chhabra and Smita Satiani, who work directly with Indian tea farmers.
Boba Guys specializes in quality tea sets, including this matcha kit that lets you make your own artisanal boba tea at home.
Copper Cow Coffee (founded by Vietnamese American Debbie Wei Mullin) sells a variety of Vietnamese coffees, creamers, latte kits, and teas. Pak likes this one, which has all the ingredients you need to make traditional pour-over Vietnamese coffee, as well as Thai iced tea and chai tea.
Photo: Courtesy of the Vendor
According to former Strategist writer Nikita Richardson, Diaspora Co. "has quickly distinguished itself as the place to go for high-quality, single-origin Indian spices." Its offerings are great for everyday use — as Rebekah Peppler, author of Apéritif, can attest — but they also make very nice gifts.
Five Seasons was founded by Zoey Gong, a former chef and nutritionist who is now training to be an herbalist in the style of traditional Chinese medicine. "To me, no person or brand knows how to blend Eastern holistic wellness and herbal medicine with Western nutrition better than Gong," Li says. "And she does it all with an eye for beautiful colors, flavors, and tea blends that are totally out of the box in the best way."
Created by Szechuan chef Jing Gao, Fly By Jing's condiment trio is a favorite of spice-forward foodies, including Ghetto Gastro co-founder Jon Gray. Its frozen soup dumplings aren't bad either.
SuChin Pak says the food subscription boxes from Girl & Dug have "completely changed my approach to cooking." Instead of sending meal kits, the company sends boxes of produce that invite you get creative and help you discover food "you have literally never eaten before, like oca, ice plants, white strawberries, squashini, and even minari (not the Oscar-nominated film but the vegetable it's named after)."