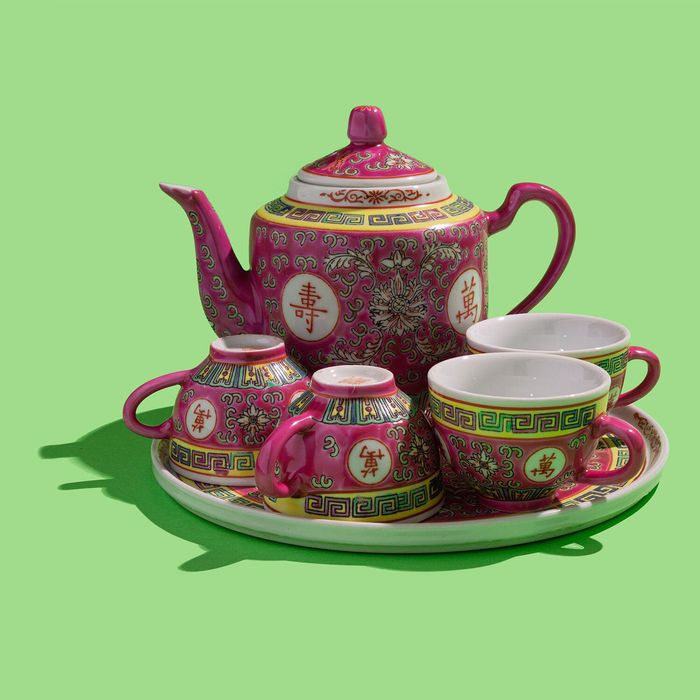 A enamel tea set from Wing On Wo & Co. — the oldest store in Manhattan's Chinatown — that you can buy online.
Photo: Wing on Wo & Co.
One of the most direct ways to support the Asian American and Pacific Islander community is to shop at AAPI-owned businesses. Over the past year, we've made a concerted effort to highlight some of these for our readers, with guides to the best gifts under $50 from AAPI-owned brands, the best pieces of wall art from Asian American artists, and even the best tea from Asian producers. But in writing up these specific shopping guides, we realized that we had featured lots of businesses with AAPI founders and designers in our reporting, even if we hadn't yet called them out as such.
So in June 2021, we created this evergreen directory of more than 70 AAPI-owned businesses in five categories: beauty and wellness, fashion and accessories, food and drink, home and design, and miscellaneous businesses that don't fit neatly into any of the other groupings. All of the recommendations were pulled from our archives, meaning we've covered at least one item from every single one of these companies before. This year, we updated the directory with even more AAPI-owned businesses we've written about this past year — now 98 businesses in total. They've all been vetted by our writers and editors, recommended to us by celebrities and experts alike, and, in several cases, become best sellers among our readers. We've also gone through the list and added our favorite product or two from each brand so you get some shopping inspiration. (If the product we originally wrote about is sold out, we've included something similar.) Lastly, if you want to jump to a specific category, use the links below.
Beauty and Wellness | Fashion and Accessories | Food and Drink | Home and Design | Miscellaneous
Founded by Lauren Jin, Cle Cosmetics makes minimalist K-beauty products that are nontoxic, vegan, and cruelty free.
The dental floss from this brand has been recommended to us by dentists and Chris Carrabba of Dashboard Confessional.
Our beauty columnist Rio Viera-Newton first wrote about Cocokind's culty chlorophyll mask in 2018, saying it had not only brightened and cleaned her skin but also "calmed and reduced the size of an angry red spot that had made itself at home on my forehead."
Korean American journalist and activist David Yi — whom we interviewed about his very good skin back in 2017 — founded Good Light, a skin-care brand that isn't marketed around gender norms. (This toning lotion is one of SuChin Pak's favorites.)
Created by Soko Glam Labs, Good (Skin) Days is Soko Glam's first exclusively owned brand. Rio says the site as a whole is "the place to find the most innovative, new-to-the-market K-beauty products out there."
Another favorite of Rio's, these pimple patches are superthin, super-sheer, and ideal for the daytime treatment of zits.
Oral-hygiene brand Huppy makes toothpaste tablets it says are more sustainable than your traditional tube.
Created by beauty influencer and YouTuber Liah Yoo, Krave Beauty makes simple skin care (that comes recommended by another YouTube star, Hyram Yarbro, and that Rio describes as Gen Z–approved).
We first featured this oddly shaped massager from an "under-the-radar ecofriendly Taiwanese ceramics brand called Acera" on the Strategist in January 2020, and it's also a favorite of Pak's. She says it "simulates a hot-stone massage and can help melt away tension and boost circulation."
These custom-fit, stick-on gel nails were recommended to us by Franci Girard, founder of the Sixes, who called them one of the best things she bought in quarantine.
Mount Lai makes gua sha tools and facial rollers inspired by founder and esthetician Stephanie Zheng's grandmother and traditional Chinese medical practices.
Naturium
Co-founded by Korean American beauty reporter Susan Yara, Naturium's affordable yet high-quality skin-care products have been recommended to us by Pak, who says the exfoliant and retinol cream are the two star products.