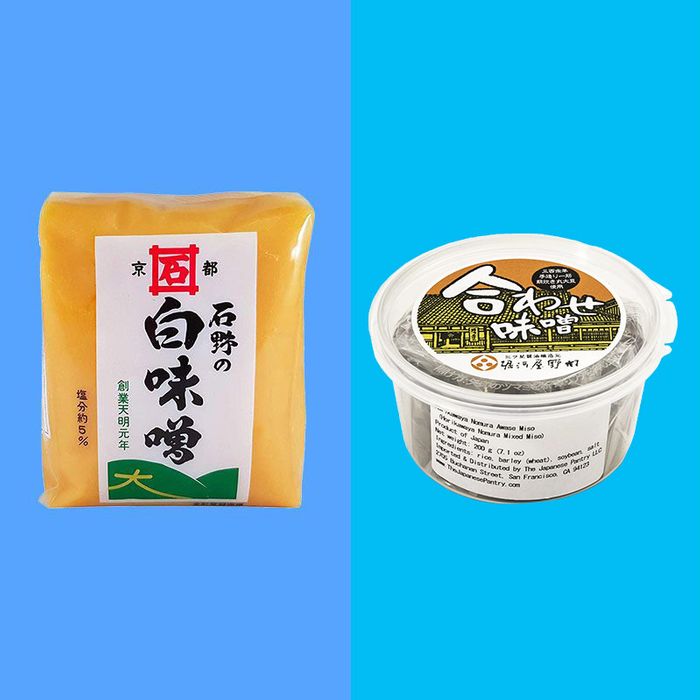 White, yellow, and barley miso.
Photo-Illustration: Courtesy of retailers
In recent years, miso, or fermented soybean paste, has become a rather common pantry staple, used to bring saltiness, earthiness, and funkiness to whatever it touches, whether soups, dressings, sauces, or even cookies. "Miso is produced by fermenting soybeans with salt and koji (the fungus Aspergillus oryzae) and sometimes rice, barley, seaweed, or other ingredients," says Nick Kim, chef and partner of omakase restaurant Shuko. The result is a paste that is high in both protein and vitamins, and packs a ton of flavor. A staple in Japanese cuisine for millennia, miso paste has countless uses in the kitchen, but "different misos are used for different reasons" based on the type and associated flavor profile, explains Maiko Kyogoku, the owner of Japanese restaurant Bessou in New York City. The taste of different kinds (and different brands) vary depending on where it was made, the proportion of different ingredients, and the fermentation time and conditions.
The three basic types of miso include white, yellow, and red; as a general rule of thumb, "white miso is the mildest, yellow miso is more fermented, and red miso is the most assertive fermented flavor," explains Masayoshi Takayama, the chef and owner of New York City's Japanese and sushi restaurant Masa. To find the best kinds of miso you can buy, we asked Kyogoku, Takayama, Kim, and 15 other chefs and industry professionals about their go-tos. As with lots of cooking ingredients, finding the right miso comes down to personal taste, Takayama notes, so we also asked the chefs how they use their favorite misos to help you choose the right one for you.
Best overall white miso
All of the chefs we spoke to say that white miso paste is a must-have for home cooking. Four of our experts — Kyogoku, Ryan McCaskey, Cara Nicoletti, and James Beard Award–winning chef Christopher Gross — recommend Hikari white miso for its accessibility and quality. According to Kim, "White miso is the best option for home cooks, and it'll be a great gateway to try the other types of miso out there." Because white miso is generally only fermented for three months and made with a higher rice content, it boasts a mild, sweet flavor that is perfect for soups, sauces, dressings, and marinades. "The best choice for home stock is white miso since it is the mildest kind," says D.J. Eusebio, the chef at Terranea Resort's Bashi. "It is also the most versatile and can be used in many various recipes," including for glazed baby carrots and bread pudding (two things Eusebio says he makes with it).
Best less-expensive white miso


"Specialty miso is a luxury to use at home," says Sam Lawrence of Estela. "For most applications, I use a relatively cheap brand called Yamabuki Shiro Miso," which he says is a light, delicate variety. "It works well for curing fish and vegetables, as well as seasoning sauces and soups."
Best low-sodium white miso


If you're looking for a "healthier" white miso, you might try this kind recommended by Robbie Wilson, the chef and owner of Bird Dog in Palo Alto. "This is a white miso that is made with 1.5 to two times as much white-rice koji as cooked soybeans, so it has a lower salt ratio than most traditional miso," he says, adding that it still provides good flavor.
Best sweet white miso
Kazushige Suzuki, the head sushi chef at Sushi Ginza Onodera, keeps this saikyo miso paste, a sweeter white variety that originated in Kyoto, stocked in his kitchen to use in dips for fresh vegetables or sauces (he says a very simple sauce can be made with just saikyo miso and vinegar). This is also Tsukimi's executive chef Takanori Akiyama's favorite miso to use at home and at his restaurant. Compared to other white miso, "this one is milder and more balanced, which makes it more versatile," he explains. Kyogoku also likes using a sweeter, Kyoto-style miso. She says it's "extremely smooth and will lend a creaminess to any dish," but that it's an especially lovely ingredient to use in winter-vegetable miso soups, salad dressings, and seafood marinades. "I love making Japanese-yam or daikon-radish-leaf miso soup with it when the temperature gets chillier."
Best overall red miso
Most of the chefs we spoke with say that home cooks should keep at least one white miso paste and one red miso paste — which are on the opposite ends of the pungency spectrum — in their pantries for maximum versatility. Because red miso is fermented for longer, it usually has a stronger, saltier flavor compared to white and yellow misos. Therefore, they say, it should be reserved for heartier dishes, since it can easily overwhelm simpler food. Gene Kato, the chef at Chicago's Momotaro, likes to use the "savory, slightly smokey" red miso when cooking meat because "the stronger flavor profile of the miso" balances out richer proteins; Kyogoku suggests using it as a base for mapo tofu. Eusebio calls this affordable red miso paste from Shirakiku his favorite (it is also the red miso we found most readily available online).
Best less-expensive red miso
Matthew Dahlkemper, the executive chef of Crafted Hospitality's Temple Court, likes this red miso from Umasa because it has a "little extra funkiness and umph" that he says works well in any ramen or grilled vegetable dish.
Best overall yellow miso
Yellow miso is more fermented than white miso but still has a mild flavor. Both Kim and Masaru Kajihara, the executive chef at Sakagura East Village, recommend using it in soups and sauces. Kim specifically likes the one from Cold Mountain, which is more readily available online. Gaby Dalkin, an L.A.–based chef, recipe developer, and the author of the cookbook Eat What You Want, is also a fan of Cold Mountain's miso, including its "sweet and mild" white miso.
Best awase miso
Awase miso is a cross between red miso and white miso. While several of the chefs we spoke to recommend buying the two types separately and then mixing them as needed for recipes, Lawrence told us he loves this already blended awase miso from Horikawaya Nomura. "It has the depth of flavor and richness of a stronger miso, but is less salty and intense," he says.
Best barley miso
If you're familiar with the three basic types above and are looking for a new miso paste to try, J.T. Vuong, chef and co-founder of Yaki Tiki and Rule of Thirds, recommends a barley miso. Instead of rice koji, it's made using barley koji, which gives it a distinct flavor profile that Vuong says "has a great balance of sweetness, aroma, and savoriness, without being overbearing or overly salty." His tip is to blend the barley miso with some sweet saikyo miso and then use that mixture as a base "to make a well-balanced miso soup that is both rich and elegant." Gross's go-to brand is Eden, which makes a barley miso that is easy to find online.
Best less-expensive barley miso


Carolina Santos Neves, the executive chef of American Bar, told us about South River Miso Company, which is a Massachusetts-based, family-owned operation that makes a line of organic miso. Of all of the brand's miso styles, she says that her favorite is its three-barley miso, which is aged for three summers to give it a "rich, hearty flavor," according to the brand.
Best farro miso
Lisa Cheng Smith, founder of Yun Hai, is a fan of White Rose Miso. The same folks who make Keep Well Vinegar expanded their repertoire to include many different kinds of miso. Smith uses their white variety, which she calls "more earthy than your typical one, with a bit of a heady, fragrant taste." But she's also particularly excited to try their farro miso, which is a bit more untraditional. It's made only from the grain — no soybeans — so leans very much on the sweet end of the spectrum. You can also find black walnut miso, sunchoke miso, African runner peanut miso, and more varieties in their shop, with detailed descriptions of each. "I love how they're experimenting," Cheng says.
Best miso soy paste
In Cheng's own shop, which sources directly from artisans, farms, and soy sauce breweries in Taiwan, she sells a product that's a fifty-fifty mix of soy paste and miso. "Taiwan has a unique blend of Chinese and Japanese diasporas," she says, "and this product really speaks to that." The soy sauce paste is essentially soy sauce that has been thickened and very slightly sweetened with rice starch, made by Yu Ding Xing, Yun Hai's soy sauce brewer. The miso is a yellow soybean miso made by He Nai Chuan. The resulting collaboration is what Cheng describes as a "sweet, toasty, umami bomb." It's currently available for pre-order and expected to ship at the end of September.
Best hatcho miso
Those who prefer very earthy flavors should try a hatcho, or 100 percent soybean, miso paste, Vuong says. He describes hatcho miso as super-savory, with an almost fudgelike texture, and says it makes a great addition to braises and hearty stews. But Vuong notes that "a little bit of this goes a long way, since the flavor is much more concentrated and intense."
Additional reporting by Dominique Pariso.
The Strategist is designed to surface the most useful, expert recommendations for things to buy across the vast e-commerce landscape. Some of our latest conquests include the best acne treatments, rolling luggage, pillows for side sleepers, natural anxiety remedies, and bath towels. We update links when possible, but note that deals can expire and all prices are subject to change.