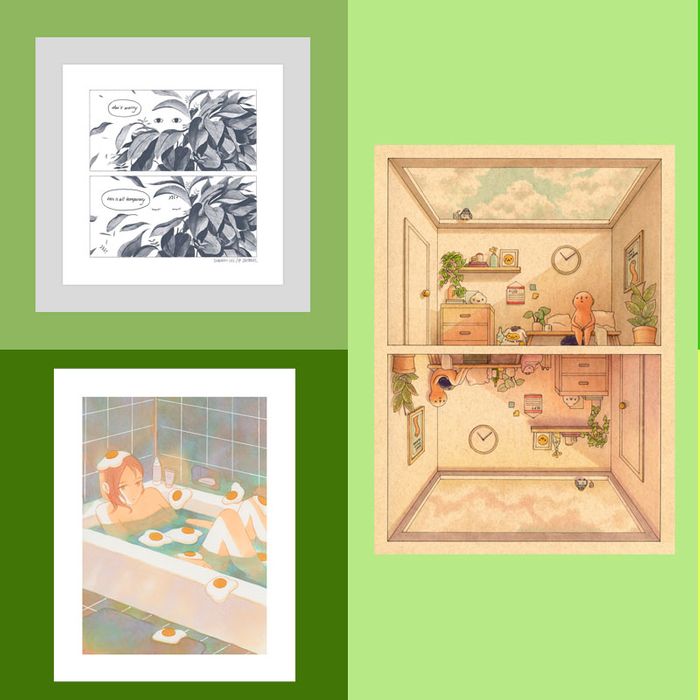 After being stuck in your home for the better part of a year, you might be feeling a bit bored by what is — or is not — hanging on its walls. An easy way to fix this would be to change (or hang) some wall art. But if being stuck at home for as long as you have means you have no idea where to look for that art, don't fret. To help you find the right piece, we perused the works of 25 Asian American artists to surface illustrations, paintings, photographs, and other pieces worthy of some vertical space, whether it's in the bathroom, the bedroom, or the living room. Some of the pieces below come recommended by colleagues in New York Magazine's art and photography departments; others come from scrolling through curatorial Instagram accounts like It's Nice That and Women Who Draw, as well as that of watercolor artist @tiffblot, who rounded up her own directory of AAPI creatives to support. As what's here is really just the tip of the iceberg of Asian American–made wall art, we'll continue to update this article with other covetable pieces as we find them. Should you wish to further support Asian and Asian American communities, check out our (growing) directory of charitable organizations you can donate to.
New York Magazine's art director and visuals lead, Stevie Remsberg, pointed us to the work of Chinese Canadian illustrator Nicole Xu. While this watercolor print would look great adorning the wall of a bedroom or living room, the image, as its name suggests, seems made for a bathroom.
Filipino American illustrator Kitkat Pecson is based in New York City and sells a line of apparel and prints via her Etsy shop. This cheeky image shows someone stress-baking their way through the end of the world (relatable). It's part of a limited-edition run of ten, each of which comes signed and numbered by the artist.
If you want to invest in a piece, Remsberg suggests this bold screen print by Japanese artist Misaki Kawai, who is known for her colorful paintings and fuzzy sculptures.
Taiwanese American artist Felicia Liang specializes in digital and colored-pencil illustrations. Perhaps you've seen her work for #100DAYSIANS, her illustrated project about growing up Asian American, which went on to become a book and the theme of her first solo exhibition at New York's Pearl River Mart. During the pandemic, she began a series of line drawings of Chinatown storefronts to spotlight small businesses hard-hit by xenophobia and serve as "an illustrated artifact of a vibrant intergenerational and immigrant community," according to her website. Dim Sum Restaurant is one of those drawings, and you can buy prints of it via Liang's Etsy page.
Remsberg also told us about the work of New York–based artist Ivy Zheyu Chen, the founder of publishing and printmaking studio Upon Press. Chen has a selection of zines available at Printed Matter, along with a handful of prints featuring simple, slightly abstract fruits such as this watermelon, which would instantly bring some cheer to a kitchen.
Los Angeles–based Chinese American artist Sally Deng made Forbes's "30 Under 30: Art & Style" list last year. In addition to appearing in magazines, newspapers, and her children's book, Skyward, Deng's work can be purchased in the form of prints like this transportive seaside scene.
Watercolor artist Haejin Park sells a selection of apparel, jewelry, tapestries, and stationery on her website. Remsberg, who told us about Park, is partial to this trippy print that's a bit larger, at 13 by 19 inches. Each one is signed by the artist.
Jocelyn Tsaih is a Taiwan-born, Shanghai-raised artist currently based in Oakland, California. Her work explores "identity, human nature, and the intangible aspects of life," according to Tsaih. Though she works in various mediums, including mural painting and illustration, a lot of her pieces feature amorphous figures, such as the one in this pink-and-red risograph. They've become a signature of Tsiah's. According to her, they are meant to embody "the universal thoughts, feelings, and emotions that are shared by us all."
An original by Japanese artist and activist Yoko Ono may be prohibitively expensive, but Remsberg reminds us that prints by Ono are a lot more affordable. This one features the phrase "imagine peace" in more than 20 languages. If you're more into wearable art, we should remind you that Ono also created a limited-edition fabric face mask in collaboration with Los Angeles's Museum of Contemporary Art last year.
You may recognize Naomi Otsu's works from the pages of New York Magazine or other publications like Vogue, Playboy, or Complex. Born in New York and raised in Tokyo, Otsu is a Parsons School of Design graduate who currently lives in Brooklyn. This Libra print is one of a handful still in stock from her series of zodiac-inspired risographs; there are 50 prints per sign, and other available ones (for now) include Scorpio, Capricorn, Sagittarius, Aquarius, and Pisces (all would make a great gift). The artist is donating 15 percent of each sale to the Asian American Legal Defense and Education Fund.
New York Magazine associate art director Aaron Garza told us to check out the work of Min Heo, a Korean American illustrator who sells prints of their playful comic panels, along with stickers and zines, on their website. This print, the fifth from Heo's Runaway Bunny series, works well as a standalone piece — but if you want the whole set, know prints 1 through 4 are also only $20 each.
Garza is also a big fan of Sri Lankan American artist Shyama Golden, who sells works like this kooky print through Society6, which makes each print to order. It comes in five sizes, from an "extra small" (ten by seven inches) to an "extra-large" (40 by 25 inches).
RISD alum Andrew Kuo has shown his work in group and solo exhibitions across the globe, including at Philadelphia's Institute of Contemporary Art, New York's Asia Song Society, and Moscow's Garage Center for Contemporary Culture. This neat-looking print of his is inspired by bodega flowers.
According to her website, Los Angeles–based illustrator Jenny Yu's work depicts "worlds always suspended between fantasy and reality." The original version of this print appeared in a recent exhibition at Gallery Nucleus — where it sold for $380, making the print's price seem that much more reasonable.
Chinese Indonesian artist Gabrielle Widjaja, who is now based in New York City, doesn't just sell works on paper — you can also book an appointment to have her tattoo you. Those not looking for body art might instead consider this still-life print, which Widjaja says was inspired by a 1983 painting by American artist Paul Wonner.
Janice Chang is another artist whose work you might recognize from the newsstand, given that it has appeared in the New York Times, Vice, and Out Magazine, to name three publications. This cheerful print on paper, which is also available on canvas or a phone case, features some of the "humorous and bendy" characters Chang says she often uses in her work "as a way to engage in conversations around social and interpersonal issues."
In addition to selling block prints like this one on Etsy, artist Emily B. Yang makes protest posters for the grassroots organization Welcome to Chinatown. According to the artist, the image in this print was made "to remind myself and others to remember to take care of yourself and acknowledge that you did your best every day."
We think any kitchen would feel a bit brighter with this postcard-size print of persimmons on one of its walls. It's by Atlanta-based watercolor artist Tiffy, who has created and shared their own directory of AAPI creatives, which includes even more ceramicists, apparel designers, and illustrators to support.
Artist Tommy Kwak, whom New York Magazine associate photo editor Graylen Gatewood told us to check out, is only selling 25 of these prints featuring a flock of Faroe Island puffins in flight. Each is made to order and can be purchased framed or unframed.