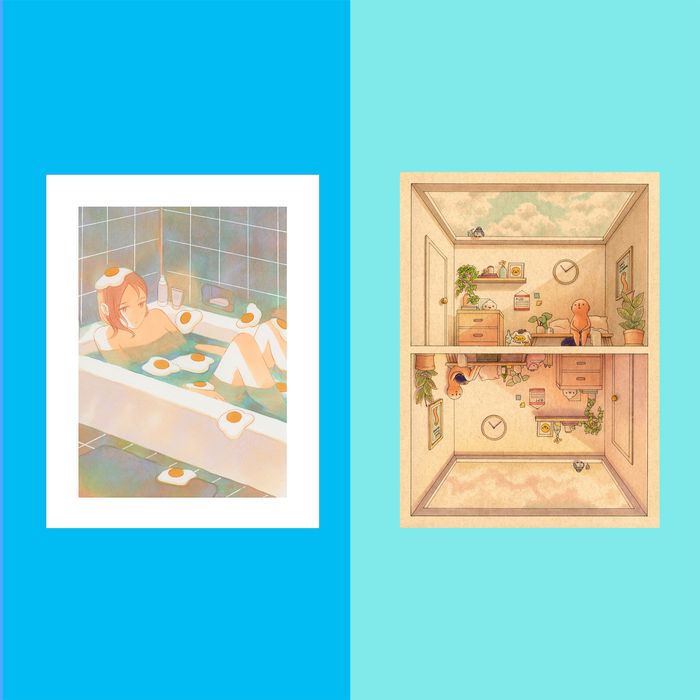 Photo-Illustration: The Strategist; Art: Retailers
After being stuck in your home for so long, you might be feeling a bit bored by what is — or is not — hanging on its walls. An easy way to fix this would be to change (or hang) some wall art. But if your inspiration is lacking because you don't know where to look, don't fret. To help you find the right piece, we perused the works of 32 Asian and Asian American artists to surface illustrations, paintings, photographs, and other pieces worthy of some wall space whether it's in the bathroom, bedroom, or living room. All of these, we might add, would make excellent gifts for just about everyone on your list from your college-age cousin looking to decorate their dorm to your new roommate. Some of the works below come recommended by colleagues in New York Magazine's art and photography departments. Others come from scrolling through Instagram accounts like It's Nice That, Women Who Draw, and that of watercolor artist Tiffany Chau, who put together her own directory of AAPI creatives to support. What's here is really just a smattering of Asian and Asian American–made wall art, so we'll continue to update this article with other covetable pieces as we find them. Should you wish to further support Asian and Asian American communities, check out our (growing) directories of charitable organizations you can donate to and AAPI businesses you can shop.
Taiwanese American artist Felicia Liang specializes in digital and colored-pencil illustrations. Perhaps you've seen her work for #100DAYSIANS, her illustrated project about growing up Asian American, which went on to become a book and the theme of her first solo exhibition at New York's Pearl River Mart. During the pandemic, she began a series of line drawings of Chinatown storefronts to spotlight small businesses hard-hit by xenophobia and serve as "an illustrated artifact of a vibrant intergenerational and immigrant community," according to her website. Dim Sum Restaurant is one of those drawings, and you can buy prints of it via Liang's Etsy page.
Patricia Wakida is the fourth-generation Japanese American artist behind Wasabi Press, an independent publisher that sells limited-edition letterpress and lino-block artist books, cards, calendars, and prints like this one of a persimmon.
We love the neon palette in this piece from Brenda Chi, a California-based illustrator, who notes that the luster of the print has "just the right about of shine and depth of color" to pop on the wall of your own home office.
This limited-edition, geometric Shunsuke Imai print is accompanied by a certificate of authenticity signed and numbered by the artist and is available either framed (for an additional $70) or unframed.
RISD alum Andrew Kuo has shown his work in group and solo shows across the globe including Philadelphia's Institute of Contemporary Art, New York's Asia Song Society, and Moscow's Garage Center for Contemporary Culture. This striking print of his is inspired by bodega flowers.
New York Magazine's art director and visuals lead, Stevie Remsberg, pointed us to the work of Chinese Canadian illustrator Nicole Xu. While this watercolor print would look great adorning the wall of a bedroom or living room, the image, as its name suggests, seems made for a bathroom.
"As a queer immigrant, I create original paintings by using escapism and nostalgia as an expression in order to reestablish a sense of belonging," like this surrealist (and downright delightful) print of a noodle floating in a hot tub, says Hong Kong–born Tsz Kam in their Etsy artist bio.
This abstract print from Osamu Kobayashi, which is available both framed and unframed, is part of a limited-edition run of just 50. Each print comes numbered and signed by the artist.
Artist Khanhlinh Su works in a variety of mediums, including watercolor, gouache, marker, and digital illustration. She has a series of prints focused on nostalgic snack foods, like shrimp chips, instant ramen, and jelly cups (all of which are available both framed and unframed).
This illustration from artist Vivien Yip features famous titles from Asian American authors like Susan Choi and Ling Ma. Proceeds from the sales of this print will be donated to Stop AAPI Hate.
Each one of these cheery prints is handprinted and signed by artist and RISD alum Stephanie Huang. The artist also sells the design as stickers and offers slightly imperfect misprints at an even more affordable price point.