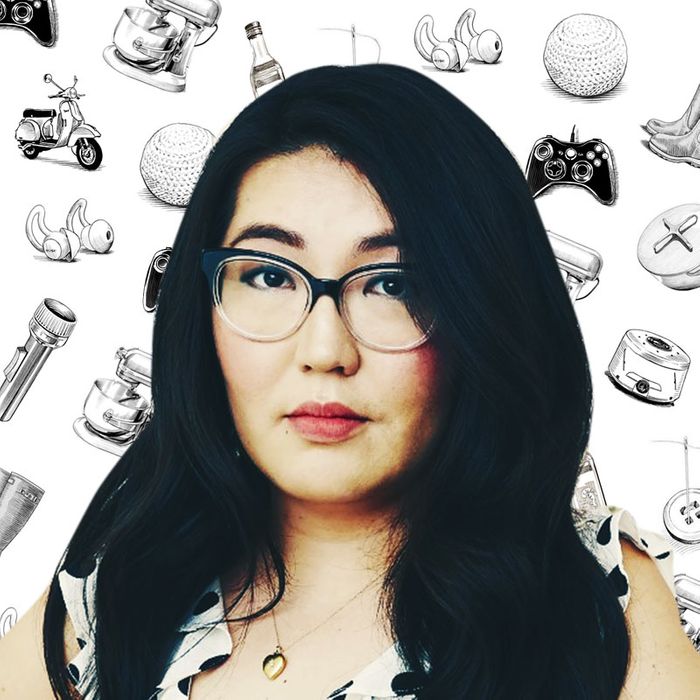 Photo-Illustration: Courtesy
If you're like us, you've probably wondered what famous people add to their carts. Not the JAR brooch and Louis XV chair, but the hairspray and the electric toothbrush. We asked Jenny Han — the author and executive producer of the To All the Boys I've Loved Before books and films, the third and last of which recently debuted on Netflix — about the home fragrance, popcorn seasoning, and loofah she can't live without.
I'm a pretty fickle skin-care consumer. This is one product that I've continued to use since my early 20s. I have really sensitive skin and it is not harsh or drying, but still a really great exfoliant. I use it once every couple of weeks or so and it kind of gives me that healthy polish. I always get the individually wrapped pads because if I get a regular-size container, the pads will dry out before I can use them all.
I have really sensitive skin, as I've said, and I also have a nickel allergy. I put this on my glasses, jeans — anything with metal that touches my skin — because otherwise I get a rash. I'm like "The Princess and the Pea" when it comes to metal. I just paint the Nickel Guard on whatever the metal thing is; one coat will usually last a few months. For jeans, I'll put it on the zipper and on the back of any buttons that might touch your skin. Oftentimes, eyeglasses will have the designer's logo or some other metal element on the part of the arm that touches your ear. I always forget about that and then wonder why my ears are so itchy.
This is the secret to movie-theater popcorn at home. It's basically a flavored salt. I was on a hunt to replicate that movie-theater taste — like a lot of people, one of the things I miss most about pre-COVID life is going to the movies. If you use a three-quarter teaspoon of this, you'll swear that you're at the movies.
I learned about it on TikTok. It's also favored by the Kardashians. My hair has never looked better. It's naturally wavy and this shampoo gives me a soft, natural wave without the frizz. It also suds up really nicely. It feels like it's actually cleaning my hair.
There was a lot of hype about Cocofloss a couple of years ago. I was like, "How great can floss be?" And then I tried some. It feels like a loofah for your teeth: You're really getting in there and grabbing up everything, not just gliding through. My dentist told me that you shouldn't use dental floss that glides because it's not really grabbing hold of debris. And the Cocofloss flavors are good. I like coconut and strawberry.
Something to know about me: I like anything that's marketed as good for babies, like this laundry detergent, because I know that it's going to be really gentle and nice for sensitive skin. I also love the smell of this. I associate it with the smell of babies because my sister used it when her little boys were babies. When I breathe it in, it's like I'm hugging a cute little baby, except I'm the baby.