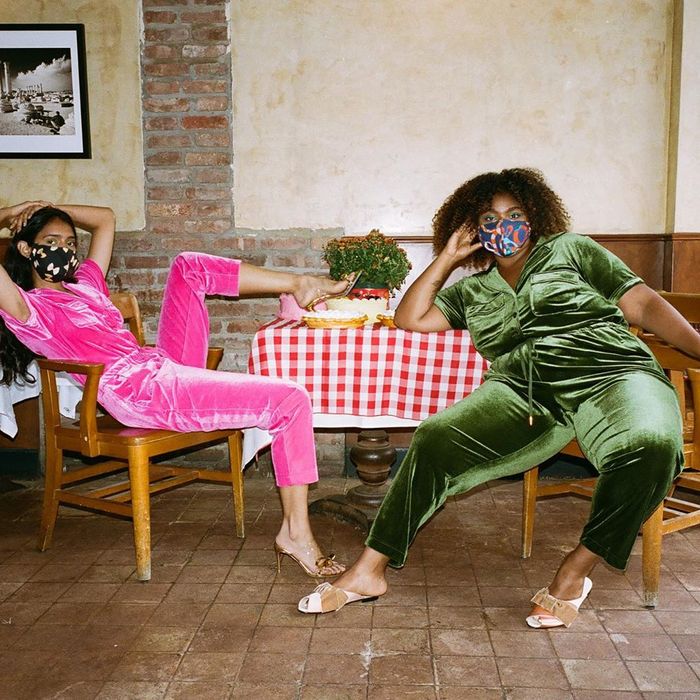 Photo: Retailer / Rachel Antonoff (@rachelantonoff)
Finding the perfect-fitting jumpsuit is — as we've said before — something of a sartorial white whale for many women. But finding the perfect-fitting jumpsuit as a tall woman is even more difficult. The inseams are never long enough, the body is often much too short, and the sleeves, if there are sleeves, inevitably hit well above the wrist. To suss out worthy options, I, a tall woman, polled 15 other tall women between the heights of five-foot-eight and six-foot-six to find out what jumpsuits they wear and love. Keep in mind that everyone's body is different — some tall women have long legs, others have long torsos — but we have plenty choices (and inseams) for all sorts of tall women, from budget-friendly loungewear jumpsuits to splurge-worthy options fit for special occasions, should those ever happen again. (And if you don't need a specifically tall-person-approved jumpsuit, we have regular jumpsuit, plus-size jumpsuit, and petite jumpsuit roundups for you to check out, too.)
Best under $100 tall jumpsuits
Photo: Retailer
Six out of our fifteen experts recommend checking out ASOS's tall section for jumpsuits thanks to their wide variety of styles and affordable price points that actually cater to tall proportions. Fashion and career blogger Whitney Powell says, "I never have to worry about a jumpsuit fitting my five-foot-eleven frame when I order from this line." And London-based blogger Alison Rogel, who's over six-feet tall, agrees: "It's almost too easy to find jumpsuits that fit," she says. Rogel particularly likes this one because she thinks "the wrap style is universally flattering and will accentuate your waist." The plisse fabric "adds a great pleated texture, but it's so light that it will feel like you're wearing pajamas." It also comes in a similar long-sleeve version, if you're looking for something a bit more winter-weather-friendly.
Photo: Retailer
"I am six-foot-two, and if it's hard to find a jumpsuit for a tall body, imagine trying to find one for a tall plus-size body," says Dawn Ellerbe, former U.S. track and field Olympian turned plus-size fashion influencer. She, too, suggests looking at ASOS, because everything is "proportioned beautifully to accommodate both long legs and a little extra room in the torso." Ellerbe especially likes "this beautiful off-the-shoulder jumpsuit comes in one of fall's prettiest colors and hits the ankle at just the right length," she says. "No worries about the waist being under your armpits instead of at your waist, as we often find the waist of garments as tall women — it sits right where it's supposed to in this jumpsuit." And it goes up to a size 16.
Photo: Retailer
Five of our experts recommend this specific jumpsuit. YouTuber Tomar Thomas, who is six-feet tall, says it's "the perfect balance of sexy and modest," while personal trainer Elle VanSchaik, who is six-foot-one, describes it as "powerful and feminine" because of its balloon sleeves, deep V-neck, and universally flattering fit. And while ASOS don't usually provide an inseam measurement, Thomas says to check the model's height before buying (and see if they're wearing heels), because it'll give you a good sense of length. "This makes shopping online as a taller woman so much easier," she adds. Unfortunately, this particular jumpsuit is almost sold out, but we think this still-in-stock one is pretty similar.
Photo: Retailer
Our experts also love Missguided for tall jumpsuits. "Their pieces are amazing quality at such an affordable price," says Thomas. Like ASOS, their stock goes fast, so some of the exact jumpsuits our experts loved are now sold out — but this is nearly identical to one recommendation from freelance stylist Shahirah Ahmed, who is five-foot-ten. She says this "ribbed knit jumpsuit is a must for a relaxed and casual at-home look paired with fuzzy slippers." The brand doesn't have an inseam measurement for this jumpsuit, but their "tall" inseams are always above 30.5 inches.
Photo: Retailer
Another comfortable option, VanSchaik calls this one "perfect" for tall women. She thinks it would be as good for lounging as "a long day of errands," adding that a "jumpsuit like this is easy and takes the guesswork out of finding an entire outfit." For her, "it's a no brainer." Like the other Missguided jumpsuit, there's no specific inseam, but VanSchaik is over six-foot tall and this works for her.
Photo: Retailer
If you're really looking to lounge, Alicia Jay, the six-foot-six founder of Tall Swag, recommends Prissy Duck for their "great selection of jumpsuits." She especially loves their athleisure, and says she's been "living" in this one. It has a 38-inch inseam, so it can work for even the longest of legs. "It's great for at-home wear and can easily transition to a night out with friends …when we can do that again," adds Jay.
Photo: Retailer
Megan Exum, founder of Belle of the Budget, calls this knit option from Abercrombie "the holy grail of jumpsuits" because it comes in three inseam sizes (petite, regular, and tall). There's no inseam length listed, but it comes recommended by both Exum, who is five-foot-ten, and Rogel, who's over six-feet tall.
Photo: Retailer
Alloy Apparel is another brand that popped up a lot. According to content creator Reagan Hart, who is six-feet tall, this grand have "some great jumpsuits that vary from casual to elegant." She particularly likes this one because it has "a very flattering detail at the waist" and the flare leg "allows for many shoe options." And best of all, it has a 37-inch inseam.