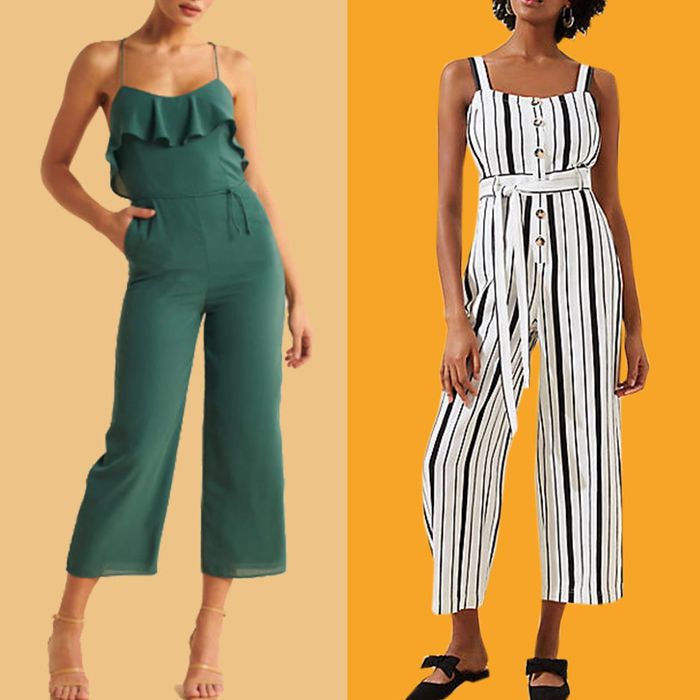 Photo-Illustration: Retailers
Shopping while short is always challenging, but there's likely no garment that strikes fear in the heart of petite women quite like the jumpsuit. As Vanessa Youshaei, founder and CEO of Petite Ave, a personal-shopping service for women under five-foot-five, explains, "Jumpsuits are definitely one of the hardest pieces to find, because you have to make sure both the top and bottom fits." If your legs or torso are especially short in relation to the other, this will make jumpsuit shopping even more difficult. "Look for jumpsuits with adjustable straps and know what your inseam is," says Youshaei, who is five feet tall. "Adjustable straps help ensure the upper half fits, and knowing your inseam ensures that the bottom half isn't too long." There's always the option of getting a jumpsuit tailored to your specific proportions, but if you want one you can wear straight off the rack, check out the styles below recommended by a panel of fashionable women — all five-foot-two or under.
"With adjustable straps and a cropped inseam of 23 inches, this jumpsuit is perfect for petite women of all proportions," says Youshaei. She also likes the vertical stripes on the legs, which have an elongating effect.
"Brands that offer jumpsuits in actual petite sizes will have a way better chance of fitting you correctly, so it's easiest to start looking there," says Kelly Tucker, the four-foot-11 blogger behind Alterations Needed. Since she often struggles to find jumpsuits that are short enough in the torso (which is trickier to alter than the leg length), she likes this one that's specifically designed for petites. Like the jumpsuit above, it features leg-lengthening vertical stripes, which Tucker says is "super-helpful when you're petite."
Note: Additional 50% off discount is applied at checkout.
Here's one more striped jumpsuit in petite-specific sizing. It's a favorite of five-foot-tall Jessica Turk of the petite fashion blog Little Me in NYC. "This will be truly cropped in the petite size, which has a 23.5-inch inseam," she says. "If you want it to be longer and a little bit roomer throughout the body, you can opt for the regular size, which has a 25.5-inch inseam." While that length would be "cropped" on most people, it's closer to full-length for petites.