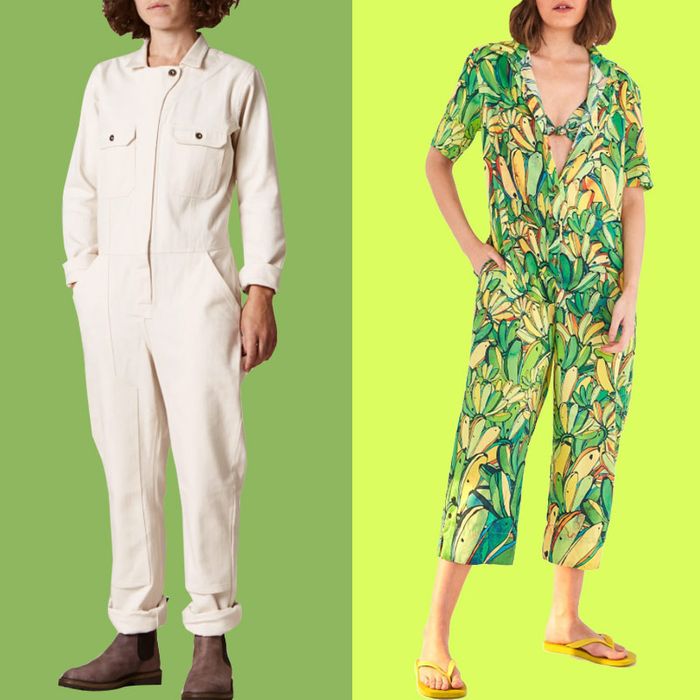 In the last few years, the perfect-fitting jumpsuit became a sartorial white whale for many women. Brands of course hopped to the challenge, flooding shelves with all sorts of styles that promised to be easy, breezy, and (most importantly) polished. Now jumpsuits are a wardrobe staple in their own right, as ubiquitous as the little black dress or white T-shirt. But just as those little black dresses or white T-shirts run the gamut, so now do jumpsuits, which means finding superior ones can be challenging for anyone still looking. To find the most stylish options, we asked 15 fashionable people — including stylists, costume designers, and our own writers and editors — about their favorites, then scoured our archives for any standouts (like some that celebrities told us they can't live without). Read on for the results of our search, which include rugged workwear-inspired styles, oversize coveralls, affordable linen options, and more.
Best
under-$100
jumpsuits
Strategist Managing Editor Maxine Builder discovered this affordable, "wildly practical" jumpsuit in the Work Utility and Safety Apparel section of Amazon. After wearing it year-round, "my affection for the piece has reached the point where I actually feel a little lost when I reach for the jumpsuit in the morning, only to remember that it's in the wash," writes Builder. "But since these coveralls are less than $40 apiece, I can stock up on all of the colors without breaking the bank — or having to really think about dressing myself ever again."
To supplement her beloved Five Rock jumpsuit, Builder says she wanted to find "a not-too-expensive, not-too-thick, white" one (presumably for days her Five Rock coveralls are in the wash). After vetting a few options — including jumpsuits from Alex Mill, Big Bud Press, and Five Rock — she settled on this one from Everlane. "I felt like I hit the jackpot: It's got short sleeves, it's lightweight denim so I won't have any wardrobe malfunctions, and it's under $100." Those who are a little too messy to wear white should know it comes in a much more forgiving dark-blue denim, too.
If you're looking for an affordable, cozy, pajama-adjacent jumpsuit, we suggest this flight-attendant favorite. At our last (unofficial) count, the number of flight attendants who owned it was nearly 400 — and, according to some of the ones we spoke to about it, their enthusiasm spawned a dedicated Facebook group about the garment called "The Sisterhood of the Traveling Jumpsuit." Writer Hilary Reid, who talked to those flight attendants about why they love it so, summed up what she learned like this: "When people who fly for a living say that something is travel-friendly — and comfortable, easy to wear, and generally no fuss — we're inclined to take their word for it."