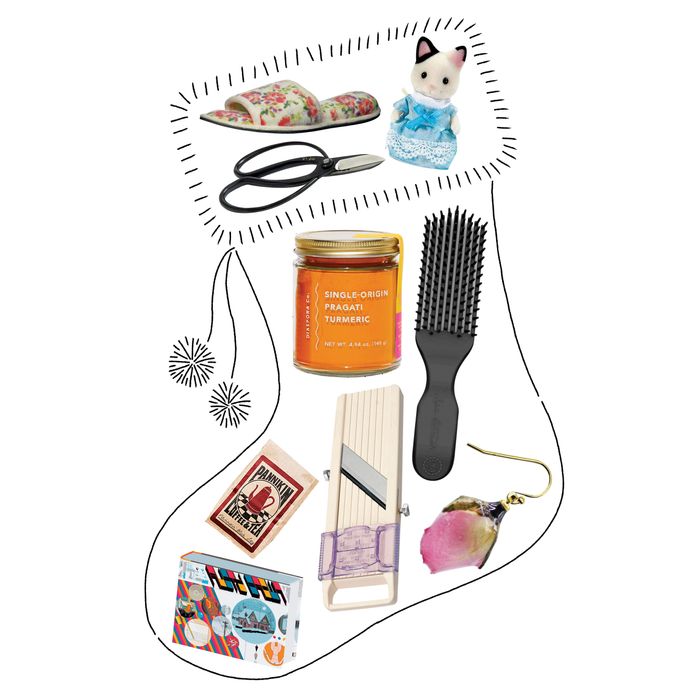 Illustration: Debora Szpilman
As Strategist editors, it's our job to notice how people shop. Over the past nine months, we of course reported on people all of a sudden buying sourdough starters and bidets and sweatpants and home-office chairs and Zoom lipstick. But we also heard the stories about people just going for it and buying things that in Normal Times they would never consider, from new pairs of old-school roller skates, to prime cuts of mail-order pork, to baby grand pianos. So as the holidays rolled around we decided to ask some of the most interesting people we know a simple question: What is the most satisfying thing you bought for yourself this year? Below, all of the under-$50 things these folks with discerning taste — who include a congressman-elect, a Real Housewife, two Coppolas, a butcher, some bakers, and even a couple of candlestick-makers — bought in quarantine that would make great gifts. If you're looking to spend a bit more, we've got options under $200. And if you're looking to splurge, we've got stuff over $200, too.
Turn it on, put your feet on it while you're working, and it'll warm them up. Can you tell that I just love being comfortable? It's the best gift I've ever given myself.
A fast, efficient tabletop setup that I can move easily from room to room. This particular ring light comes with multiple settings, from warm to cool, because of "digital permanence."
No fuss and effortlessness. I buy them a size larger, which brings them into the orbit of pajamas (without making me feel sloppy or hungover), yet they remain polished enough for an online book event or waving to a neighbor. The fabric is forgiving of wine and coffee stains, and there's no need to iron or dry-clean them. They actually look better wrinkled (perhaps even dirty), which gives off a bit of a Dickie Greenleaf vibe.
This brush is the gospel. If there are thick curls in your life, get thee to Felicia Leatherwood as quickly as possible.
CEO and founder, Uprise Art
There's enough variety that toddlers can keep busy making new creations for hours. But the set is curated enough that they use their supplies carefully, and you don't end up with hundreds of popsicle sticks on the floor.
These are easy to grasp and like paint, but dry quickly and don't require water or brushes to clean up. Three artists that my gallery represents, who are also parents, recommend them, too.
I'm cooking more than ever, so I've indulged in quality olive oils. Pineapple Collaborative's is sourced from women producers and growers in California, and its ingredients are sustainably harvested in small batches.
Former U.S. deputy assistant attorney general; host, Talking Feds podcast