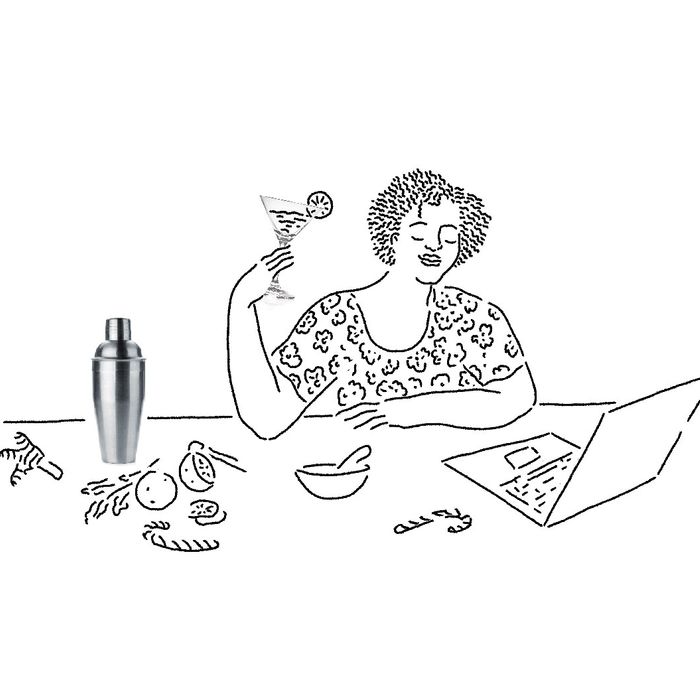 Author Tayari Jones signed up for a monthly cocktail-subscription box that she uses for Zoom happy hours.
Illustration: Debora Szpilman
As Strategist editors, it's our job to notice how people shop. Over the past nine months, we of course reported on people all of a sudden buying sourdough starters and bidets and sweatpants and home-office chairs and Zoom lipstick. But we also heard the stories about people just going for it and buying things that in Normal Times they would never consider, from new pairs of old-school roller skates, to prime cuts of mail-order pork, to baby grand pianos. So as the holidays rolled around we decided to ask some of the most interesting people we know a simple question: What is the most satisfying thing you bought for yourself this year? Below, all of the under-$200 things these folks with discerning taste — who include a congressman-elect, a Real Housewife, two Coppolas, a butcher, some bakers, and even a couple of candlestick-makers — bought in quarantine that would make great gifts. If you're looking for more affordable ideas, we've got options under $50. And if you're looking to splurge, we've got options over $200, too.
Congressman-elect, New York's 16th Congressional District
The Force is like my religion. This game helped me get through fundraising and dialing for dollars for my campaign. It's one of the most incredible gaming experiences anyone could ever have. You travel from planet to planet as a Padawan on your path to becoming a Jedi. It's awesome.
I am obsessed with karaoke, and I got the Bluetooth karaoke microphone so I could perform on the go. It has been one of our favorite family activities during quarantine.
A fabulous robe to slightly glam up my quarantine life. It's from Laina Jane, a sexy mom store on Christopher Street.