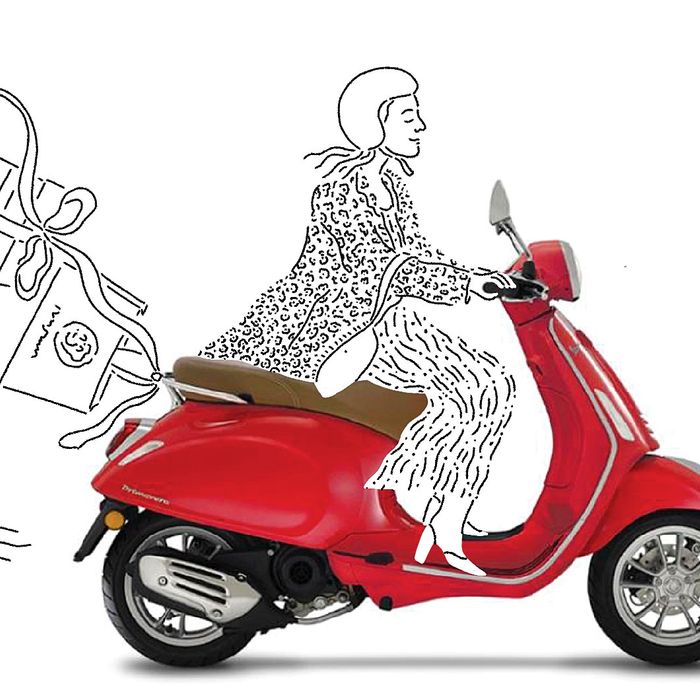 Actress Heléne Yorke splurged on a Vespa Primavera for scooting around the city.
Illustration: Debora Szpilman
As Strategist editors, it's our job to notice how people shop. Over the past nine months, we of course reported on people all of a sudden buying sourdough starters and bidets and sweatpants and home-office chairs and Zoom lipstick. But we also heard the stories about people just going for it and buying things that in Normal Times they would never consider, from new pairs of old-school roller skates, to prime cuts of mail-order pork, to baby grand pianos. So as the holidays rolled around we decided to ask some of the most interesting people we know a simple question: What is the most satisfying thing you bought for yourself this year? Below, all of the under-$200 things these folks with discerning taste — who include a congressman-elect, a Real Housewife, two Coppolas, a butcher, some bakers, and even a couple of candlestick-makers — bought in quarantine that would make great gifts. If you're looking for more affordable ideas, we've got options under $200 and under $50, too.
I tell my husband it's my COVID check when I'm caught spritzing it too many times per day. (I don't need to spray it so much, I just love the smell).
The inflatable movie screen has been great for our kids, who are 14 and 16. It's easy to set up and is so big that you can maintain social distance and still easily see it. We are binging on the classics: Fletch, The Wedding Singer, and Dead Poets Society.
For cozying up at home and layering outdoors in all seasons.
Real Housewife of New York City
I replaced various picture frames I collected over the years with these old-school Tiffany frames. Timeless and elegant. I haven't replaced all of mine yet — I guess you know what to get me for Christmas!
My daughters and I play with it almost every night. We've made so many great memories together.
I already have a Dyson, so if you had told me six months ago I would be getting a second vacuum, I would have been concerned for my own well-being. But by mid-summer, life was beginning to feel like one big cleaning cycle. The Roomba allowed me to embrace a new "set it and forget it" lifestyle.
Gorgeous and folds down flat, making it stupid easy to store and transport. It got a lot of quasi-illegal use on my building's roof this summer, especially for last-minute barbecues or when I received a CSA bag full of shisitos.
These sweaters are indestructible. I've worn the same one for ten years, but I did get myself a new one this year that's the color of pinot noir.
My quest for the perfect biker jacket lasted longer than my last three relationships combined. The gurus of elevated basics at A.P.C. hit the sweet spot: Leather that's somehow buttery and sturdy, a legit lining for cool fall days, and hardware that doesn't make you look like a Hells Angel.
I finished my novel, meditated, and rewatched The Sopranos from the comfort of my new favorite piece of furniture. This design is a classic for a reason: It's like someone molded fiberglass to hug from behind and then upholstered it in cashmere (spring for the cashmere fabric).
The Zoom universe requires our faces to be more stylish than anything else. These make me feel like I'm getting gussied up to hit the town, even if my commute is only from the bedroom to the living room.
Let me be clear: I am not a great pianist. Not even a good pianist. But I've always wanted a piano and when lockdown started, I decided to take all the money I'd won from playing poker over the last year or so and spend it on a piano. You might be thinking, "A mahogany baby grand piano is extravagant, Michael." It was.