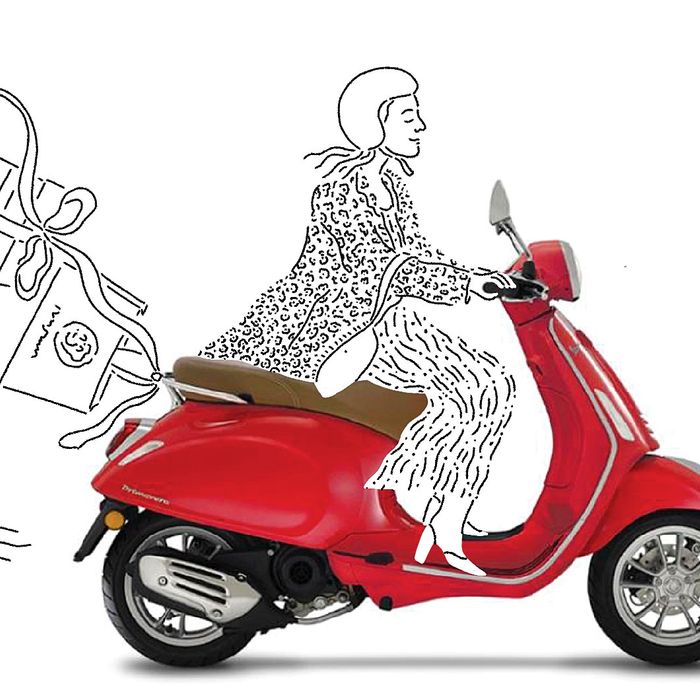 Actress Heléne Yorke splurged on a Vespa Primavera for scooting around the city.
Illustration: Debora Szpilman
As Strategist editors, it's our job to notice how people shop. Over the past nine months, we of course reported on people all of a sudden buying sourdough starters and bidets and sweatpants and home-office chairs and Zoom lipstick. But we also heard the stories about people just going for it and buying things that in Normal Times they would never consider, from new pairs of old-school roller skates, to prime cuts of mail-order pork, to baby grand pianos. So as the holidays rolled around we decided to ask some of the most interesting people we know a simple question: What is the most satisfying thing you bought for yourself this year? Below, all of the under-$200 things these folks with discerning taste — who include a congressman-elect, a Real Housewife, two Coppolas, a butcher, some bakers, and even a couple of candlestick-makers — bought in quarantine that would make great gifts. If you're looking for more affordable ideas, we've got options under $200 and under $50, too.
I tell my husband it's my COVID check when I'm caught spritzing it too many times per day. (I don't need to spray it so much, I just love the smell).
The inflatable movie screen has been great for our kids, who are 14 and 16. It's easy to set up and is so big that you can maintain social distance and still easily see it. We are binging on the classics: Fletch, The Wedding Singer, and Dead Poets Society.
For cozying up at home and layering outdoors in all seasons.
Real Housewife of New York City
I replaced various picture frames I collected over the years with these old-school Tiffany frames. Timeless and elegant. I haven't replaced all of mine yet — I guess you know what to get me for Christmas!