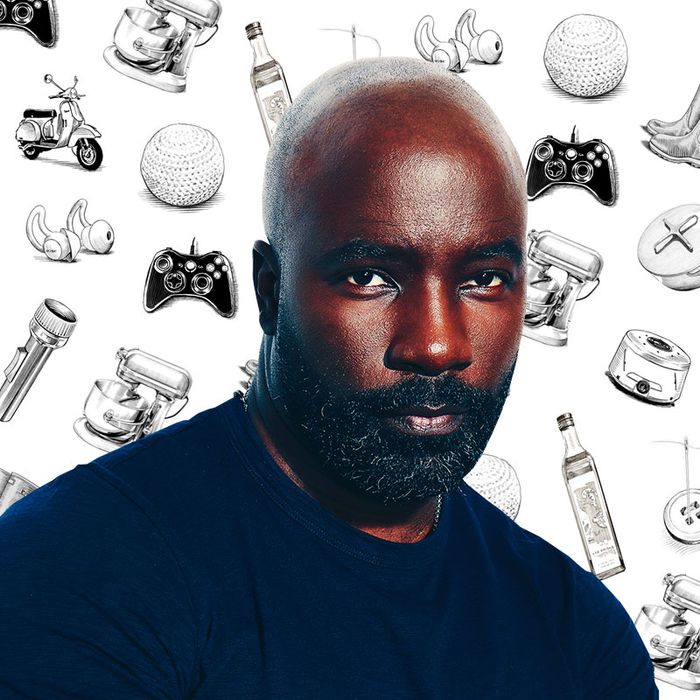 Photo: JSquared Photography
If you're like us, you've probably wondered what famous people add to their carts. Not the JAR brooch and Louis XV chair but the hairspray and the electric toothbrush. We asked actor Mike Colter — whose Netflix show, Social Distance, is out now — about the jeans, clippers, and beard oil he can't live without.
The main thing I look for in jeans is a little elasticity — just a small percentage, enough for them to fit without being too tight. When it comes to "skinny jeans," a lot of brands, especially European brands, make what I call Mick Jagger jeans: You have to be six feet tall and no more than 150 pounds to fit in them. Normal guys can't get them past their thighs, and if they do, they won't be able to sit down or walk. Paige is predominantly known for its women's jeans, which I think is what makes the brand great for men, too. Guys look for the same things girls look for: We just want jeans that give us a nice butt and don't look too tight in the crotch. It's a hard thing to find. These have that perfect mix of qualities. And for whatever reason, I've always liked gray. Blue is pretty basic, and black is too strong. Gray goes well with so many colors: purple, red, pink, blue, more gray. The color doesn't get enough attention.
I like manis and pedis. I prefer going to a professional, but since I haven't been able to really see anyone, I like to do touch-ups myself. I'll do them in between appointments, too. An emery board is great for filing down a snag. Clipping isn't always necessary and even when you do clip your nails, you want to make sure your edges aren't jagged. An emery board ensures that your nails look and feel nice. After using one, I can feel the difference when I run my fingers across the edges of my nails.
Before I got this, I didn't even know the brand made colognes. I just thought of Jo Malone for candles and things like that. I walked into a store looking for a gift and saw they had all these fragrances, so I started smelling them. I came across this one, really liked it, and now it's my favorite. Fragrances, to me, are always gender-neutral — if I like it, and it works well with my body chemistry, then I'll get it. That's the most important thing, how it works on the skin. I've made the mistake of buying scents that smelled great on the little paper tester, but not on my skin.