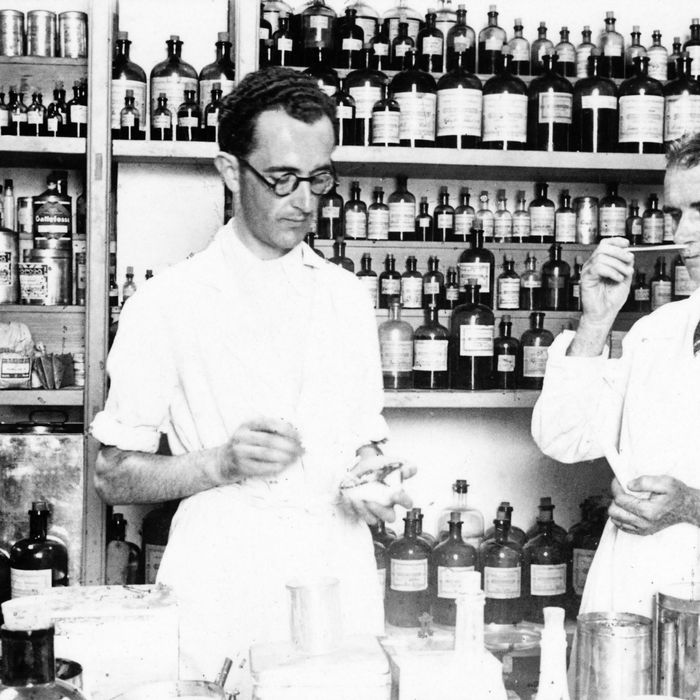 Photo: Mansell/The LIFE Picture Collection via
Lately, there's been a gradual shift in men's cologne, away from the musk, tobacco, and dark liquor-inflected scents of tradition and into lighter, more botanical territory. Citrus, florals, and woodsy notes have always had a subtle presence in men's perfumery, but they're becoming increasingly prominent due to a push towards unisex fragrances (and a push away from anything reminiscent of Axe). The truth, of course, is that fragrance has always been unisex, but men seem to be embracing this idea more than ever. To wit, when we asked 12 stylish men what colognes they're wearing right now, their answers suggest that a new era of scent is upon us. Read on for their 12 favorite colognes, which include scents derived from natural ingredients, non-fussy floral fragrances, a couple non-obvious picks from designer labels, and more.
The best colognes to bring out your natural musk (in a good way)
According to writer Max Berlinger, not all unisex scents are created equal. He likes this "dry, arid scent with just a whisper of tangy, crisp citrus" because "there is something sort of sensual about it, like how I would want my skin to smell after a run – if, you know, I went on runs." Aesop, one of the most popular unisex brands around, is known for their subtle, minimalist scents, and even though this one isn't an attention grabber, "when people do notice it, they all know it's Aesop."
Escentric Molecules is notorious because it's designed to smell different on everyone (apparently, the isolated molecule reacts to each person's body chemistry differently). The result is less like you're wearing cologne and more like your own natural musk smells really, really good. That's what originally drew aesthetician Matthew Miller to it: "I'm not huge on fragrance, but I had several clients who wore it." The Molecule 01 scent alone is sandalwood-adjacent, but "doesn't smell too woody," he adds. Nodding to that trend of men embracing unisex fragrances is the fact that this one counts another fan in Kelly Ripa, who recently told us she bought it after smelling it on "one of the Mara girls."
The best naturally derived colognes for men
Finding a natural fragrance can be tricky; they often disappear in minutes or leave you smelling like you work in a college-town headshop. But according to Judge Khanna, co-founder of Spiltmilk Eyewear, this solid cologne is "the perfect balance between oud and fresh scents," two notes at the core of men's fragrances. He quickly converted to this because of its fit-in-your-pocket convenience, and recommends dabbing a penny-sized amount on your wrists and neck, especially before a night out on the town. "Every time I wear it, people ask if it's some expensive cologne."
Fashion and lifestyle consultant Preston Konrad says he loves this unisex cologne because "it's like nothing I've ever smelled, and nobody likes to have the same scent as the other guys in the room." It's a blend of dark spices, vetiver, and vanilla that has an elevated, luxury quality that's hard to put a finger on but never fails to turn heads, Konrad says. When he's feeling crazy, he often layers Torn with another Henry Rose scent, Dark Is Night, for a custom fragrance. Konrad adds that the brand promises to be 100-percent transparent with the ingredients in its elevated scents, making this a "win-win" for him.
The best non-fussy floral colognes
Spend any time at a men's cologne counter and you'll hear the same notes over and over — rum, tobacco, black tea. But Thom Bettridge, the editor-in-chief of Highsnobiety, prefers something a little lighter. "I still really enjoy smelling like flowers and doing so in a very assertive, un-flower-like way," he said. That's why he reaches for this unisex scent that's layered with jasmine, saffron, and amber, along with a cedar wood base. "It somehow manages to scream 'unisex' and 'Bond villian' at the same time," he explains.
Justin Fenner, the deputy digital editor of luxury lifestyle publication Robb Report, has been wearing this unisex fragrance for years because of "how well it combines elements you wouldn't think would work together." The dominant note is rose, something you don't often find in traditional men's cologne, but it also has undertones of cedar, olibanum, and cumin, which he likes because they makes the overall vibe "charming and warm." The sillage is strong, meaning the scent lingers, and "it's funky and different enough that I get asked about it pretty regularly," Fenner adds.
The best colognes for minimalists
The best thing about affordable fragrances, according to Men's Health senior style and gear editor Adam Mansuroglu, is that they make it easy "for any guy to be his own fragrance mix master." He favors this inexpensive cologne because it's a simple, subtle blend of sandalwood, amber, and cardamom. The combination creates a warm, woody, creamy vibe that he loves to wear by itself, but can also "be a great base to layer under another Bon Parfumeur scent for special occasions or a mood change."
Unisex cologne doesn't always have to rely on florals, though Byredo's Super Cedar does contain rose petals. It's actor Patrick Vaill's favorite because "it doesn't announce itself." The rich, warm woody scent is surprisingly subtle and unassuming, yet it's still quite unique, he says. The first time he tried it, "it felt instantly right, like slipping on the perfect pair of jeans. Plus, it just smells so damn good."
The best cologne for guys flying under the radar
Brian Trunzo, head of men's fashion sales for trade show company Informa Markets, calls this classic Le Labo scent the fragrance equivalent of "Matt Damon in Ocean's 11: sexy yet modest, intriguing yet ordinary." It's a well-balanced mix of sharp bergamot, smoky tobacco, spicy black tea, and woody cedarwood that comes together to create an ideal everyday scent that's not overpowering. And like all of Le Labo's fragrances, Trunzo notes it's unisex. "I often catch my wife giving herself a little spritz when she's running low on her own arsenal of perfumes."
The best cologne for guys with wanderlust
"This is what I want my entire world to smell like," says William Li, co-host of Lucky Chow, which premieres in May on PBS. "When I was in Japan several years ago, I loved the smell of old Japanese houses and temples, and I wanted to find a fragrance that mimicked that." This heady blend of cedar, smoke, amber, and incense fit the bill perfectly. You'd think that all those smoky ingredients would be heavy, but the result is more subtle than expected, making it an unexpected and masculine-leaning every day option.
The best colognes from designers you've heard of
Atlas cedar and patchouli are the cornerstones of this modern scent, which Esquire editor-in-chief Michael Sebastian has been wearing since last year. It's not the Dior Homme you're thinking of: This newly reimagined version is fresh and woody without making you smell like you just stood next to a campfire. It's not overpowering, either, but has just the right amount of sillage to make an impression. "Whenever I wear it, someone inevitably says, what smells so good?" says Sebastian. "Which is, I think, exactly what you want from a cologne."
"I'm not huge into woody smells. I like more crisp scents," says Benjamin Miller, a barber and the founder of Anchors Aweigh Hair Co. That's one reason why he's been wearing this classic fougère scent for years, with another reason being how well it plays with other scents. "I like the sweet and crisp semi-musk because it matches well with neutral deodorants and doesn't clash with hair product scents," Miller explains. It's subtle and clean but still leaves an impression. "I'm always asked what I'm wearing but I never want to give up my secret," he adds. (Best of all, you can find this one at a lot of drugstores, even though it's Versace.)
The Strategist is designed to surface the most useful, expert recommendations for things to buy across the vast e-commerce landscape. Some of our latest conquests include the best acne treatments, rolling luggage, pillows for side sleepers, natural anxiety remedies, and bath towels. We update links when possible, but note that deals can expire and all prices are subject to change.