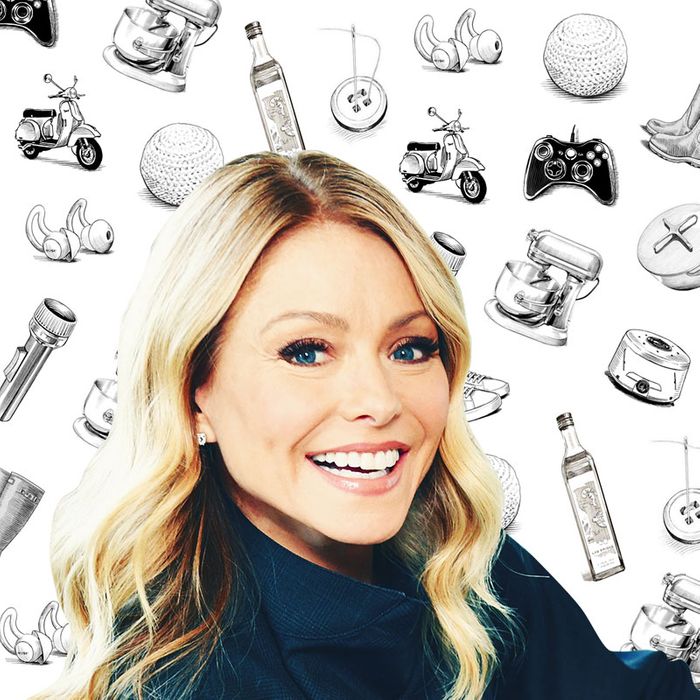 Photo: Craig Barritt / Getty Images
If you're like us, you've probably wondered what famous people add to their carts. Not the JAR brooch and Louis XV chair, but the hand sanitizer and the electric toothbrush. We asked TV host Kelly Ripa — who was recently named a brand ambassador for customizable-vitamin company Persona Nutrition — about the makeup remover, hand sanitizer, and natural deodorant she can't live without.
I grew up going to the Jersey shore where, as teenagers, we put baby oil on our skin and thought it didn't work unless we were burned. So I am now paying the price for that phase of my life. My kids got my husband's coloring — thank god — but I always tell them that just because you have this beautiful, bronze coloring doesn't mean you can't and won't get skin cancer. Because of the damage I did as a teenager, now, every time I go to the dermatologist, I cross my fingers and hope everything will be okay and go well. And I also double down on sunscreen. What I like about this sunscreen, first of all, is that it's full-coverage. It's that broad-spectrum, UVA-UVB and whatnot sunscreen, but it's tinted in a way that sort of makes you look sun-kissed and not a weird color. A lot of tinted products tend to make you look orange or way too dark, to the point where you don't even look like yourself. This is just like a light coverage, so it looks like maybe you put on foundation, maybe you didn't, who knows?
I started using it when I got a sample in the hospital right before I brought home my son, Michael, who is now 22 years old. Before you leave, they hand you your baby and a leaflet about how to care for your baby. Seriously, a leaflet. I got way more instructions with my Persona vitamins than I did with my baby. Then, they hand you this soap and are like, "This is a good soap for the baby, use this." Every time I use it, I have this scent memory of bringing home Michael. Even if I'm staying in the most luxurious hotel that gives you all the fancy soaps and shampoos, I bring my own bar of Dove soap. It just sets my mind right. It's the best.
The bottle is so chic and it smells so good. Do you ever get on the subway and smell something that's not so great? You're not sure what it is, but it's just there and it's bad? You can just spray this and it instantly makes things better. I'll spray it into my jacket and then put my face into my jacket and inhale it. It takes me away. And it works. Except I just found out that it apparently doesn't kill norovirus or coronavirus. They say you still need to use good old soap and water to take care of those, but I'll keep using Jao for the smell.