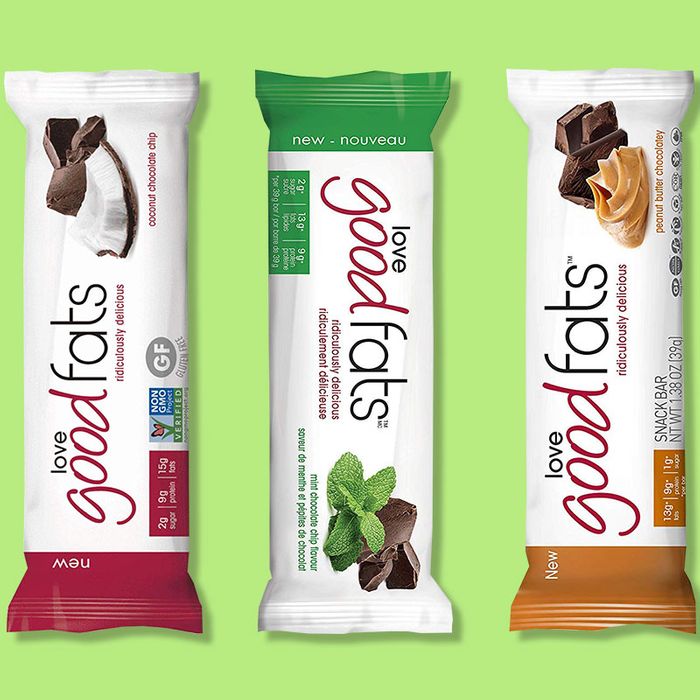 Photo: Courtesy of the retailer
I don't work out regularly per se (aside from the triathlons across New York City that are my daily commutes), but in the past few years I have become a connoisseur of the protein bar. I currently eat about two a day, one for breakfast and another to crush hunger between lunch and dinner. It's not that I'm completely uninterested in the stated function of a protein bar — I'm currently trying to gain weight by any means necessary — but, like many regular-but-casual protein-bar consumers, my primary focus is on a bar's ability to deliver a combination of taste, high protein, and low sugar (with as few chemical sugar substitutes as possible, even with my emphasis on taste).
In my experience, most protein bars fall into two categories: glorified candy bar (looking at you, Clif Bars) or flaccid chemical-protein hunk (any bar with packaging that looks like the work of product designers for Axe Body Spray). For years, I've searched for a bar that falls somewhere in the middle of that spectrum — tasty enough to satisfy the 10-year-old me who was raised on refined sugar, healthy enough to placate the 30-year-old me who is paranoid about ingredients and balanced nutrition, and filling enough to serve as a meal/snack replacement. In that time, I've tried more than 20 kinds. I had a thing with Quest Bars until I couldn't trust them (the company changed their recipe to include more processed-corn products). I wanted to love Perfect Bars, but they are too high-maintenance (refrigeration is needed). Combat Crunch Bars were substantial, but I never once was excited to bite into one. All these on-again-off-again flings had me ready to quit protein bars entirely, but then, while on vacation in Toronto, I found the one — the protein bar I now consider my soul mate — while browsing a local health-food store.
[Editor's note: To get the sale price, you must click the box to apply a coupon on Amazon, which will show the discount when you check out.]
Before I get more into why I love these ridiculously good bars made by the ridiculously named company Love Good Fats, I think it's worth elaborating on the nutrition-related criteria I considered on my journey to find them. Depending on whom you ask, some doctors and nutritionists say most protein bars are basically candy, while others argue that they can be an integral part of a healthy diet. If you're looking for the latter, it shouldn't be surprising that one thing people from both camps tend to agree on is ingredients are what matters most. And when it comes to reading an ingredient label, experts say the key things to look for are sources of protein (duh), sugar content, and ingredient complexity. Although protein bars in general tend to have a lot of ingredients and are processed foods by nature, I try to apply the Michael Pollan principle and look for ones made with as few things as possible. Protein types vary widely across bars: Most are okay, with experts typically naming whey, rice, or nuts as the best. (Dr. Stephanie Middleberg, the founder of New York City–based Middleberg Nutrition, recommends staying away from bars containing soy-protein isolate, as the chemical process used to derive it often leaves behind additives like aluminum.) When it comes to sugar, there's no shortage of evidence that a lot of can be bad for you, and many protein bars will profess to be healthy by citing low sugar counts. But a lot of those actually contain artificial sugar substitutes like aspartame or sucralose (Splenda), which, according to a Duke University study, may destroy healthy gut bacteria and cause a spike in your glycemic index. If you're looking for a bar low in sugar, the Mayo Clinic recommends sticking to ones that use natural sweeteners like agave nectar or honey.
Getting back to the Love Good Fats bars: They are keto-friendly, gluten-free, and made with a blend of healthy fats, including almond butter and coconut (these healthy fats help keep me feeling full after I eat one). The protein in most of the bars is derived from whey/milk, which means a lot aren't vegan, but the brand does sell some bars made with brown-rice protein. All the bars have roughly the same 9 grams of protein–to–2 grams of sugar ratio; that might seem low, but I'd say the average amount of protein is 12 grams (at least in bars I've tried), so these still deliver a comparable amount with minimal processed sugar. There are no highly processed or chemically made sugar alcohols in them, only small amounts of Stevia (which, while neither agave nor honey, is an FDA-approved sweetener that the European Food Safety Authority and the World Health Organization say is "safe in the amounts typically used," according to reports). When it comes to the number of ingredients, Love Good Fats bars have fewer than 20; many other bars I've tried have more than 30, so while these are by no means a "whole" food, they are by far the lesser of many very processed evils. And perhaps most importantly (to me), they are delicious. The bars taste exactly like a sugar-packed chocolate bar — even if a somewhat off-brand one — but have a fraction of those things' horrific ingredients and nutritional value. They're great at room temperature, but I also discovered they're equally delicious frozen, because the bars' texture changes into something like that of an ice-cream bar after a few hours in the freezer.
Love Good Fats recently expanded its distribution beyond Canada, so now the bars are available at most Whole Foods stores and online retailers, including Amazon. I'm partial to Coconut Chocolate Chip and Rich Chocolatey Almond, which are basically stand-ins for Almond Joy and Mounds bars, but the brand offers five varieties within its primary flavors, including a chocolate-and-peanut-butter bar that has only one gram of sugar. Every person I've recommended them to — fitness obsessive or not — has since quickly incorporated the bars into their daily routine. Apparently, like mine, their love for Love Good Fats knows no bounds.
[Editor's note: To get the sale price, you must click the box to apply a coupon on Amazon, which will show the discount when you check out.]
More Love Good Fats bars
The brand's "best-selling" peanut-butter-chocolate flavor, with one gram of sugar. Like with the above bars, you need to click to apply a coupon to get the sale price at checkout.
I find chocolate and mint to be a repulsive combination, but when my wife heard I was writing this article, she insisted I put her favorite flavor in as well. So to save my marriage, here it is.
If you're not ready to commit to one of the above flavors, Love Good Fats sells them all in a variety pack. Again, like with the discounted boxes of bars above, you need to click to apply a coupon to get the sale price at checkout.
Among the brand's newer flavors is this Cookies & Cream variety, which stands a strong chance of becoming my favorite. It's not overly sweet but still manages to deliver a subtle Oreo flavor, and it's far and away best when frozen.
I'm more partial to the taste of the whey-protein bars above, but if you're looking for a great vegan bar, there are two flavors to try: chocolate-chip cookie dough and peanut butter and jelly. If you're not sure which vegan flavor to try, Love Good Fats also sells a variety pack of its plant-based bars.
The Strategist is designed to surface the most useful, expert recommendations for things to buy across the vast e-commerce landscape. Some of our latest conquests include the best acne treatments, rolling luggage, pillows for side sleepers, natural anxiety remedies, and bath towels. We update links when possible, but note that deals can expire and all prices are subject to change.