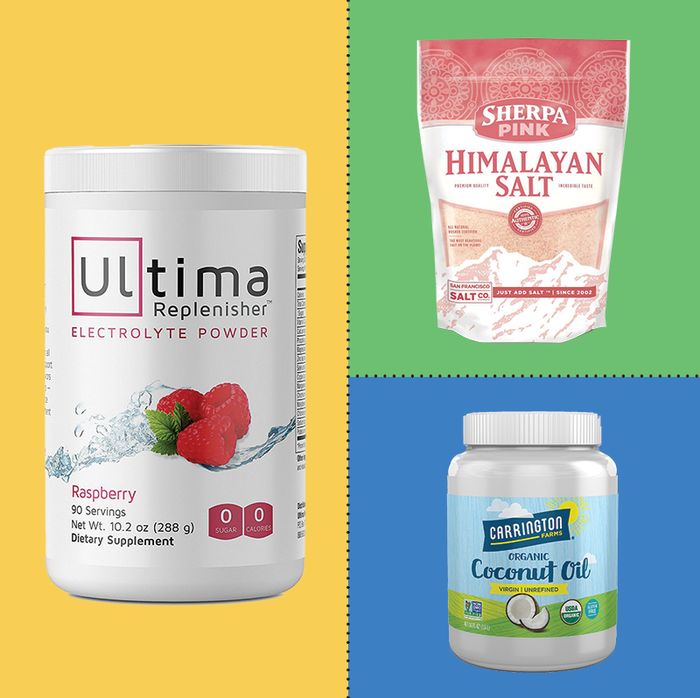 Now that you know what the ketogenic diet is, you also know that the common benefits — appetite control, mental clarity — often only come after a trying initiation period known as the "keto flu": As your body adjusts to the new demands of turning fat into ketones to be used for energy, rather than getting its fuel from sugar, your electrolytes go off-balance, and you can experience several days of symptoms like headaches and nausea. (Some people get so put off by the flu, they never make it to the benefits part.) But just as there are products that you can buy to help ward off actual influenza, so, too, can you stock up on defenses against its carb-withdrawal form. Here, The Keto Diet podcast host Leanne Vogel, who has a recent best-selling book by the same name, shares her favorite inoculation hacks.
"The No. 1 reason you experience those flu symptoms on keto is because you need more electrolytes. Bone broth is naturally really rich in electrolytes, and the glycine in it has the added benefit of helping us create more bile, which you need when you're eating a high-fat diet; it helps you break down fat. My favorite brand is Kettle & Fire. They have three versions: Chicken, chicken mushroom, and beef. A lot of people like the chicken mushroom because it has a little bit of spiciness to it; I really like the beef. One container is great for one big mug — that's usually my breakfast. If you're having trouble figuring out how to get enough fat into your diet at the beginning of trying keto, you can also blend some coconut oil right into your bone broth."
"This is a super-easy way to boost your electrolytes — and also get in more phosphorous, calcium, potassium, chloride, sodium, and magnesium — but you have to be careful about what brand you choose. Electrolyte powders often have sugar, corn syrup, and glucose. I see a lot of keto beginners start to incorporate electrolyte powder, and they're like, 'Yes, I'm gonna avoid keto flu' — and they're avoiding keto flu because they're actually having a lot of sugar. The Ultima version is sweetened with stevia, and it doesn't have any artificial colors or flavors. I keep some in my purse. It also helps me drink more water, which is so important on keto — you're losing a lot of water weight. I'm sure I'm not the only human who doesn't totally love the taste of water; when you add a little of the Ultima powder to it — the raspberry and the orange flavors taste so good — you can fall in love with drinking water. You get the flavor without the garbage ingredients, and the electrolytes are gonna make you feel better. It's funny, I also hear from people who think that remedies for the regular flu can help you ward off keto flu. People have messaged us being like, 'Can I use Buckley's cough syrup?' And I'm like, 'No, no, sugar … don't do that.'"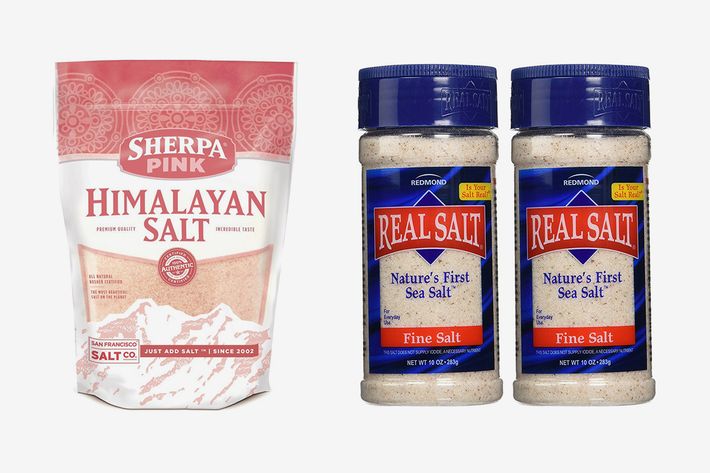 "A low-carb diet naturally lowers your insulin levels, and when your insulin is low, you can't hold on to as much sodium as you did when you were carb-fueled. Again, you're losing that water weight in the beginning, and you're losing the sodium that's been held in that water. So you need more salt on a ketogenic diet. I like these two brands because they're higher in minerals and less processed than other options. A lot of people starting keto just grab whatever salt they find, and they end up retaining water and experiencing side effects. The quality matters. I switched over to iodized salt just for a week to see what it would do to my body, having been keto for a while, and my wedding rings didn't fit; I felt really bloated and tired. But as long as the quality is good, you should add a pinch wherever possible — when you're cooking, when you're having bone broth, even when you're drinking your electrolyte powder. I add salt to my coffee — I put coffee in the blender with some cacao butter, some cocoa powder, and some salt, and oh man, it's so good. When you compare it to all of the processed foods you were likely eating before keto, now that all you're really eating is vegetables and meat and fats, there's actually not a lot of salt in your food."
4. Fat — Specifically Coconut Oil and MCT Oil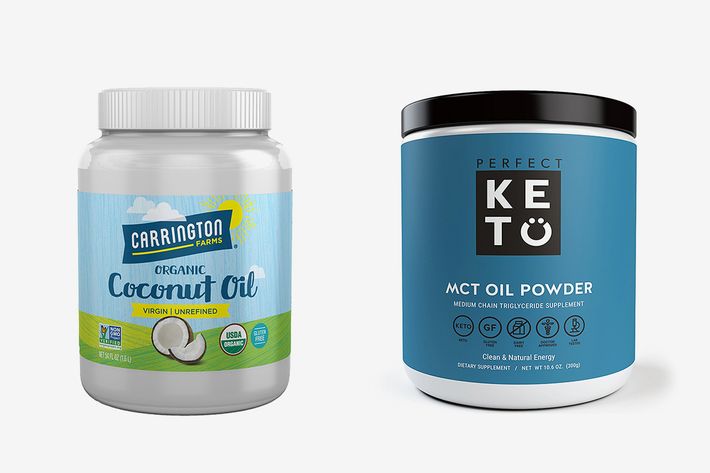 "Medium-chain triglycerides are a type of fat that can help boost ketones really quickly, and you can get them from coconut oil, or pure MCT oil. For coconut oil, I mean, there are so many options out there. You want to go with the least processed versions — you want it to smell like coconut — and my favorite least-expensive option is Carrington Farms. And for MCT oil, I recommend going with the powder form of the oil, because I find it's easier on digestion; I see the oil cause a lot of digestive issues in people. Perfect Keto makes the best MCT-oil powder around — some companies will lace their powders with corn, which can actually increase the carb count; I've tried other MCT powders and have been kicked out of ketosis. But the Perfect Keto one doesn't affect my blood sugar at all."
"It's easier for some people than others to get into ketosis. If you're eating enough fat, and you're doing the electrolyte powder and you're drinking the bone broth, and you're still not feeling optimal, you can come to that place of 'Why am I doing this? I miss pizza.' Exogenous ketones — they come in this powder form that you can add to water and coffee; I like to mix the chocolate sea salt and the coffee flavors — give you a taste of exactly what it feels like to be in ketosis. Within a few minutes of drinking them, you get this quick-thinking energy, this regulated appetite, the elimination of food cravings, which is ultimately how you can feel all the time when you get into ketosis on your own. I like to take them before I give a presentation. The ingredient is a ketone body called beta-hydroxybutyrate. It's kind of a cheat — when they wear off, you might feel the flu symptoms again, but they temporarily make you feel great, and they're a preview of what's to come. Which can motivate you to keep going."
The Strategist is designed to surface the most useful, expert recommendations for things to buy across the vast e-commerce landscape. Some of our latest conquests include the best women's jeans, rolling luggage, pillows for side sleepers, ultra-flattering pants, and bath towels. We update links when possible, but note that deals can expire and all prices are subject to change.
Every editorial product is independently selected. If you buy something through our links, New York may earn an affiliate commission.