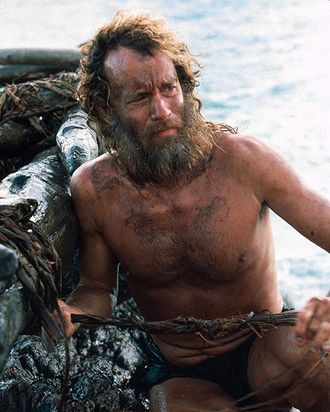 Photo: courtesy of Twentieth Century Fox
We've already written about shaving, trimming, brushing, and conditioning beards. But the first and perhaps the most important step to maintaining a healthy and nice-looking beard is keeping it clean. During the day, your beard collects the microscopic dust and debris that's constantly in the air. It also comes into contact with germs, odors, and whatever else you deposit when you touch it with your hands, smoke, make out with someone, eat, or drink. According to dermatologist Morgan Rabach of LM Medical in NYC, "Washing your beard every day not only cleans it of food particles and saliva, which carry germs, but will prevent the buildup in your pores that can lead to beardruff and acne." While some would argue that beards don't need a dedicated product to stay clean, buying soaps and washes designed for facial hair lets you target beard-specific problems that regular shampoo may not address or could exacerbate. For example, Rabach suggests avoiding sulfates and other harsh ingredients commonly found in shampoo, which can irritate and dry out the skin on your face. To help you find the best beard wash, bar soap, or combination face and beard wash for you, we spoke to Rabach and seven other beard experts.
Best overall beard wash
Three of the seven experts we spoke to recommend Jack Black beard wash because it's formulated for beards and the skin underneath. Rabach specifically cites the aloe-leaf juice powder, which "helps soothe dryness and irritation" — issues that most men with beards will experience. Eliut Rivera, founder of Eliut Salon, likes that Jack Black's wash both cleanses and conditions facial hair. The best beard products "incorporate rich, moisturizing ingredients such as aloe, camelina oil, and shea butter," he says. This wash has all three of those ingredients, plus jojoba oil, vitamin B5, and organic sea kelp to help balance your skin's moisture levels. Annette Moore, owner of Boldbarber.com, agrees that it does a great job, and she likes that it has a fresh and pleasant scent, thanks to the added grapefruit, rosemary, and basil.
Best overall less-expensive beard wash
In both of our recent articles about beard oil and beard balm, Honest Amish products came in at the top or close to it. So it's no surprise that their organic beard soap was also a favorite among these experts. Both Rabach and Torrey Grobes of Paul Labrecque Salon are fans of this all-natural soap, which is made with super-moisturizing (and only slightly fragrant) ingredients including virgin olive oil, virgin pumpkin-seed oil, apricot-kernel oil, palm kernels, and lavender. Grobes suggests "rubbing the bar against your beard for about 15 seconds, or until you have a rich, sudsy lather." Make sure to "get all the way to the base of your beard follicles," he says, and let it sit on your beard for a couple minutes before rinsing out. He says Honest Amish soap improves skin tone, softens beard hairs, and adds fullness to create a healthier and nicer-looking beard. Rabach also points out that this is a "great price point" for such high-quality ingredients.