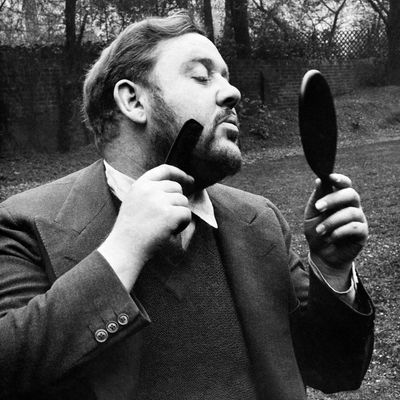 Photo: Keystone-France/Gamma-Keystone via Getty Images
If you're looking for a simple tool to help keep your beard groomed, you have two main options: a beard brush, or a beard comb. According to the experts we talked to, combs are better for longer beards, but you're still probably going to want both a beard comb and a beard brush (which we've written about before) because each brings something different to the table. "A comb will work more for detangling, while a brush will work better for flattening or straightening out a beard, especially when it gets thicker," explains Chad Beightol, owner of New York City–based men's grooming store Consigliere. The pros told us that a comb won't exfoliate your skin or distribute beard oil or beard balm as effectively as a brush, but most of them say that a comb can give a little more control when shaping and styling — essentially, for making the finishing touches. Beard combs are also generally more affordable and require less upkeep than brushes. Plus, combs are definitely more portable, and as Beightol puts it, "the best beard tool is the one you have with you." Below, he and six other men's grooming experts weigh in on their favorite beard combs, recommending both single- and double-sided options, wide- and fine-tooth styles, and combs in different materials.
Best overall beard comb
When it came to a brand name of beard comb, Kent — the British brand behind our top expert-recommended beard brush — came up more than any other, with four experts recommending it by name. Kent's combs are priced at a bit of a premium, but as Gary Priore, the founder of New York Beard & Company, puts it: "Basically anything from Kent is a home run. They're a little expensive, but it's definitely worth it." We like this set because it has three different-sized combs, so there should be something for everybody — or every beard — but you can also buy each of the combs individually. While various wooden combs also came recommended by a few of our experts — we'll get to those shortly — others say that a comb made of acetate (which is basically fancy plastic) can be more versatile, because the material often yields slimmer combs that are easier to stash in your pocket. According to Priore, "If you want something you can carry around, go with a plastic comb that has even teeth." The midsize comb in this set fits that description, with evenly spaced fine teeth, and at 4.5-inches long, it strikes a good balance between portability and coverage. Priore and barber Angelo Ruscetta both love Kent's tiny pocket-sized comb for using on the mustache portion of a beard (but it's going to be too small for a big beard). And then there's the largest comb in this set, which is half fine-tooth (for thin beard hair) and half coarse-tooth (for thicker beard hair).
Best overall wood beard comb
While Kent's combs were the most recommended when it came to a specific brand of comb, wood combs in general were the most mentioned in terms of comb material. Some experts, including Beightol, say wood combs can be better for more voluptuous beards. "For thicker beards, larger-sized wooden combs are popular with our guys," he says, adding that "these combs tend to have wider-spaced teeth to help detangle curly and thick hair." And Priore likes wood "because it's usually sanded very smoothly; it keeps the snagability down." He admits that a wood comb might not be the most practical to slip in your pocket, but says, "If you want a nice comb you can keep at the house, go for a wooden comb." And when we asked another set of experts about tools for trimming beards, they recommended using wooden combs over plastic, which one expert said "can cause static in facial hair."
Wooden beard combs are typically available in two options: a double-sided comb with fine teeth on one side and wide teeth on the other, or a simpler, single-sided comb. According to the experts, it really comes down to personal preference, but three said that double-sided is the way to go. As Beightol explains: "A two-sided comb is good for using if your beard has different patches of thickness, which is common with long, thick beards. So the wider teeth help with thick patches and the narrower teeth help with thinner or finer hair." Ruscetta suggests this one from the Art of Shaving. "All beard combs look pretty similar," says Ruscetta, but he likes that this one is on the thicker side and should be strong enough to carry around if you want to. It's made from sandalwood, so it will have a light natural scent, and it comes with a pouch to store it in.
Best (less expensive) double-sided wood beard comb
Ruscetta also likes this double-sided comb from Parker, which is less than half the cost of the Art of Shaving comb above. It's made from rosewood instead of sandalwood, but it's similarly compact and thick, and it comes with a small storage bag, too.
Best single-sided, wide-tooth wood beard comb
Priore isn't a big fan of double-sided wooden combs, telling us he always goes for single-sided models because he finds them easier to grip and less bulky. He's tried out a bunch of single-sided wooden beard combs, and says this is his current favorite. It's well-priced, made from sandalwood, and has wide teeth (making it ideal if you've got a longer, thicker beard).
Best (less expensive) single-sided, wide-tooth wood beard comb
When we reached out to to Ronnie Parisella, a judge at the annual Coney Island Beard and Mustache Competition, about his favorite beard brush, he emphatically responded: "I don't use a brush, but I live and die by my comb!" Parisella told us that he "never leaves home without it" and it's always in his back pocket. He loves his Royal Beard Club comb because it's affordable, durable, and compact. "When I host or judge beard competitions, I throw them into the crowd," he says. At just $5, we can see why.
Best single-sided, fine-tooth wood beard comb
Beightol says a lot of his customers like this wooden beard comb from Beardoholic. At just over five-inches wide, it's the largest beard comb on this list, so it should be easier to hold. It also has finer teeth, so it would be a good bet if you've got a shorter beard, or if you beard has thinner hair.
Best wooden pick-style beard comb
Priore also likes this single-sided "pick"-style comb made by Parker. At 1.75-inches wide, it's the most compact comb (wood or otherwise) on this list, which makes it easy to carry around, especially for a wood comb.
The Strategist is designed to surface the most useful, expert recommendations for things to buy across the vast e-commerce landscape. Some of our latest conquests include the best acne treatments, rolling luggage, pillows for side sleepers, natural anxiety remedies, and bath towels. We update links when possible, but note that deals can expire and all prices are subject to change.