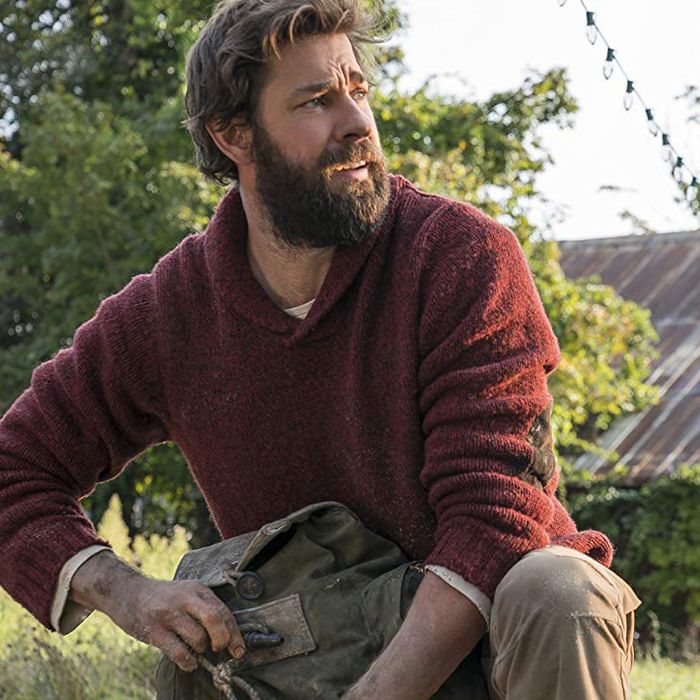 Photo: Courtesy of Paramount Pictures
Because the world of beard-care products is so vast, it can be difficult to know what is essential to the health and appearance of your beard, and what will sit unused in the back corner of your medicine cabinet. One thing's for sure, nobody likes a dry beard — not your significant other, not your barber, not the front of your dark sweaters, and certainly not the skin that's languishing under all that brittle scruff.
Just like the hair on your head, your facial hair needs to be properly moisturized. If things get really bad, you could even develop flakes of beardruff. But there's always hope — and help, in the form of conditioners, beard balms, and beard oils. We've already written about the best beard oils, so here we're concentrating on the best balms and conditioners, and how and when to use them. We talked to ten beard experts to learn about the products they regularly use at work and at home.
Best overall beard balm
Beard balms generally do three things: add moisture, soften hairs, and prevent any stray beard hairs from springing out of formation. Depending on the texture of your beard and how much hold you're looking for, you'll want to choose either a waxy balm or a buttery balm. The more unruly your beard, the more stiff and waxy the product you want.
Three of the experts we spoke to, Pedro Rosario, director of hair-care operations at the barber-on-demand app Shortcut, master barber Torrey Grobes of Paul Labrecque Salon and Spa, and Madeline Ferrer, senior merchant at Birchbox Grooming, recommend Scotch Porter beard balm for its all-natural ingredients and ability to soften coarse beard hairs. It has a base of highly nourishing shea butter and coconut oil, heavy-hitting moisturizers like Argan and Jojoba oil, and a mix of botanicals, including Marshmallow Root, Slippery Elm Bark, Burdock Root, Nettle Leaf, Neem Leaf, Rosemary Leaf, and Chamomile Flowers. Rosario is a fan of the entire Scotch Porter grooming line. It's "geared toward coarse hair and above and beyond anything I have ever used," he says. Ferrer, who included Scotch Porter beard balm in Birchbox's new men's grooming box says "We sampled this to our (bearded) subscribers for the first time earlier this year and they loved it. It's free of chemicals and leaves beards soft and shiny while keeping dandruff away."
Best (less expensive) overall beard balm
Two of our experts — Grobes and Annette Moore, the owner of BoldBarber.com — recommend Honest Amish beard balm, which, like Scotch Porter, is made using all-natural ingredients. The Shea and cocoa butter base are mixed with argan, avocado, almond, and apricot kernel essential oils to create a super-nourishing and hydrating balm. "A little goes a long way," Moore says. "It's great at taming beards, softening facial hair, and adding a nice shine."
Best beard balm for styling
Richie Joumant, owner of Sterling Barbershop in Amboy, Illinois, uses Wahl beard balm on all of his bearded clients. Like the Scotch Porter and Honest Amish, it's paraben-free and includes shea butter and nourishing apricot kernel oil. Unlike those brands, the Wahl balm also contains beeswax, which makes it better for unruly beards, Manuka oil, which is good for fighting dandruff, and clove oil, which is antiseptic and therefore good for ingrown hairs and acne.
Best beard balm for taming frizz
Cassidy Theall, a barber at Fellow Barber's Seaport location in New York, is a fan of this balm, which has a beeswax base, making it more of a beard pomade. According to Cassidy, "it can be used on any length of beard and on any hair type." She likes that it's thick enough to help tame frizz. But because it melts down to a liquid consistency when rubbed in your hands, it applies to facial hair with ease. Biker's Brew also contains mango seed butter, cocoa seed butter, and vitamin E, all effective moisturizers that are light enough not to ruin your pillowcase.
Best non-greasy beard balm
Bulldog Beard Balm is a favorite of Eliut Rivera, founder of Eliut Salon. "I really love the texture of this product," he says. "It feels like a mix between a moisturizer and beard oil, and it absorbs quickly without leaving a greasy look." That light and easy texture is thanks to Bulldog's first ingredient: water. It also contains Shea butter, Cocoa butter, sweet almond oil — one of the lightest carrier oils, Rivera says — aloe vera, and green tea. Bulldog won't do much for shaping or styling your beard, but it will moisturize the hairs without clogging your pores.
Best beard balm for new beards
Michael Haar, owner of Haar & Co. barbershop in New York, swears by Proraso products because of the brand's long history and respected reputation in the men's grooming world. He recommends this for men with short beards or those who are in the first few weeks of growing a beard because it relieves any itchy discomfort related to new hair growth. Haar suggests using a dime or nickel-sized amount daily. Apply it "like you would with a moisturizer, but focusing on your beard," he says. To fully distribute this "lotionlike" balm he'll go over the beard with several strokes of a boar-bristle brush after applying. Among its key ingredients are Eucalyptus oil and menthol, which are both astringent and will help prevent ingrown hairs. And if you're wondering, Haar prefers the Wood and Spice scent for fall and winter.
Best rinse-out beard conditioner
Beard conditioners are similar to balms, only they penetrate the hair follicle more deeply, leaving less of a residue. And they aren't typically used for styling. Like conditioner for the hair on your head, they help soften and repair dry facial hair while locking in moisture for a healthier appearance.
Rivera recommends first washing your beard in the shower, then applying beard conditioner. Don't rinse it out right away. It'll work better if you leave it on your facial hair for around five minutes while continuing your normal shower routine, he says. Moore likes this conditioner from Viking Revolution because "leaves beards extra smooth and soft." Along with argan, Jojoba, and apricot kernel oils, it contains hydrolyzed yeast protein to strengthen each hair follicle and help repair split ends.
Best leave-in beard conditioner