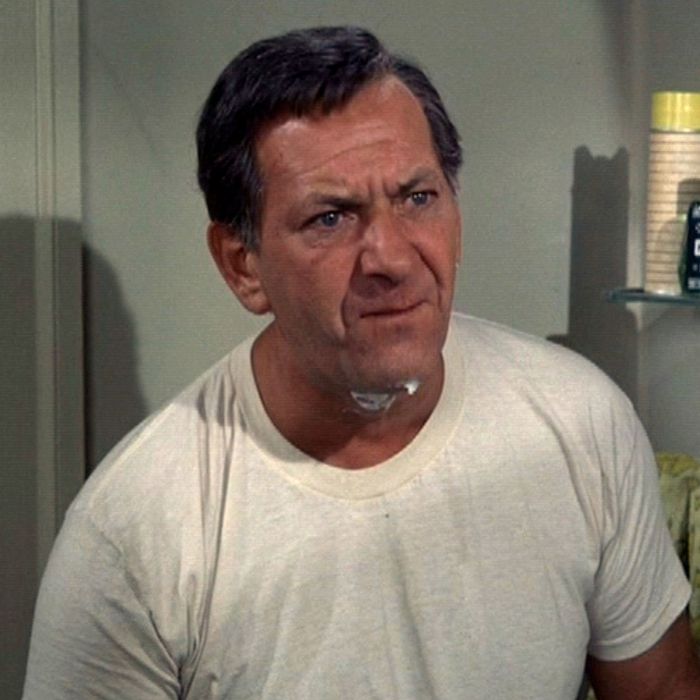 Photo: CBS Photo Archive/Getty Images
Shaving can be very hard on your skin, and razor bumps can be enough to tempt even the most adamant daily shavers into growing a beard. According to dermatologist Samer Jaber of Washington Square Dermatology, when we talk about razor bumps, we're actually talking about ingrown hairs (whose technical term is pseudofolliculitis barbae). As Jaber explains, razor bumps occur when hair essentially grows back into the skin, often triggering an anti-inflammatory reaction which results tiny bumps that can be red and painful. Razor bumps can occur anywhere on the body where you shave, but they're particularly an issue when men shave their faces, since beard hair tends to be coarser and curlier than hair on other parts of the body. "Thick curly hair is more prone to that inward turning," explains Jaber, but razor bumps can be an issue no matter your facial-hair type. To find the best things for getting rid of razor bumps when they form, we turned to Jaber and eight other experts. And although a few of them say that the best way to get rid of razor bumps is to "grow a beard," that isn't an option for everyone. Thankfully, there are plenty of face scrubs, aftershaves, and spot treatments you can also use, all of which the pros say are actually quite effective.
Best overall way to get rid of razor bumps
Four of the experts we spoke with said using an exfoliating scrub is best way to get rid of razor bumps and ingrown hairs. According to Chad Beightol, the owner of grooming store Consigliere, "ingrown hairs are complicated by the buildup of skin, so you want to focus on removing the dead skin cells. This can be accomplished by a chemical alpha-hydroxy exfoliant like glycolic acid or lactic acid." The key to choosing a good facial scrub is finding something that is effective but still gentle enough not to make things worse, which is why Jaber also recommends products with glycolic acid, because he says it's "good for gentle exfoliation." Beightol agrees, recommending this glycolic facial cleanser from Anthony. It also contains cetyl alcohol, which is one of the key ingredients master barber and education lead at The Shave Barber Company in Atlanta, David Rodriguez, told us to look for. According to Rodriguez, cetyl alcohol is a "fatty alcohol, so it still has the effect of contracting the skin," but it's less irritating than other alcohols.
Best (less expensive) exfoliant for getting rid of razor bumps
Echoing Beightol, David Rodriguez says the main cause of ingrown hairs is the buildup of dead skin over the hair follicle. His favorite gentle exfoliant for "removing the dead skin" is this Magic Bump Off scrub, which is formulated with charcoal. As Rodriguez explains, "charcoal has a detoxifying effect, it helps soak up impurities." He's a fan of the whole line of Magic products, but he particularly likes the scrub and told us he thinks it's the best all-purpose treatment for most people. If you have some razor bumps on your face or neck, he recommends using this a day before shaving to prepare the skin. It also lists salicylic acid as an active ingredient, which Jaber says has "antibacterial and anti-inflammatory effects."
Best plant-based exfoliant for getting rid of razor bumps
Barber Dreux Martinez of Urbane Blades in Chicago says that if you have sensitive skin and are dealing with ingrown hairs and razor bumps, it's a good idea to look for for "plant-based" products, because harsher chemicals can often "make things worse." He says Fresh's exfoliant is one of the "best I've found," noting that the soy is "very gentle."
Best cream spot treatment for getting rid of razor bumps
If you want to target razor bumps more directly, a spot treatment might be a better option than a scrub, according to Jaber and David Rodriguez, who both recommend a low-concentration hydrocortisone cream. Jaber told us that a 1-percent hydrocortisone cream like this "will make the redness and inflammation go down" on most standard-issue bumps. But if you're dealing with an ingrown hair that's extremely painful, he recommends seeing a dermatologist and considering a steroid injection.
Best liquid spot treatment for getting rid of razor bumps
For those who don't want to use a cream, Ron Jones of Pall Mall Barbers in New York City and Xavier Rodriguez of Fellow Barber Soho both suggest using an isopropyl-alcohol-based liquid solution like Tend Skin as another spot treatment. It's highly concentrated, so Jones cautions to use it sparingly, but he says it can be a very effective treatment. "Bacteria forms when hair re-penetrates the skin and goes back in," he explains, and alcohol-based solutions can "dry out and dissolve" that bacteria. Jones does warn that alcohol can also "dry out your skin if overused," but he says that if you want something that "works fast," it's worth considering something like this. "I can put it on in the morning and by the next evening my face will be smooth," he says.
Best liquid spot treatment for getting rid of razor bumps on sensitive skin
According to Jaber, Tend Skin "works great for some people, but others might find it really irritating." If you've got more sensitive skin, he recommends using an alcohol-free witch hazel solution like this, which he describes as "a more gentle alternative to Tend Skin" and similar products. It's not going to be quite as potent, but it's easier on the skin and less drying, and Jaber says it still has "antiseptic" qualities. David Rodriguez is a fan or witch hazel, too, and suggests it for people who prefer "all-natural" treatment because "witch hazel is a natural anti-inflammatory." He adds that the best way to apply is to "pat it on" with cotton ball or something similar (you would apply Tend Skin in the same way). "Never rub it in because then you're aggravating [your skin]," explains Rodriguez.
Best aftershave cream for getting rid of razor bumps
Some of the experts also recommend treatments that are intended to be applied after shaving, when the skin on your face is the most sensitive and prone to developing razor bumps and ingrown hairs. These aftershaves help prevent razor bumps from occurring in the first place, according to the pros, and they can also help get rid of any existing bumps or irritation. Owner of Independence Barber Co., Heather Manto, and Anthony Michael Tapia, master barber at New York City's Barbiere, both recommended Lucky Tiger's "vanishing cream" as an aftershave lotion for getting rid of razor bumps. Manto says she prefers this to more traditional aftershaves, and she uses it on clients after straight-razor shaves. "It gives the menthol tingle but nourishes the skin instead of drying it out." Tapia adds, "it's really good for treating irritation and razor bumps. This product is 100-percent legit."
Best aftershave serum for getting rid of razor bumps
If you prefer a facial serum over a cream, Xavier Rodriguez recommends this aftershave from Bump Patrol. It's meant to be applied post-shave, and it's designed specifically to clear up razor bumps and ingrown hairs, he says.
Best exfoliating brush for getting rid of razor bumps
Those open to a less conventional approach to getting rid of razor bumps might consider Art of Shaving's "power brush," which came recommended by barber Angelo Ruscetta of American Haircuts in Kennesaw, Georgia. He says that this electronic, vibrating brush is great for ingrown hairs "because it exfoliates and softens the skin to let the hair naturally break through." According to the company, you can use it to prepare your skin before a shave, or can use it on its own, independent of shaving. You apply the included shave gel to your face and then run the power brush over it for about a minute. Then you can layer your regular shaving cream on top and shave, or you could simply rinse the gel residue off with water and call it a day.
The Strategist is designed to surface the most useful, expert recommendations for things to buy across the vast e-commerce landscape. Some of our latest conquests include the best acne treatments, rolling luggage, pillows for side sleepers, natural anxiety remedies, and bath towels. We update links when possible, but note that deals can expire and all prices are subject to change.