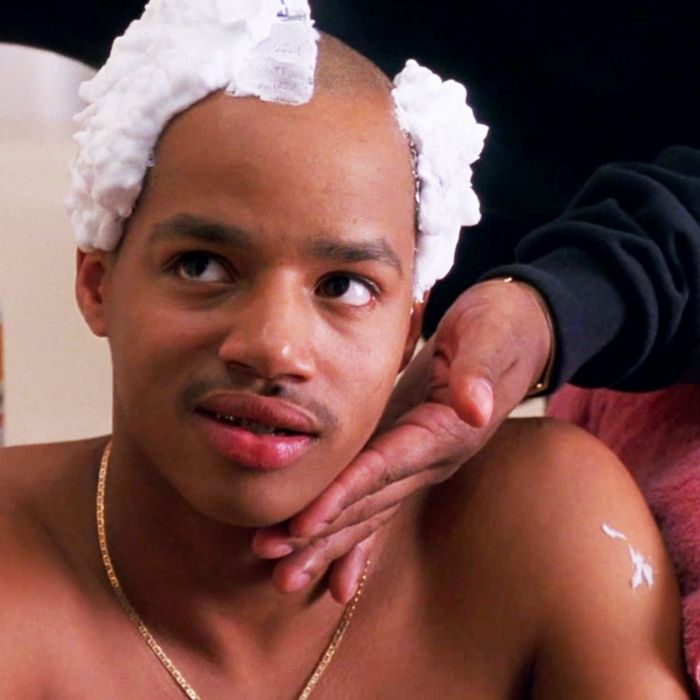 Photo: Paramount Pictures
According to barbers, the onset of spring — and warm weather it brings — often inspires men to shed their winter manes in earnest. But in the midst of a continuing pandemic, getting things neatened up isn't as simple as it used to be. Many barbershops are still closed. And even if they're open, many people don't yet feel safe returning for a trim. If you're one of the many guys considering an at-home cut instead, your first impulse might be to grab the trimmer you already have for your beard — but the two can't always be used interchangeably, according to the barbers we spoke with. "The rule of thumb in our industry is you can always go shorter," says barber Mike Sposito, who explains that most beard trimmers, even used with their longest guards, will still cut too close to the head, leaving little room to "go shorter."
That doesn't mean you can't use the same tool to clip hair and trim a beard, though — if you want one that does it all, just look for devices with guards that are long enough to ensure your first pass at hair-cutting won't leave you with hair shorter than you'd like. In fact, in talking to Sposito and seven other experts — including five more barbers, a Strategist writer turned pandemic barber, and one food editor who is known to buzz his head himself — they recommended three hair clippers that other experts told us are just as good at trimming beards. Read on for all of our experts' favorite hair clippers, but before we get to the products, Sposito has two more pieces of advice for would-be barbers. Before you even turn the clipper on, take whatever guard you want to use "and slide it through your hair, against your scalp." Any hair that pokes out of the guard is what you'll be cutting. And even though you may not be able to see everything you are doing, you can always listen to your clipper, which is a great way to ensure you're doing it right. "The minute you stop hearing the noise of hair being cut, it means you've got an even line," he says.
Best overall hair clipper
The most recommended product by our barbers is Wahl's Magic Clip, which all say is the clipper they use at work, and the first they'd recommend to home cutters. According to Mark Miguez, co-owner and barber at New York City's Friend of a Barber, the device comes with eight different guard sizes (ranging from 1/16-inch to 1-inch) that cater to pretty much any length a home cutter may want. Lester Rivera, of Florida barbershop The Spot, adds that the Magic Clip can manage every type of hair, telling us it's "strong enough to cut through the coarsest of hair, yet still able to deliver precision blending." Another "huge plus" of the cordless clipper, according to Rivera: Its lithium battery, which gives it "almost two hours of battery life" on a single charge. Barber Miles Wood Smith agrees about the battery life, and notes that the Magic Clip is "light enough to be able to maneuver around easily by hand." Alejandro "AJ" Albano, a barber at Tuft NYC, has been using the cordless Magic Clip since 2015 and agrees that it is the "lightest, easiest-on-the-wrist clipper" he's used in his two decades of cutting hair. Once you get comfortable with it, Miguez says the Magic Clip can make hair trimming even easier via a lever that you can press to shorten the length of a guard while trimming, allowing you to taper around the ears and the neck without having to stop and swap in a shorter guard.
Wahl actually makes the majority of the models on this list, some of which also appear on our list of expert-recommended beard trimmers. While reporting that story, we asked Fellow Barber founder Sam Buffa why the American manufacturer's name is so popular among his peers, and he told us there are two reasons: The quality of Wahl blades makes its products "the most bang for your buck," and those blades often "stay sharp for longer."
Best less-expensive hair clipper
For a more affordable option that will satisfy anyone in need of an interim cut before they can get back to a proper stylist, three of our barbers recommend the Wahl Color Pro clipper. Even though this clipper is on the cheaper end of Wahl's product line, barber David Kim of Filthy Rich Barbershop in Woodside, Queens, says that you're always going to get a "professional product" from the brand and that this is no exception. Sposito says the Color Pro has a "great guard setup," which takes the form of 13 guards (ranging from 1/16-inch to 1-inch) color-coded by length. (And gives the product its name.) The color-coded guards aren't the only thing that makes this clipper great for at-home cutters: It also comes with two combs and a pair of scissors, or pretty much everything you'd need to cut men's hair at home. Barber Ronnal Lee King also likes the Color Pro — the first clipper he says he ever used — telling us that home use will deliver "an almost-professional cut, without professional prices."
Best regular-guy-approved hair clipper
We've written before about how, in reporting stories on the best grooming tools for men, barbers sometimes tend to favor different brands than normal guys — a preference we've learned tends to stem from marketing more than anything else (because some brands are more commercial-facing than others). So it didn't come as a surprise that this affordable gadget from Philips Norelco, whose beard trimmers and electric razors are also regular-guy approved, is the one that came most recommended by Andy Baraghani, a senior food editor at Bon Appétit who at times has shared his self-administered quarantine haircuts on Instagram. Baraghani, who generally keeps his hair on the shorter side, told us he's used this trimmer both to cut and style it for "about eight years now," praising its ability to "get the job done as fast as possible," whether he's trimming hair, sideburns, or beard. The clipper comes with three beard-trimming guards, a stubble-trimming guard, and three hair-cutting guards (3/8-inch, 1/2-inch, and 5/8-inch).