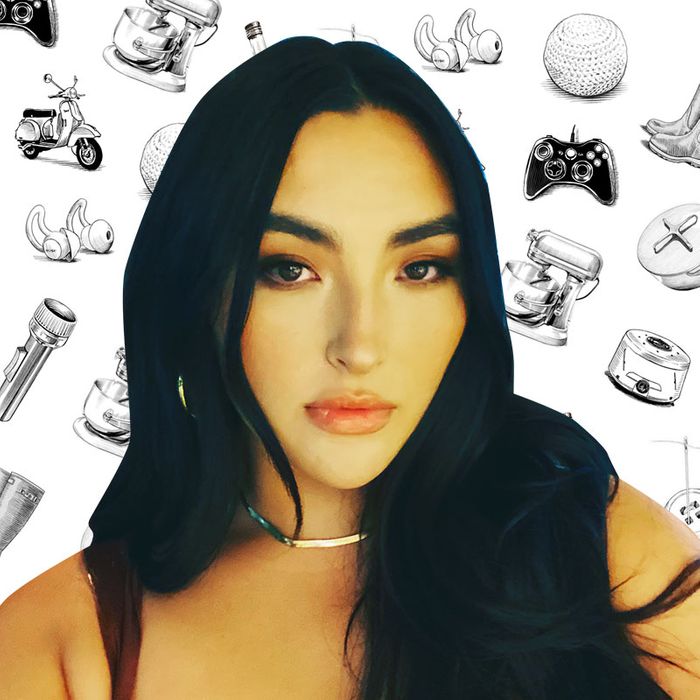 Photo-Illustration: Courtesy
If you're like us, you've probably wondered what famous people add to their carts. Not the JAR brooch and Louis XV chair but the hair spray and the electric toothbrush. We asked model Yumi Nu about the face mask, lip balm, and coffee cup she can't live without.
I naturally have very beige-colored lips, so I love having color on them, even if I'm not wearing makeup or anything. My lips also get very dry. I've always loved Burt's Bees because it is a very clean, healthy beauty brand. I first tried this Rose shade randomly when I was looking for a new tinted lip balm. Now I'll buy five or six at a time — I keep them in my home, purse, car, everywhere, because I always lose some. I've put a lot of makeup artists on to this too. They always ask me about my lip color and are impressed when they find out.
I've always wanted to get into tea because it sounds better for you, but I love coffee and oat-milk lattes too much. I was going out for lattes every day, but that gets superexpensive, so I started making them myself — I bought syrup and a milk frother. I always drink my lattes from this cup. A lot of reusable to-go cups are kind of boring and basic. Someone had this one on a set. It is so aesthetically pleasing. It looks a little like it could be from the MoMA store. So I asked them where they got it and then bought one. It's made from recycled coffee husks and has been a very satisfying purchase. I prefer the 12-ounce size because it leaves enough room so drinks don't spill while still being compact enough for the car or going to set.
A friend posted about these masks on Instagram a couple years ago, and I thought they looked really cool. I honestly bought one for the aesthetic at first, but it turned out to be the most incredible mask treatment, and I use them after I wear a lot of makeup or when my skin needs a little refresh. If I'm working a lot, I'll do a mask maybe once a week. Otherwise, I'll do it every other week. They're more expensive, so I use them more sparingly than other things. But I always have some in my bathroom. As soon as I take one off, I see a huge difference. I like to take it off in front of a mirror, because it gives this instant glow and dewy effect. The masks are cooling already, but they're even more amazing if you put them in the fridge before use.
My mom actually put me on to this. My sister got one too — it's become a family favorite. I take walks around my neighborhood and then come home and do 20 minutes of balance and beginner's yoga on the mat. I'm not doing anything too crazy, but I have hardwood floors and flat feet. The mat is plusher, so I thought it would be better for my knees and feet. It also has more than 30,000 reviews, and most are five stars. That definitely has an impact on my decision when it comes to buying something.