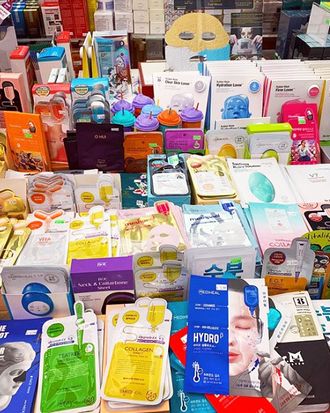 It should come as no surprise that my happiest place in the world is in bed, watching television, with a cold, form-fitting sheet mask stuck to my face. But the delightful routine of sheet-mask application isn't the only reason I use them once or twice a week in lieu of serums. When consistently integrated into a skin-care routine, sheet masks are an extremely effective, inexpensive, and targeted way to smooth textural issues, calm down zits, and pump moisture into dry skin.
I say targeted because there is literally a sheet mask out there tailored to every possible skin issue one might be dealing with on any given day. Bad breakouts? There's a mask for that. Feeling dry and flakey? There's a mask for that, too.
As you can imagine, I've tried many, many masks. I've tried the ultra-expensive, supposedly anti-aging Dr. Colbert Mask mask (it fit like a dream, but the results weren't jaw-dropping), the Ashley Graham–endorsed 111 Skin Rose Mask (which was moisturizing, but not revolutionary), and about 10,000 others found in the depths of beauty subreddits and sites like Maskpedia. The ones listed below are my absolute favorites that I've ordered over and over again.
For dry skin
For hot days
For bad breakouts
For your time of the month
For before an event
For hangovers
For dark spots
For plumping
For fighting sweat and grime