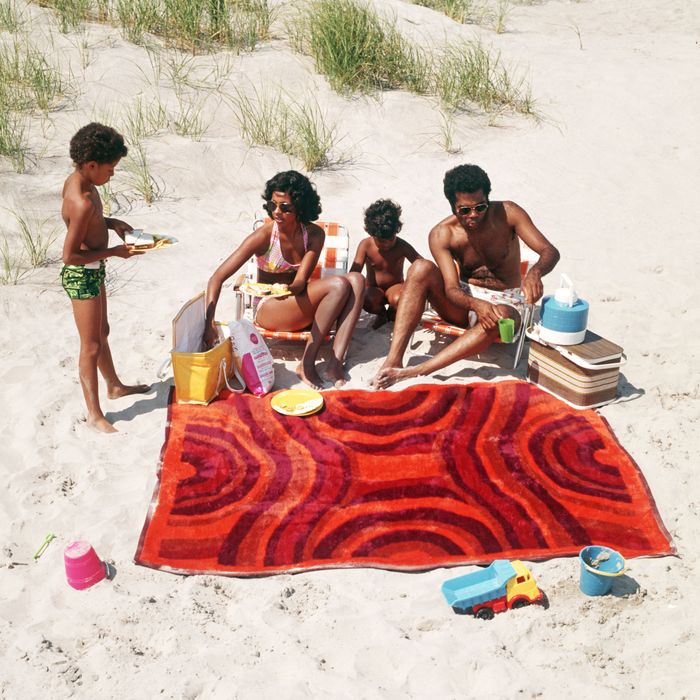 Photo: H. Armstrong Roberts/ClassicStoc/Photo by H. Armstrong Roberts/ClassicStock/Getty Images
We don't have to tell you that wearing sunscreen — whether you're spending the day at the beach or just walking from the subway to your office — is an absolute must. But even if you make it through a 95-degrees-and-sunny day without a sunburn, you may still find yourself feeling heated. That could be because few of us remember (or even know) that our skin needs attention after sun exposure, no matter if you get burned or not. "Even low levels of UV light can affect the skin, causing both skin-barrier disruption and inflammation, in addition to damage to collagen and skin cells' DNA," explains Joshua Zeichner, director of cosmetic and clinical research at Mount Sinai. "Whether you get a bad sunburn or not, you should make sure to use after-sun moisturizers."
Point taken. And, skin-barrier disruption aside, the thought of coming home from a long day at the beach, taking a shower, and putting on some soothing serums and lotions sounds quite nice indeed. But which products to use? We talked to seven dermatologists, two aestheticians, and a spa representative about the stuff they trust for treating post-sun skin.
Best overall after-sun product
"It's important to replenish lost moisture after sun exposure," says Manhattan-based dermatologist Dr. Michele Green. "Using a moisturizer enriched with ceramides and lipids will restore the skin's balance. The damage done by exposure to the sun is cumulative, and to minimize sun damage and premature aging you should use products with antioxidants and vitamin C." She recommends Sun Bum Cool Down Hydrating After Sun Lotion, which contains the antioxidant Vitamin E, and also came recommended by Zeichner and Ellen Marmur, associate clinical professor of dermatology at Mount Sinai in New York. Zeichner says Sun Bum's unscented lotion is a good option not only for its soothing and hydrating formula, but also because "it's a totally natural product," and prevents peeling to boot.
Best after-sun soap and body wash
Dr. Peter Saitta, a dermatologist at the Skin Institute of New York's Brooklyn office, says that if you want to tan, there are a few post-beach products you can apply to prolong your glow. "To encourage your sun tan to stay a little longer, you'll need to decrease the amount of natural skin shedding," he says. Instead of using a loofah in the shower, "use a soft cloth with a pure and simple moisturizing soap. A bar of unscented Dove is best. It won't increase exfoliation and will moisturize the outer layer of your skin." But before you submit your body to the sun, he warns that "extended sun exposure without adequate protection can damage skin," so don't forget to slather on the SPF first.
If you want something a little more luxurious after a day in the sun, Kim Zimmerman, of Rescue Spa in Philadelphia, suggests Institut Esthederm After Sun Body Wash. She recommends it for "rinsing away sunscreen and chlorine." The body wash has micellar molecules — similar to those in some of our favorite French cleansers — that gently clean overheated, sunscreen-clogged skin. Zimmerman says that this "leaves skin moisturized, soft and comfortable," and that its moisturizing properties will help prolong a tan.
Best after-sun serums