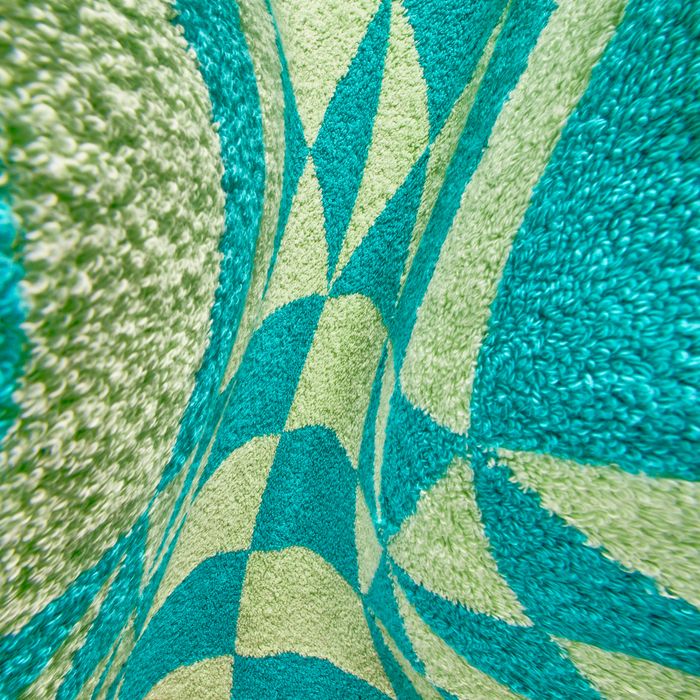 Summer is here, which means it's time to get serious about your beach gear. While it's always nice to have a chair, an umbrella, and a cooler, a colorful yet absorbent towel to dry off with and laze around on is perhaps the only nonnegotiable item to bring if you're planning on swimming somewhere or just relaxing near a body of water. Consulting surfers, swimsuit designers, and beach-resort employees, I found the very best towels for every kind of pool and beach day — from plush cotton terry towels to packable microfiber options that resist sand and odor.
Towels, textile-science instructor Deborah Young says, "always start with the fiber." And if you like fluffy beach towels, that fiber should be cotton. "A blend is not a good choice here," she says. "It should be 100 percent cotton for absorbency and softness." Not all cotton is made equal, either. Egyptian cotton, pima cotton, and Turkish cotton are softer, stronger, and therefore more expensive. Many of the best beach towels are now woven from organic cotton, which Young says won't make for a stronger or more absorbent towel but will decrease your exposure to pesticides. Although they won't absorb water as well, microfiber polyester beach towels are growing in popularity, especially for travel. These towels pack down small and are somewhat sand resistant.
As with bed sheets, beach towels have thread counts. "A higher thread count towel has a more lush pile, meaning that the loops on the surface are more desirable and effective," says Young. The best beach towels should have a lush pile weave with loops on both the front and back: "They increase the surface area and because of that, the towel can take 20 times its weight in liquid." In contrast to cotton, she adds, microfiber towels have a flat weave that wicks moisture away from the surface. They'll wipe off water rather than absorb it — and air dry much more quickly.
Beach-towel sizing is surprisingly variable, and we've included a number of choices here. The dimensions you choose will depend on the towel's intended use — if you're taking your beach bag on public transport, for example, something compact is better. "I love a 34-inch-by-66-inch towel," says Mike Reinhardt of Locals Surf School. "It's plenty wide and long but not so large it is a pain to store and dry properly." A surprising number of stylish people we spoke with preferred to take large bath towels to the beach for an extra-luxe experience. "The bigger the better," says Lava Girl Surf founder Davina Grincevicius.
Best overall beach towel
Fiber: Cotton | Weave: Medium-pile brushed terry | Size: 30 by 56 inches (bath towel), 37 by 70 inches (beach towel)
For a grown-up beach towel that retains a sense of fun, look no further than Dusen Dusen. The brand is ubiquitous on Brooklyn beaches and was mentioned by a few of the stylish ocean swimmers I spoke with, including Zoca Lotion's Emily Seager and Coming Soon co-owners Fabiana Faria and Helena Barquet. I really like the texture of these towels: They're neither too plush nor too shorn down, and even on first purchase have a slightly worn-in feel. All of the designs are extremely Rockaway ready — even those that are meant to stay in the house. "Even though they make a beach towel, everyone brings their Dusen Dusen bath towels to the beach," observes Faria. "They're very absorbent and not massive if you're taking the train." She and Barquet also love drying off with the brand's matching terry robes: "They're great, especially at the end of the day when it's windy."
Best less expensive beach towel
Fiber: Organic cotton | Weave: Medium-pile terry | Size: 60 by 30 inches
If you're a maximalist in style but not budget, Baggu's towels (which aren't technically designed for the beach but would never look out of place there) are a little more affordable than Dusen Dusen yet just as cheerful in design. The Strategist team can never get enough of this San Francisco–based design brand, which makes some of our favorite laptop sleeves, tote bags, and reusable masks.
Best resort towel
Fiber: Cotton | Weave: Medium-pile terry | Size: 30 by 60 inches, 35 by 70 inches
Offering a more timeless beach stripe look, these affordable and durable towels are the go-to at Gurney's Montauk Resort. The hotel has been providing these towels to guests for more than ten years, according to purchasing manager Andres Quito. "They're really good quality," he says. "We use them in our spa as well. They're strong enough that you can really shake them off to get all the sand out."
Best minimalist beach towel
Fiber: Organic cotton | Weave: High-pile terry | Size: 28 by 55 inches (bath towel), 39 by 59 inches (bath sheet)
Brightly colored beach towels aren't for everyone. Minimalist swimwear designer Gina Esposito, the founder and creative director of Nu Swim, prefers to dry off with one of these striped Tekla bath sheets, which are a favorite of stylist Beverly Nguyen. Made in Portugal from 100 percent organic cotton, the towels come in muted striped colorways. Esposito says they're thick and fluffy as well as stylish: "I have a bunch of waffle flat-weave organic-cotton towels that look nice, but they don't really absorb water," she notes. "These absorb best." She gave me this beach-going tip: scour eBay for vintage king- or queen-size Martex flat sheets and use them as "the base for your beach zone."
Best packable towel
Fiber: Polyester | Weave: Flat weave | Size: 71 by 35 inches
Living in the Caribbean and running his own beach-themed YouTube channel, Jeff Moore thinks a lot about beach gear. He exclusively uses microfiber towels because "they're quick drying, sand doesn't stick to them, and they take up a tenth of the space in your beach bag." This is ideal, he says, if you have kids and are already packing a bunch of stuff. Packable towels are useful for hiking to more remote beaches, as he and his wife are often doing. Having tried many brands, he's a fan of Eccosophy's generously sized microfiber towel mainly for its bag design. "For some, the zipper bag is round, so you have to roll up the towel," he says. "That's a total pain in the butt." This one packs away easily into a square.
Best anti-mildew towel
Fiber: Deadstock Turkish cotton | Weave: Hoop weave | Size: 31 by 63 inches
Former Strategist writer and mildew-phobe Sanibel Chai can't stand a damp towel, but she prefers the plush weave of cotton over the flat weave of polyester. Her solution? This uniquely absorbent yet quick-drying towel from Bathing Culture, which she first came across via an Instagram ad. "The key is in the stitch pattern," Chai explains. "If you look closely, you can see gaps between patches of towel because every other square is left blank. The terry loops that are usually densely packed on a normal towel are staggered so that you don't notice the empty squares due to the inverse checkerboard pattern on the other side. It's basically an illusion — this towel simulates thickness but dries quickly."
Best classic Turkish towel
Fiber: Turkish cotton | Weave: Flat weave | Size: 40 by 70 inches
Another lightweight yet absorbent option is this more traditional Turkish towel, which will dry quickly in the sun and comes recommended to us by Lauren Picasso, the founder and CEO of Cure. "It can be used for the beach or for every day," she says. The cotton will become even softer over time. Roll up this towel and stash it in a tote — it travels light, and sand won't stick to it.
Best patterned Turkish towel
Fiber: Turkish cotton | Weave: Flat weave | Size: 38 by 64 inches
Grincevicius likes a fluffy towel when spending a lazy day at the beach but for surfing opts for this flat-weave cotton one from Sand Cloud. "It's a great towel to keep dry or use as a cover-up," she says. Plus the brand donates a portion of sales to marine conservation.
Best plush Turkish towel
Fiber: Turkish cotton | Weave: High-pile terry | Size: 39 by 71 inches
Buci designer Mishka Ivanovic says she always prefers a simple unpatterned towel made from high-quality fabric. "I am always inspired by French New Wave movies," she says. "When I go to the beach, I always want to feel like I am in Europe in another time." As such, she usually takes bath towels to the beach. Her current favorites are these Turkish-cotton ones. Available in muted colorways and with a thick, luxurious pile, they'll stay soft forever.
Best game towel
Fiber: Cotton | Weave: Medium-pile terry | Size: 35 by 63 inches
Faria and Barquet used to drag a backgammon set to the beach on weekends, but now they simply take this chessboard towel, which includes wooden checkers pieces. "What I really like about this one is they got the print woven," says Barquet. "I always feel like when it's printed on, the towel tends to have one side that's not absorbent, more a decorative side." Indeed, Faria says the towel performs its non-gaming functions well, being "light but fluffy" and plenty absorbent.
Best art towel
Fiber: Cotton | Weave: Medium-pile terry | Size: 70 by 60 inches
This eye-catching beach towel is unusually square in shape and will have fellow beachgoers passing by and stopping to read its text, courtesy of artist Glenn Ligon. "Art Production Fund towels are the only ones we use for the beach, for picnics in Brooklyn Bridge Park, for baby naps, and all things in between," says Madeleine Johnston Fawcett, a co-founder of Project MM. "They're my favorite towels ever." The Art Production Fund, a nonprofit dedicated to commissioning and producing public art projects, also sells towels designed by Ryan McGinley and Cecily Brown.
Best less expensive art towel
Fiber: Cotton | Weave: Medium-pile terry and velour | Size: 34 by 70 inches
Flex your art-world cred for a little less money with one of Brooklinen's artist series beach towels, which are even thicker and more absorbent than the brand's beloved bathroom ones. The brand sent me one to try out at the start of summer, and I like that rather than being woven into terry loops on both sides, these towels have a velour front panel that provides a flat (but very soft) surface to lie on when you're sunbathing. It feels very plush, and the cheery design just immediately puts me in the mood for a beach or pool day.
Best luxury beach towel
Fiber: 650 gram Oeko-Tex certified cotton | Weave: Low-pile terry | Size: 38 by 70 inches
Well-designed, vintage-style beach gear is incredibly important to Marty Bell, co-founder of Vacation and founder of Poolsuite. "My ideal towel is one that feels like you found it in your grandmother's bathroom and has been aged over decades to have the perfect, rough texture," he tells me. He says that L.A.-based brand MARE makes towels that, after a few washes on high heat, perfectly replicate that worn-in feeling. They're luxuriously sized ("a good towel has to be huge in my opinion") as well as woven from 100 percent organic cotton.
Best (more minimalist) luxury beach towel
Fiber: 600 gram organic Portuguese cotton | Weave: Low-pile terry | Size: 35 by 67 inches
Baina is Australia's answer to Tekla, and I'd already been curious to try its Roman-pool-inspired towels when the brand reached out to send me a set for testing. I find that the muted colors look beautiful on the sand or hanging on a hook in my bathroom — but more important, these towels feel nice when I wrap them around myself. The terry is much lower-pile than with other towels on this list. This makes for that same crisp, worn-in texture that Bell talks about, above. No velour here, just dense loops of organic Portuguese cotton that's highly absorbent yet dries surprisingly quickly.
Some more beach essentials we've written about
• Helena Barquet, co-owner, Coming Soon
• Marty Bell, co-founder, Vacation, and founder, Poolsuite
• Sanibel Chai, former writer, the Strategist
• Gina Esposito, founder and creative director, Nu Swim
• Fabiana Faria, co-owner, Coming Soon
• Davina Grincevicius, founder, Lava Girl Surf
• Mishka Ivanovic, designer, Buci
• Madeleine Johnston Fawcett, co-founder, Project MM
• Jeff Moore, YouTuber, How2Beach
• Beverly Nguyen, stylist and founder of Beverly's
• Lauren Picasso, founder and CEO of Cure
• Andres Quito, purchasing manager, Gurney's Montauk Resort
• Mike Reinhardt, instructor, Locals Surf School
• Emily Seager, founder, Zoca Lotion
• Deborah Young, textile-science instructor
The Strategist is designed to surface the most useful, expert recommendations for things to buy across the vast e-commerce landscape. Some of our latest conquests include the best women's jeans, rolling luggage, pillows for side sleepers, ultraflattering pants, and bath towels. We update links when possible, but note that deals can expire and all prices are subject to change.
Every editorial product is independently selected. If you buy something through our links, New York may earn an affiliate commission.