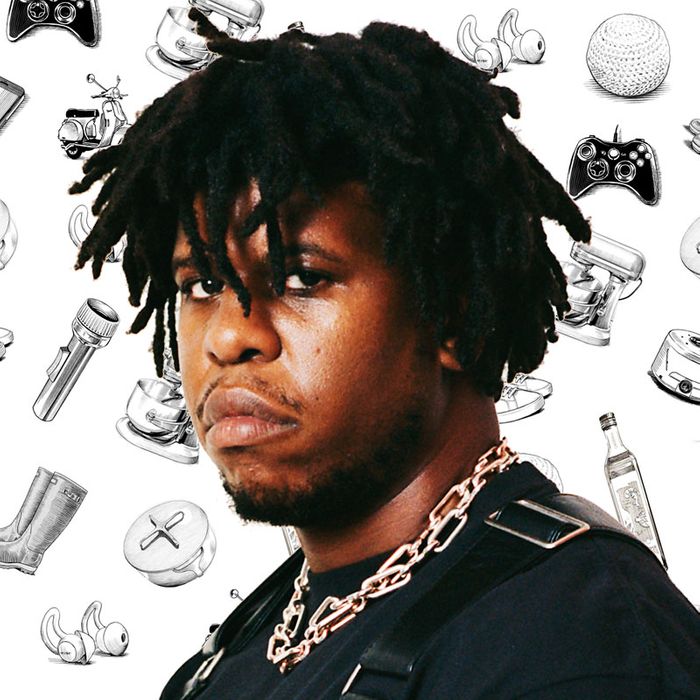 Photo-Illustration: Courtesy
If you're like us, you've probably wondered what famous people add to their carts. Not the JAR brooch and Louis XV chair but the hair spray and the electric toothbrush. We asked Jon Gray, a co-founder of Ghetto Gastro — which, with Hornitos Tequila, recently launched Gastronomical, an online marketplace selling elevated grocery-store staples — about the earbuds, bedsheets, and bodywash he can't live without.
I love the flavor of Justin's Peanut Butter Cups. I love the chocolate compared to that of Reese's. I actually prefer Justin's mini peanut butter cups to the larger ones. The minis are the perfect bite. I started eating them years ago, back when they didn't even make the dark-chocolate version. I would get the milk-chocolate ones at first, but once I tried the dark chocolate, I was like, Yeah, this is it. It's a love-hate relationship, though. When you start seeing certain items in the bodega and the hood, whether it's kombucha or Justin's Peanut Butter Cups, you know that the texture and the demographic of the neighborhood are changing. I used to have a lot of guilt when I would go to a bodega and forage for Justin's Peanut Butter Cups.
It's just delicious. A friend introduced me to it, and it sat in my cupboard for a while before I cracked it open and tried it. Then I was hooked. I did a show on Instagram during the pandemic called Gastronomical Cribs. When we had my friend Samin Nosrat, who did Salt Fat Acid Heat, on the show, she had the stuff out on her counter. I'll put it on everything from ice cream to a wack piece of pizza. It transforms the vibe. It's got a complex umami-to-chile flavor. You get garlic, you get black beans, you get peppercorn. It gives you a little numbing, tingling sensation.
The AirPods that everybody swears by don't fit well in my ears. I don't know if I'm not putting them in right, but they fall out. These work great. I can go on runs with them or take calls with them. They stay in, and it's not like I'm wearing a bulky set of headphones. That's why I love them. Sometimes I'll jump on calls while I'm running and just put my joint on mute.
I like the cotton they use. It's not too hot; it just feels good. Being able to get into comfortable sheets just makes all the difference. Plus, these look really fresh. I got a couple because I eat those Justin's Peanut Butter Cups in bed sometimes, and I'll wake up with peanut-butter or chocolate stains on the sheets. It's not fly for a young man to live like that. I keep extra sheets on deck, so when one's in the wash, the other one is still fresh. You feel me?
Editor's note: Magniberg lists all prices in euros, so the price shown is an approximate conversion in U.S. dollars.
Growing up on 125th Street, you'd walk around 125th and Lenox Avenue and see brothers out there selling shea butter with the oils, the musks, the incense. This brings that nostalgia. I love the way it smells on me and works with my pheromones. It transcends seasons. I can wear it in the fall, and I also like it in the summer. It has a little smoky note to it.
This bodywash has menthol in it, so it wakes me up. I get out of the shower and am ready for the day. It doesn't dry my skin out, which is important. I can't be ashy; I've got to keep it classy. I can't stand soap that makes me feel ashy while I'm wet. That's not jiggy. I like the way this smells, and I like the way it makes my skin feel after I use it.
I like the length of the leg, and I like the elasticity of the band. But it's also just a fashion statement. If I'm at Supreme buying something else, I can just pick up more of the underwear. As a grown adult, you have to — have to — have fresh underwear. Always. You can't let your underwear be raggedy with holes and a stretched-out waistband. You have to keep it tight.