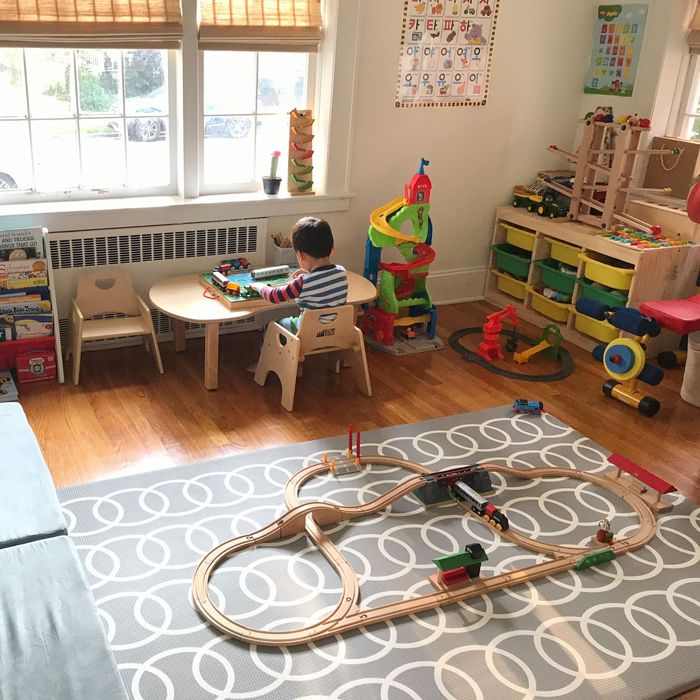 We're extremely lucky in that we have a little sunroom at the front of our house. My husband and I have dreamed about turning it into so many things, from a reading oasis filled with plants (that's how it was staged when we first toured the place) to an exercise studio. But after we settled in, it became the de facto trash room. Instead of tropical houseplants, we stuffed it to the gills with (way too many) Amazon boxes and other detritus from the endless stream of packages we ordered for both the house and our soon-to-arrive baby, who was due less than a month after we moved in.
Two and a half years later, we've finally converted the sunroom from a private dump into another space we envisioned it becoming: our son Augie's very own playroom. While the time it took meant that our living room was taken over by his countless toys, books, train tracks, and art supplies for longer than we may have wanted, it also allowed us to more thoughtfully accumulate the type of furnishings we needed to make a functional playroom that also looked as nice as any kids' area can. Even though most of the storage, furniture, and accessories we used were already elsewhere in our home by the time we decided to make the playroom, putting everything together made it all feel new again, especially to Augie, who was so jazzed to see his own space. While everything on this list is suited to his age — 2 and a half — I imagine a lot of it will take Augie into his preschool years and beyond. I can't say the same for the toys in the playroom, which is why you won't find any here, because they just change too frequently. (But if you're looking for toys to fill a playroom, Strategist's Toy Matrix would be a good place to start.)
When Augie was a baby and only had a few possessions to his name, we used rope baskets to store his plushies and whatever else babies play with when they're that young (I honestly cannot remember anymore). But just as quickly as he grew, so did his pile of toys. Hot Wheels, trains, train tracks, blocks, and balls were soon overflowing from the baskets and taking up most of the floor space in the living room. I don't know why it took us nearly two years to get this expert-approved toy organizer from Ikea, but when we finally did, it was like Mary Poppins had paid a visit: Just like that, everything was in its right place, and the solid pine frame looked like something straight out of a Montessori classroom. I opted for nine of the small drawers (in yellow and green to add a bit of color) so that each category of toy would have its own spot. As I wrote before, the drawers are a bit flimsy and don't always stay in place, but they get the job done, and Augie actually enjoys pulling them out and pushing them back in. I also like that I can use the top of the unit to display some of his larger toys.