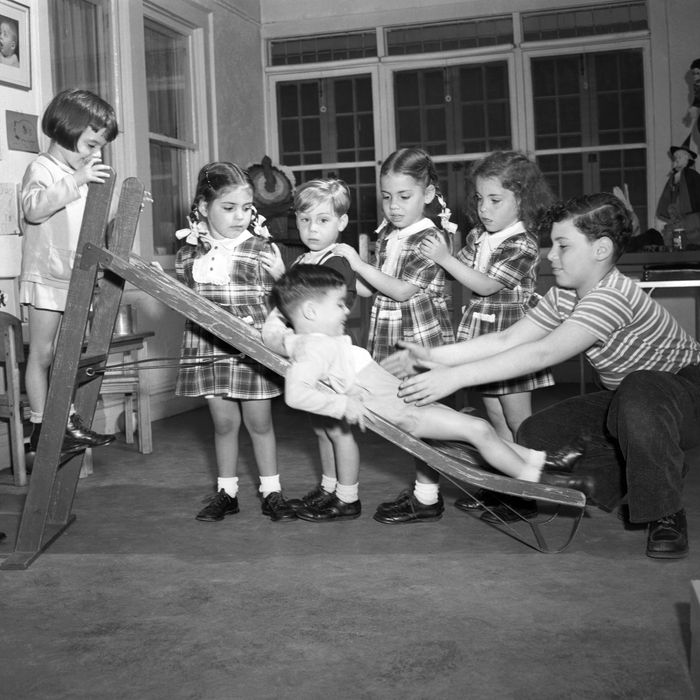 Photo: Bettmann/Bettmann Archive
With camps canceled and day care centers and playgrounds closed, little ones have fewer opportunities to get the wiggles out these days. Which is not good for anyone: Toddlers, whose ages range from 1 (when they start "toddling," i.e., walking) to about 3, when they typically begin preschool, don't really pay attention for long periods of time, so "they definitely need to be active and constantly moving," according to Dr. Giselle Tadros, a physical therapist and founder of In-Home Pediatric Physical Therapy of New Jersey. Parents and caregivers know this all too well, particularly those who live in a city where outdoor-space access is limited. So if you can't bring them to Gymboree, what are the best ways to recreate your very own Gymboree at home?
We spoke to pediatric physical therapists like Tadros, along with other experts including a play therapist and a gymnastics instructor, about the toys and equipment that most strongly encourage active play for both younger and older toddlers. And while you can very well DIY a complete kiddie gymnasium with the following list, your home doesn't have to be permanently overturned, as many of these recommendations are collapsible and/or closet friendly. Shop the options according to what you think your kid would enjoy best or what type of developmental benefit (e.g., balance, focus, imaginative play) they need most.
All four of our experts agree that a trampoline is a great piece of equipment for toddlers (as long as it's used safely and always under adult supervision.) Play therapist Joseph Sacks says that while older kids can spend endless hours jumping on them, trampolines are great even for toddlers as young as 1, or once they start walking. Mina Marsow, owner of Prospect Gymnastics in Brooklyn, agrees that a small trampoline "is a great option to burn a lot of energy and increase core strength." Speaking of which: Engaging their core is key to trampoline safety, Marsow notes. In order to get them to do so, Marsow recommends having your child first practice jumping while holding a soft object like a pillow or stuffed animal above their heads. "Or you can tell your kid to push their belly button into their back," she adds. Also in the name of safety, Sacks says to make sure your trampoline choice is one that has padding around the metal frame, like this model from Avenor. For even more peace of mind, pediatric physical therapist Alexandra Buwalda, recommends a bar attachment, so that kids can hold onto it while they bounce.
Buwalda also recommends Rody, an inflatable horse that's very low to the ground "and very child friendly"; perfect for young toddlers who can hold onto it and get on by themselves. From there they can either bounce up and down, or move the horse onto its side and use it like a roller. Buwalda likes that it encourages pretend play, like: "You can tell them to feed the horsey," she says. (For a less expensive option, check out the bouncy horse that made our list of the best toys for 3-year-olds.)
An inflatable bounce house can be great for contained jumping, depending on how much space you have. Sacks likes how a rubber construction increases safety, "and you can deflate it for convenient storage," he says. Plus, obviously, "kids love it." While there are many varieties that come in a range of sizes, this one is compact enough to be used indoors.
Things for balancing
The Moluk Bilibo is a simple container that can be used for a variety of activities. "Young kids can fit in it and spin around and balance in it," says Buwalda. "But you could also use it as storage, and if you turn it upside down, you have a step." And, Buwalda adds, "I use it therapeutically for core strength," as it requires balance for when kids use it to stand on and jump off. (It also made our list of the best toys for 2-year-olds.)
Buwalda also recommends the sturdy plastic Gonge Top, which is bigger than the Bilibo and essentially a giant top that can hold up to two small kids. Often used in therapeutic settings to help develop physical coordination, it spins, sways side to side, and can even be taken in the pool as a boat (with adult supervision), or act as a container for toys and balls. Buwalda likes that it reminds her of a spinner that you might find on the playground. (We happen to think that it looks a little like the Magis Spun Chair designed by Thomas Heatherwick.) Its raised edges prevent children's fingers from getting caught while holding the rim.
According to Buwalda, "A ride-on toy is always great for young toddlers." Kids sit on them "and just propel themselves forward with their feet." Unlike an activity toy that's powered by a battery, a manual one can be great for getting a toddler to sit up, strengthen his core, and move on his own. While there are tons of options out there, Buwalda's favorite is the line of animals from Prince Lionheart that come in sizes small (18 months to 3 years) and medium (for ages 3 and up).