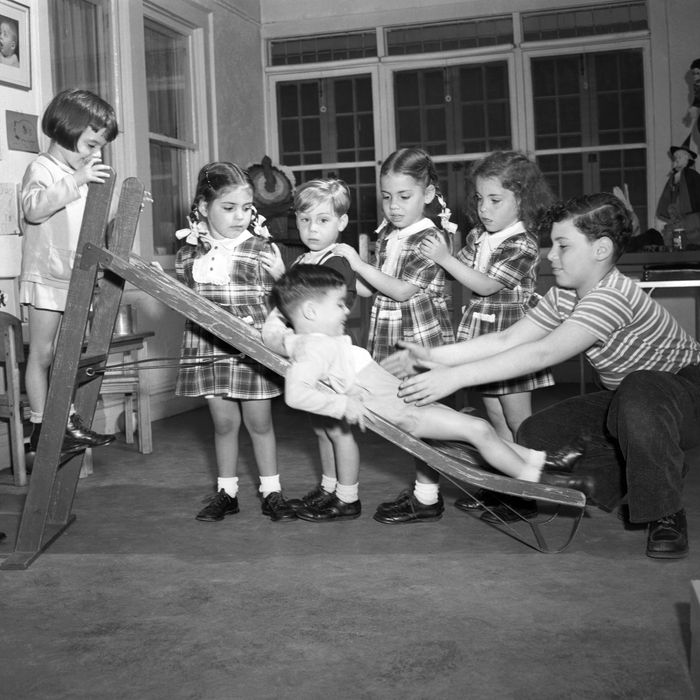 Photo: Bettmann/Bettmann Archive
With camps canceled and day care centers and playgrounds closed, little ones have fewer opportunities to get the wiggles out these days. Which is not good for anyone: Toddlers, whose ages range from 1 (when they start "toddling," i.e., walking) to about 3, when they typically begin preschool, don't really pay attention for long periods of time, so "they definitely need to be active and constantly moving," according to Dr. Giselle Trados, a physical therapist and founder of In-Home Pediatric Physical Therapy of New Jersey. Parents and caregivers know this all too well, particularly those who live in a city where outdoor-space access is limited. So if you can't bring them to Gymboree, what are the best ways to recreate your very own Gymboree at home?
We spoke to pediatric physical therapists like Tadros, along with other experts including a play therapist and a gymnastics instructor, about the toys and equipment that most strongly encourage active play for both younger and older toddlers. And while you can very well DIY a complete kiddie gymnasium with the following list, your home doesn't have to be permanently overturned, as many of these recommendations are collapsible and/or closet friendly. Shop the options according to what you think your kid would enjoy best or what type of developmental benefit (e.g., balance, focus, imaginative play) they need most.
All four of our experts agree that a trampoline is a great piece of equipment for toddlers (as long as it's used safely and always under adult supervision.) Play therapist Joseph Sacks says that while older kids can spend endless hours jumping on them, trampolines are great even for toddlers as young as 1, or once they start walking. Mina Marsow, owner of Prospect Gymnastics in Brooklyn, agrees that a small trampoline "is a great option to burn a lot of energy and increase core strength." Speaking of which: Engaging their core is key to trampoline safety, Marsow notes. In order to get them to do so, Marsow recommends having your child first practice jumping while holding a soft object like a pillow or stuffed animal above their heads. "Or you can tell your kid to push their belly button into their back," she adds. Also in the name of safety, Sacks says to make sure your trampoline choice is one that has padding around the metal frame, like this model from Avenor. For even more peace of mind, pediatric physical therapist Alexandra Buwalda, recommends a bar attachment, so that kids can hold onto it while they bounce.
Buwalda also recommends Rody, an inflatable horse that's very low to the ground "and very child friendly"; perfect for young toddlers who can hold onto it and get on by themselves. From there they can either bounce up and down, or move the horse onto its side and use it like a roller. Buwalda likes that it encourages pretend play, like: "You can tell them to feed the horsey," she says. (For a less expensive option, check out the bouncy horse that made our list of the best toys for 3-year-olds.)
An inflatable bounce house can be great for contained jumping, depending on how much space you have. Sacks likes how a rubber construction increases safety, "and you can deflate it for convenient storage," he says. Plus, obviously, "kids love it." While there are many varieties that come in a range of sizes, this one is compact enough to be used indoors.
Things for balancing
The Moluk Bilibo is a simple container that can be used for a variety of activities. "Young kids can fit in it and spin around and balance in it," says Buwalda. "But you could also use it as storage, and if you turn it upside down, you have a step." And, Buwalda adds, "I use it therapeutically for core strength," as it requires balance for when kids use it to stand on and jump off. (It also made our list of the best toys for 2-year-olds.)
Buwalda also recommends the sturdy plastic Gonge Top, which is bigger than the Bilibo and essentially a giant top that can hold up to two small kids. Often used in therapeutic settings to help develop physical coordination, it spins, sways side to side, and can even be taken in the pool as a boat (with adult supervision), or act as a container for toys and balls. Buwalda likes that it reminds her of a spinner that you might find on the playground. (We happen to think that it looks a little like the Magis Spun Chair designed by Thomas Heatherwick.) Its raised edges prevent children's fingers from getting caught while holding the rim.
According to Buwalda, "A ride-on toy is always great for young toddlers." Kids sit on them "and just propel themselves forward with their feet." Unlike an activity toy that's powered by a battery, a manual one can be great for getting a toddler to sit up, strengthen his core, and move on his own. While there are tons of options out there, Buwalda's favorite is the line of animals from Prince Lionheart that come in sizes small (18 months to 3 years) and medium (for ages 3 and up).
Things for climbing
"At this stage, everything is about climbing. When toddlers see a step or something that is a different height, they have to go on it," says Buwalda, who encourages parents to create a safe space for them to scale obstacles. She recommends this system of modular foam blocks from Foamnasium to help them get a sense of different levels and how to move through them. And while they're expensive, "Parents can create their own little gymnasium with these," she says. The blocks are soft and come in multiple configurations and can be used as both furniture and for active play. This mini-set, which is appropriate for ages 6 months to 8 years, comes with a folding base and two wedge cushions that can be put together in a number of setups. You can also buy different pieces like tunnels and steps to enhance the experience.
A similar option, perhaps for when your kids get a little older, is something called the Nugget. Tadros, whose kids are 4, 10, and 12, play on it "for hours," she says, making forts, ramps, and slides out of the base, cushion, and two triangle pillows. "You can get lots of imaginative play and gross motor skills out of them." (It's currently out of stock, but the company expects more to come later this month.)
Tadros also recommends this smaller set of blocks from ECR4Kids (for ages 9 months to 3 years). It comes with five pieces, including a roller, wedge, rectangular block, semi-circular block, and a low box. "They're great for kids to run up and slide down them, and you can form them in all these different ways and encourage kids to play and climb," she says. And no matter how you position them, "the kids are going to figure out how to play on them on their own."
The Pikler Triangle is a sturdy indoor climbing structure that has been associated with the Montessori philosophy of learning but was actually created by Dr. Emmi Pikler, a Hungarian pediatrician who championed infant education. Tadros recommends it as a great tool for "encouraging little ones to practice gross motor skills." Though it's on the expensive side, Tadros emphasizes that it's a piece of equipment that will last for many years; it's suited for ages 6 months all the way up to 6 years. While there are many versions of the Pikler Triangle out there, they're typically made of two to three main pieces that include a triangle ladder, a rock wall, and a ramp. "Babies will develop a sense of confidence as they physically challenge themselves, and it encourages curiosity," says Tadros. "And because they're climbing a ladder, it's actually really good for promoting concentration, independence, and grip and core strengthening," she adds — skills that she says are important for when they eventually enroll in school.
Things for crawling
Younger toddlers who are still crawling or are just beginning to walk start exploring more, according to Buwalada. For them, "it's all about expanding their repertoire and getting them to enjoy movement." She says that an inflatable roller or bolster like this one encourages them to move around. "They can roll over them and it's fun," she says.
Tunnels are, of course, great for crawling through, and an experience thoroughly enjoyed by most kids, according to Buwalda. (And as another top recommendation in our Toy Matrix, we've also noted how they're a great toy for 1-year-olds to learn about spatial awareness and object permanence, which is the concept that something continues to exist even if it's out of sight.) Plus, they're inexpensive and easy to store away. Buwalda says that Ikea makes an affordable version, but you can find them virtually anywhere.
One step up from the more basic crawl tunnel, this five-piece pop-up playhouse recommended by Tadros includes two tunnels, one triangle tent, one square tent, and one ball pit with an attached basketball hoop. "You can create this whole big thing," she says, "and what I love about it is that they pop up and you can fold them back down." She (and her kids) also appreciate the fact that you can reconfigure it however you want. "It just gives you lots of different options, all for one really good price."
"Toddlers are the perfect age for a parachute," says Buwalda, "and there's lots of things you can do with a parachute." Great for both indoor and outdoor play, she says that you can "swing the kids in them like a hammock," or have them "sit under it while you lift the parachute and drop it down on them." It's also great for toddlers who aren't walking yet, as they can crawl under or across it, an activity that's common at music classes where tots might have first encountered a parachute in the first place. The bright, rainbow-colored panels are also great for stimulating their senses, or for placing toys and noise-makers on top of so that the kids can reach for them. While they come in a range of sizes, this one that's six feet in diameter is ideal for an apartment.
Things for swinging and hanging
Sacks highly recommends the type of little activity centers that can be installed right in a doorway frame or attached to a ceiling. On the same note, Tadros recommends this indoor playground from Gym1 that she says would be great "for kids who love American Ninja Warrior." It features a patented doorway unit with motion stabilizers and Vise-Grips that make it safer than regular pull-up bars and allows for swinging motions. The doorway unit attachments include a swing, gymnastics rings, a climbing rope, ladder, and trapeze. Installation is easy and requires no drilling, and because the pieces are lightweight and portable, you can move them from one spot to another. It's also safety tested and can support up to 300 pounds, allowing adults to use it, too. Plus: two New York City parents agree that Gym1's playground is great for active children if you don't want to disturb your downstairs neighbors.