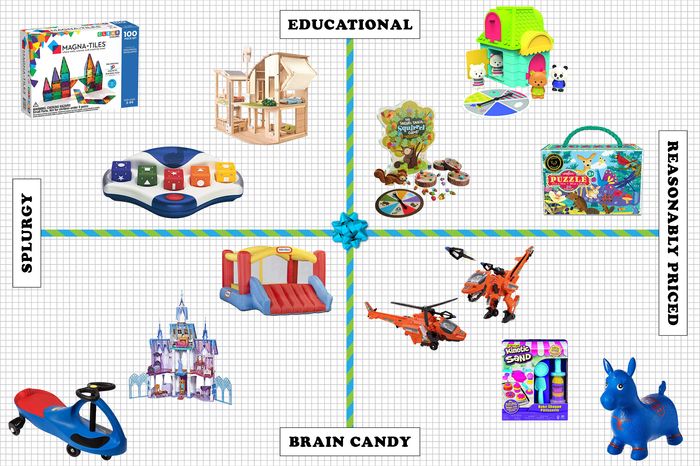 Photo: Photo-Illustration: Stevie Remsberg; Photos: Courtesy of the retailers
You know about New York Magazine's "Approval Matrix." Now, the Strategist has taken that model of what falls where on our taste hierarchies and applied it to toys. In this case, the four sides of the grid are "Educational" (say, musical blocks), "Brain Candy" (bouncy horse), "Reasonably Priced," and "Splurgy." Each toy in every quadrant comes highly recommended — click here to learn more about our sourcing process and the dozens of experts involved — and every age up to double digits is covered.
Here we cover the 3-year-olds. "At this age, children begin to initiate conversation, produce simple sentences, and talk about things of interest," notes Dr. George Sachs, a child psychologist and founder of the Sachs Center in Manhattan. In other words, they're real people now. People who can, say, recite proper table manners using a place mat that doubles as a game, or mess around with the alphabet at a pint-size standing desk; who can match keys to locks and blow their own bubbles and much, much more. You can jump directly to the section that interests you most — "Educational/Reasonably Priced," "Educational/Splurgy," "Brain Candy/Reasonably Priced," or "Brain Candy/Splurgy" — or read all the way through to get the full picture of what kids these days are into. Whether you're shopping for a birthday or a holiday or any other day, it's a list that keeps on giving.
Educational/Reasonably Priced
While suitable for many 2-year-olds, a 3-year-old can play this game at its most advanced level and can also engage with it independently. "Bears in Pairs introduces young children to the concepts of turn-taking and following directions," says Helen Sadovsky, a pediatric occupational therapist who runs Toy-Ideas.com, a blog focused on helping parents find developmentally appropriate and educational toys for their kids. Meanwhile, Sadovsky adds, "it encourages sustained attention and cognitive skills, such as pattern recognition and matching."
Yes, puzzles, in general, are great for this age. "Puzzles are a bonanza of skill development," says Terri Anderso, who taught in Madison, Wisconsin, elementary schools and was an educational consultant for school and library supply company Demco. "Turning and trying puzzle pieces in different spots develops hand-eye coordination and builds fine motor skills, strengthening muscles and coordination in hands. Matching colors and shapes as clues to where a piece fits hones critical prereading skills. And working on a puzzle with others is great cooperative play, while completing a puzzle is a feat of problem solving that gives children a sense of success and self-esteem." But, of course, certain takes on the medium stand out among others — as does the eeBoo collection: Technicolor illustrations by award-winning artists, exceptional durability (printed on recycled grayboard), and a nifty top-handle perfect for travel.
This easy-to-learn game is ideal for 3-year-olds because it involves no reading and no dice with numbers to count — instead, there's a spinner to flick on a colored wheel and matching acorns to pick up — yet it still fosters learning in a quick-paced setup, teaching about colors and improving fine motor control. Games like this also "teach the skills of sharing, turn-taking, and handling frustration when losing," says Dr. Sachs.
"Plus-Plus pieces are designed in Denmark and can be used to create anything from simple towers to imaginative robots," says Stirling Kelso, founder of Half Pint Travel. In addition to the creativity and fine motor development involved in using this, "a tube of these repetitive shapes are a lifesaving distraction, especially in public, on an airplane, or at a restaurant, because they're versatile and require some concentration to pull apart and put back together. In other words, they buy you at least 15 minutes of freedom."
This graphic tablemat makes mealtime into a game (and not in a food-throwing kind of way). It's scrawled with little goals (e.g., "Our napkin stays on our lap") and comes with erasable markers for checking them off. You can teach your child proper table manners with less nagging. At the kitchen table of this writer, we excitedly say, "Cup spot! Cup spot!," and encourage our son to place his glass (yes, real glass) back on the cup circle at the top right. (A fun alternative to: "You're going to shatter that thing, move it!")
The whopping 100 blocks in this set from Melissa & Doug can be used together in a plethora of ways, creating tall 3-D structures, flat puzzlelike creations, and anything in between. The nine different shapes included, made of smooth, vibrant wood, help kids lock in their knowledge of primary colors (plus green) — and as this writer has seen firsthand, playing with them is good for the development of spatial awareness, fine motor control, and planning and executing designs.
Educational/Splurgy
When toy historians look back at this era, Magna-Tiles will all but surely rank among the ten or 20 best toys of the time. And they'll probably still be popular a hundred years hence, when instead of erecting sprawling, multi-story shopping malls and parking garages, we'll be fashioning … whatever life looks like on some other inhabitable planet. Magna-Tiles improve fine motor skills, spatial reasoning, planning, and, when a structure collapses, resilience. Also they're just great entertainment, even for adults. Maybe especially for adults.
"My kids played with these for hours," recalls Strategist tech columnist David Pogue, whose children are now high-school age. "Each cube can play six different snippets of music, depending on which side is up when you put it into the case. You can rearrange the blocks and turn them to build your own full-orchestra songs. Supercool."
Photo: duck
A beautifully non-gender-specific dollhouse with much for grown-ups to admire: a solar panel, a wind turbine, and mini recycling bins, all made of sustainable wood. As for the kids: It fosters hours of open-ended imaginative play, whether solo or with others, parallel or collaborative. One Amazon reviewer who gifted this for a 2-and-a-half-year-old wrote that "when she saw this house on Christmas morning, all of her other presents didn't exist anymore." And: "It's also fun to point out and talk about the solar panel and windpower parts." And: "It's a great size, and she will get many years of play out of it."
"It's so easy for parents to get bogged down worrying about kids learning the ABCs when really the answer is to let them play with the alphabet," says Susie Allison, former teacher, mom, and creator of BusyToddler.com. And while, yes, 30 bucks is quite a chunk of change for what is ostensibly a bunch of floating pieces of plastic, something that's enjoyable, educational, and makes bath time easier is worth the spend. Allison adds that Float & Find is "a fun toy that kids can play with, imagine with, but is also exposing them to all their letters and building that familiarity."
These locks are perfect for a kid who is in the prereading phase but is hungry for mastery — they seem less like a toy than a tool that they can learn how to use. Little ones will spend hours matching key to lock ("The locks are very well made, and the keys are thick," an Amazon reviewer notes) and in the process locking in what each letter looked like in both upper- and lowercase, and also attaching a word to it (D for the picture of the dog, etc.).
The price here might seem a bit steep for such a simple STEM toy, no screen involved. But Coding Critters is remarkably effective at introducing the basics of block-based coding, and it's a kit that many 3-year-olds can use largely independently. In a moment of fame for the item, Danielle Busby of TLC's OutDaughtered talked about how she loved having the kids playing with their Coding Critters in the hall — "chasing the balls and the yarn, just like they do with our actual dog." And they're actually learning coding in the process.
Great for motor development — the idea here is for little ones to time their reactions just right to jump over the spinning poles of this musical device. While dance-y beats boom in the background, it rotates at three different speeds (and also has three different height settings, to keep upping the challenge). "This is a great toy to get kids moving their bodies in a fun, interactive way," says Ashley Tyrner, a single mom and the founder and CEO of Farmbox Direct, the subscription-based organic-produce service (she also leads her now-8-year-old daughter's healthy-meal-kit company, Harlow's Harvest). Since the Hop Skipper is designed so that two kids can take it on at once, it happens to be a great playdate centerpiece, too.
Brain Candy/Reasonably Priced
"Before there were stickers, there were Colorforms," says Holly Magelof, toy buyer for the Dolphin Bookshop and decades-long veteran of the industry. It's a classic that kids have always loved — slapping all sorts of different seasonally appropriate outfits for Miss Weather on the playboard — and still do. "Parents will remember them fondly," Magelof adds. Plus: "They are reusable." And when you consider that they're also great for travel, it's hard to do better for less than $10.
"Between the building, rolling, and scraping, my whole family plays with [kinetic sand] for hours," says Allison. "It moves and molds, bends and cuts in a way that is completely different from other sensory bases. It has a velvety smooth texture — it isn't gritty like sand. This isn't going to get in your toddler's eye like traditional sand will." TL;DR: "It makes for one insanely quick and easy kids' activity." Put another way by Zahra Kassam, founder of the at-home Montessori program Monti Kids: "It's like bringing the beach to your home — it's very sensory, creative, and peaceful. And less messy."
Bubbles are fun at any age, but at age 3, most kids can start to do the blowing themselves. As for this writer's experience, I first saw these particular bubbles at our son's Little Gym class, which is telling, because they are made by a direct competitor of the Little Gym, the eponymous Gymboree. The viscosity of the formula allows dozens of bubbles with each blow — even if a child exerts too much or uneven pressure — and the bubbles don't immediately pop even on the ground, meaning lots of joyous stomping.
"Bouncing engages almost every muscle group in a child's body, especially the legs and core," says Lily Balsen, a New York City–based yoga teacher whose clients range in age from newborn to 80. "It aids in vestibular development (spatial orientation and balance). In addition, rhythmic movement is organizing for the nervous system, so it's a great self-soothing and self-regulating mechanism. Also, it's just plain fun! I'm a big fan of the bouncy horse."