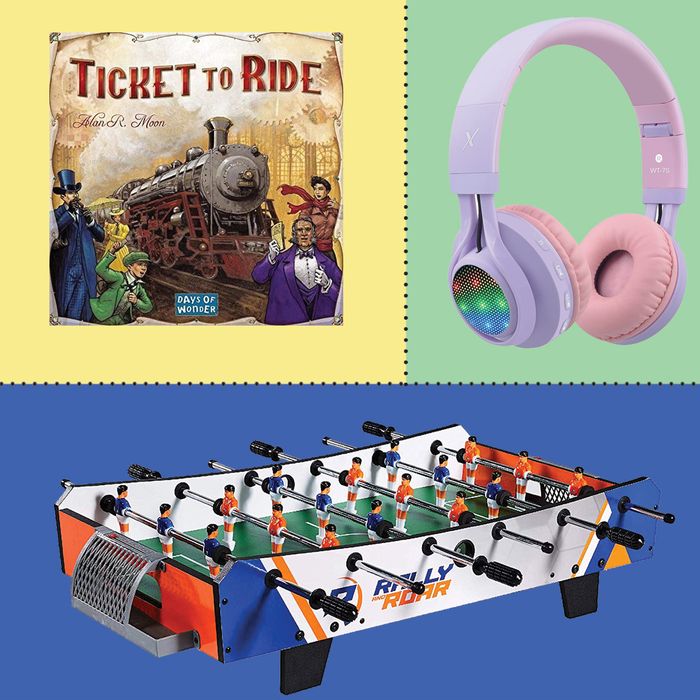 Photo: courtesy of the Retailers
Kids at age 11 are typically entering sixth grade, which is when a lot of middle schools begin. "Their social scene is changing and they're starting to think more about their social identity and who they are as a more mature person," says Lisa Goldstein, a librarian at the Brooklyn Public Library. Alyson Cohen, LCSW, a psychotherapist specializing in adolescents, young adults, and millennials in private practice in Manhattan agrees: "This is the age when it starts to get more challenging socially and physically. For a lot of 11-year-olds, puberty is beginning, so they're facing physiological issues that are hormonal that can also affect their emotional states." It's also the age when your friends become super important. "This is that cut-off age where they're not as excited to spend time at home with family and are really looking to blossom out into the world and gain some independence," says Cohen. With these milestones in mind, Cohen and Goldstein helped us come up with a list of the best toys, books, and games for 11-year-olds.
We've also got gift guides for kids of all ages, including 1-year-olds, 2-year-olds, 3-year-olds, 4-year-olds, 5-year-olds, 6-year-olds, 7-year-olds, 8-year-olds, 9-year-olds, and 10-year-olds, as well as guides for teenage girls and boys. And if you're looking for holiday toys, don't miss the top kid's toys to buy before they sell out — we talked to experts to find 2018's hottest toys. Don't miss all of the Strategist's holiday gift coverage right here, too.
When we spoke with Cohen, she had just done a bunch of shopping for the kids in her life. "I want to be the cool adult that gets them things that fit who they are, and what they're looking to do," she says — which sounds like a great MO when choosing gifts for anybody. According to Cohen, the most important thing in a pre-teen and teenager's life is their friends. "My idea for what I think is good for kids this age has to relate to the social. We hear so much about kids staying at home on their devices and not playing outside, so some kind of activity or game that they can do with friends, encouraging that face-to-face" time is crucial. She recommends a game that's interactive, like ping-pong or foosball. Although this table tennis set is definitely on the pricey side for a kid, it's not only timeless, but would be fun for the entire family.
Cohen also recommends a foosball set. "It could be a reason to invite a friend over to the house," she says.
When choosing board games for 11-year-olds, Cohen advises getting ones that are trending, and not "old-school" ones like Monopoly and Life. This fill-in-the blank word game bills itself as "Cards Against Humanity, but for kids," and is family-friendly.
Or try Ticket to Ride, another popular game that even made it onto our holiday board game roundup. It's "a cross-country train adventure in which players collect and play matching train cards to claim railway routes connecting cities throughout North America."
For the more introspective types, Cohen recommends a journal, something that allows a child — or an adult at any age — to be expressive and creative. "I suggest to a lot of my clients, even those in their twenties, to pick up something that's enjoyable, because when you do activities that you enjoy, you feel happier and are more likely to feel good about yourself," she says. "I think it's an important self-esteem building tool that can give you a sense of reward or satisfaction." This is particularly important at the age in question, because kids "really start to identify as individuals and may feel different from other people. This is when the comparisons begin," says Cohen. "Females in general tend to internalize more than males, so encouraging them to journal and to write their feelings down and get them out [is important.] Even if they don't want to speak to their parents about what's going on, just getting it out of their heads could be helpful."
As far as "educational" toys go, Cohen suggests considering them on a case-by-case basis: "I don't think you could ever go wrong with a slime-making kit or a soap kit. Making things they could use, baking, or anything food-related is great — something that gives the child a sense of accomplishment." This soap kit includes materials to make 25 soaps, gift boxes, and a lab book that teaches the chemistry and biology behind making soap.
Or try this bath-bomb-making kit that teaches kids the science behind chemical reactions in a fun, hands-on way.
Cohen says you can never go wrong with electronics for pre-teens, especially with items like light-up headphones.
Kids at this age also love anything to do with their smartphones, according to Cohen: "Cases that charge your phone are always things that kids need, because their phones are always dying from all the Snapchatting."
Best books for 11-year-olds
Cohen says that parents of kids at this age like to buy them non-fiction books that deal specifically with these coming-of-age years. "It might be an uncomfortable thing to receive in front of a lot of people, but privately, it might be something that a kid might want to read about just in case they haven't learned [these things] fully in school, or didn't ask all the questions." For girls, she recommends The Girls' Guide to Growing Up.
And here's the counterpart for boys.
Graphic novels are always a hit at this age, according to Goldstein. "The Cardboard Kingdom is by one artist with a bunch of stories written by different authors about a whole neighborhood of children who make costumes and adventures out of cardboard, making their block into a cardboard kingdom," she says. "The kids are super diverse and they all live with a variety of different life situations. One boy wants to be a sorceress. Another boy wants to be the prince's romantic interest. A child lives with his grandmother as his mother is absent; another child's parents are splitting up. But it's very cheerful with bold illustrations and it doesn't feel heavy or like it's trying too hard. It just reflects the true diversity of the world as well as children's creativity and how every child deserves to be reflected in a book. It's a really joyful book."
The sequel to last year's The Witch Boy, The Hidden Witch picks up where the last book — in which a boy named Aster wants to be a witch, which only girls can become, while he, like other boys, can only be a shape-shifter — left off. In the new book, Aster is allowed to study to be a witch with the girls, and he's enlisted to deal with some dark magic in his family. He then meets a girl at school who is a kindred spirit, someone who's also been a victim of bullying and is living in a foster home. "All the characters are of color, there's same-sex relationships, and there's different gender definitions," says Goldstein. "But again, it's a natural diversity that is part of a fun adventure." Done in a dramatic style inspired by manga, the book will speak to kids who already love Japanese comics.