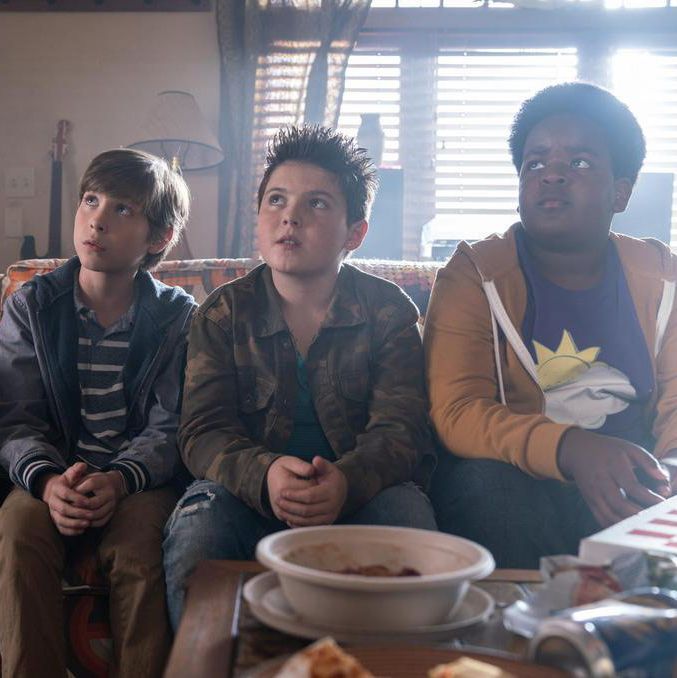 Photo: Universal Pictures
Tween boys (roughly 'tween the ages of 8 and 13) straddle a real middle ground. While they're interested in a lot of the same things as a 17-year-old or even some adults, many of them still enjoy playing with Legos and plush toys. And because kids in this age range mature at different rates, picking out a great gift for a tween boy that you don't know very well can be a challenge. To get a good sense of the best gifts for tween boys — the ones they might actually want to unwrap this year — we talked to ten of them about their ultimate holiday wish lists. The gifts they recommend run the gamut from video games and consoles to bobblehead dolls and Stranger Things collectibles.
A whopping seven of the ten boys we talked to said they either wanted to get a Nintendo Switch or already own one. Joshua, an 11-year-old in 6th grade, called it "the coolest gift I could imagine getting." Rajan, a 10-year-old who already has an Xbox, says the problem with the Xbox is that "you can only play it at your house." He's played the Switch at friends' houses and likes that it's portable. "You can play Nintendo Switch anywhere and you can get the same games as you can get on Xbox and maybe even more," he says. Two of the boys who already own the console told us they would like to get more games and new controllers.
Half of the boys we talked to said they want a pair of AirPods or AirPods Pro, which cost about a hundred bucks more than the originals but seem to fit most ears better and have the added benefit of being noise canceling. Thirteen-year-old Grant wants AirPods because, "I like listening to music and I don't have good headphones." And Sasha, a 12-year-old says he wants them for listening to podcasts and Drake — and because they look cool. "I think they're nicer than over-ears because they're not as bulky so I can just put em in my pocket."
Funko Pops
Another trend we heard about from multiple boys was Funko Pop bobblehead dolls. "I like to collect Funko Pops because they have lots of different characters to choose from my favorite shows, games, and comics," says 8-year-old Peyton. Joshua is asking for a Dwight Schrute Funko Pop, and Matthew, a sixth-grader, says he wants Totoroki: "It's like fire and the ice is coming off of him. It's awesome."
Stranger Things Stuff
Peyton, Joshua and Matthew are fans of the throwback Netflix series Stranger Things. Joshua says he wants the Stranger Things Lego set which features two mirrored worlds to build and play with. Matthew says he'd be stoked to receive the limited-edition 2019 Coca Cola x Stranger Things coke cans or coke bottles, which you can find on eBay. Both versions are "awesome" in his opinion, but he'd prefer the bottles, which, he says, "look better."
Accessories and Décor
Along with those collectible sodas, Matthew would also like a set of color-changing LED lights. Like the string lights that topped our cool teen poll and our dorm room decor stories, these LED lights are a trend we'll be seeing well into 2020.
Matthew would also like some stickers to decorate his skateboard deck. "I have a skateboard already that I created myself. So stickers would be actually awesome for my board," he says. Matthew's idea for cool stickers is to get ones that have a catchphrase from a favorite Japanese anime series rather than a sticker of a character. While we couldn't find any text only anime stickers we did find these from the series My Hero Academia, a favorite of Matthew's.
George, on the other hand, is asking for a Pusheen cat poster to hang on his wall. If the tween boy in your life isn't a cat fan, you can easily find posters that do correspond with their favorite TV show or movie characters.
Books
Several boys said that they would like to receive books from a favorite series they are reading. George specifically asked for the Hunger Games books and some Full Metal Alchemist graphic novels. Matthew, who is a fan of manga, is hoping to round out his My Hero Academia collection with some graphic novels. And Joshua is looking forward to reading the newest Diary of a Wimpy Kid.
Toys and electronics
George, a 10-year-old who loves playing Minecraft, is asking for a speed cube. It's basically a Rubik's Cube to the extreme according to his mother. Speed Cubes are designed to move more quickly and with more fluidity than traditional Rubik's Cubes. This set comes highly rated on Amazon with over 300 five-star reviews and includes both 2x2 and 3x3 block cubes as well as a pyramid. Speed Cubes are great practice for kids who want to get better at solving a Rubik's Cube and because they move so quickly they also function as fidget toys.
Matthew wants "this little guy who's a robot" that you can teach to perform different actions and play games with. "It's awesome," he says.