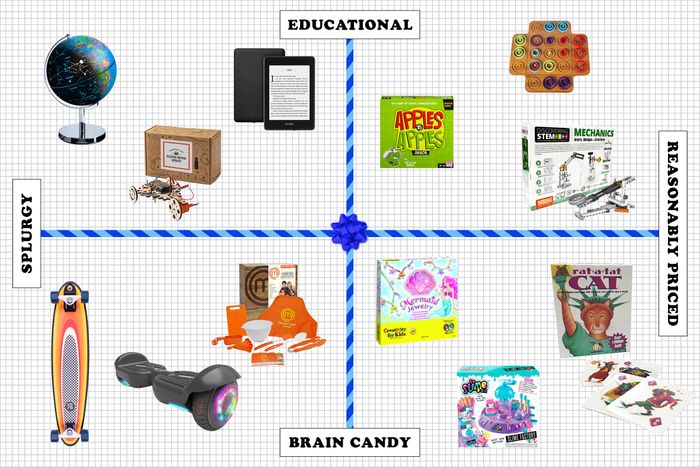 Photo-Illustration: Photo-Illustration: Stevie Remsberg; Photos: Courtesy of the retailers
You know about New York Magazine's "Approval Matrix." Now the Strategist has taken that model of what falls where on our taste hierarchies and applied it to toys. In this case, the four sides of the grid are "Educational" (say, a coding kit), "Brain Candy" (a slime factory), "Reasonably Priced," and "Splurgy." Each toy in each quadrant comes highly recommended — click here to learn more about our sourcing process and the dozens of experts involved — and every age up to double digits is covered, all of which you can see by also clicking here.
Here, we tackle the 9-year-olds — not yet preteens, definitely no longer little kids. This is a time when "children begin to form real social relationships and friendships," says Dr. George Sachs, a clinical child psychologist who specializes in ADD and ADHD treatment on the Upper West Side in Manhattan. Another distinguishing factor of those in the fourth-grade zone is they are "able to focus for longer periods of time," Sachs adds. With such social and attention skills in mind, we homed in on the following conversation-card games, catapult-building STEM kits, and 25 or so other gift ideas, which we surfaced with the help of professionals like Sachs along with many other discerning parents and tween whisperers. You can jump directly to the section that interests you most — "Educational–Reasonably Priced," "Educational-Splurgy," "Brain Candy–Reasonably Priced," or "Brain Candy–Splurgy" — or read all the way through to get the full picture of what kids these days are into. Whether you're shopping for a birthday or a holiday or any other day, it's a list that keeps on giving.
Educational–Reasonably Priced
According to mother of two Anya Kamenetz, an education blogger at NPR and the author of The Art of Screen Time, "Kids this age are developing pretty specific interests and are growing in manual dexterity and independence." She says her kids, one of whom is approaching 9 years old, love these 3-D puzzles of architectural marvels, telling us they are "easier than they look — they take about an hour to put together." This means you don't have to worry about your child getting frustrated or bored and abandoning the puzzle halfway through. There are models of the Taj Mahal, Notre Dame, the Colosseum, and more.
It's hard to attach any particular age to magic sand like this as it's equally entrancing for kids and adults alike. But this is a favorite of Strategist tech columnist and dad David Pogue. "It's sand to play with, sculpt, squish — but it sticks only to itself! No loose grains … No mess … Nothing left behind on your hands! Kind of amazing." And speaking of sculpting, according to an Amazon reviewer: "National Geographic gets bonus points for using molds of famous structures — for example, the pyramids at Giza, and Chichen Itza." So for the grade-schooler studying world geography, this specific magic-sand set is a nifty companion.
Considering this is an age when "many children begin to have best friends," according to Sachs, this card game is a great choice for groups. Though you may still have to ask them to play it outside until they can be vaccinated. Dr. Angelina Morales, a psychologist who specializes in children and adolescents, agrees: "Games like Apples to Apples Junior offer a fun way to help children see things from another person's perspective and promote prosocial interactions." The original version is a Mensa winner, but this junior iteration is more suitable for a grade-schooler's vocabulary, according to Amazon reviewers. "Each card describes the word and helps players learn new vocabulary and the type of word it is (adverb, noun, etc.)," one reviewer explained. "I purchased it for my 9-year-old niece for her birthday, and she was very excited to receive it. Funny enough, she has no idea she'll be learning the entire time she plays it."