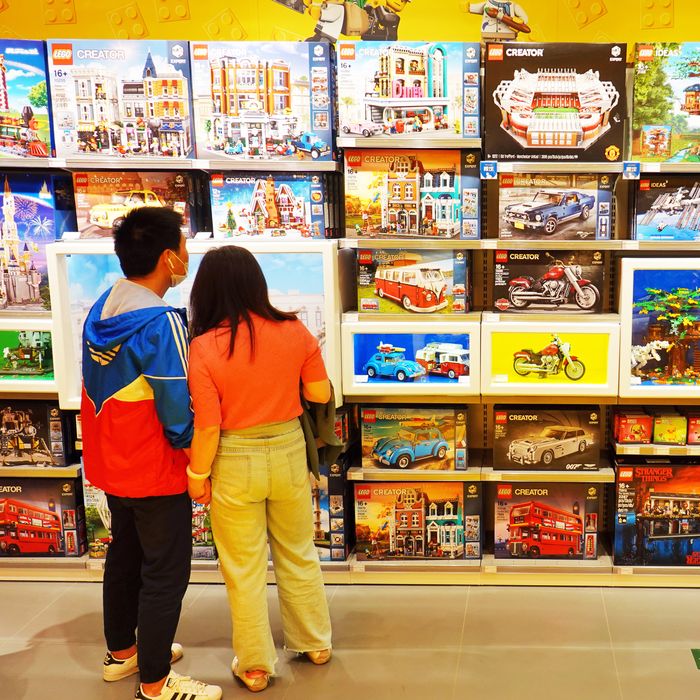 Photo-Illustration: Getty/Barcroft Media via Getty Images
Puzzles and needlepoint sets and inflatable pools aren't the only productive distractions we've noticed flying off shelves over the past few months. Lego sets — from the smaller kinds for kids to the far more intricate (and expensive) ones for adult builders — have also become harder to find. Anyone who played with the colorful blocks as a youngster knows why they make for a particularly appealing toy right now: Hours can pass as you follow each step to complete a set, or just get imaginative and create a Lego-scape of very own. But a number of older fans we spoke with told us that Legos have a unique appeal for adults right now, too. "They have been a lovely way to just sit, focus, and chat, away from screens and other distractions," says Canadian government analyst Stephen J. MacDonald.
MacDonald is one of 13 Lego fans — who range in age from 5 years old to 50-plus — that we talked to (some, via their parents) about their favorite sets. While all of our Lego fans' 20 favorite sets would generally be appropriate for builders of any age beyond toddlerhood, we've separated them based on whether they come recommended for kids or adults because, according to Anna Golson, the editor of Lego blog TheBrickBlogger, "while kids and adults may be interested in the same Lego sets and themes, their way of enjoying the hobby is usually different." Specifically, children play with Legos, she says, while adults are "more focused on the challenging building techniques, the accuracy of the models compared to their real-life counterparts, and their display value." (We've noted Lego's suggested age range for each set next to its name, too, for anyone who wants to heed those suggestions.)
The
Best
LEGO
Sets
for
Kids
Photo-Illustration: retailer
While they admit they aren't parents themselves (yet), two of our Lego people say that kids they know have really taken to the brand's "Friends" line, which refers not to the television series but to the five Lego friends that the settings are built for. The sets in the series feature "lifestyle scenes from sports games to school classes, camping, and volunteering," according to Golson, and all come with humanlike figurines that kids can move around the sets once they've finished building them. Both she and Ryan McNaught, a large-scale Lego sculptor who goes by "The Brickman," mentioned this City Park Café as a particularly great example from the Friends line. It has 222 pieces, and features many of the things kids will know from their own neighborhood café, from money to flowers, fancy cupcakes, giant coffee cups, and more. McNaught calls the set "fantastic," and notes that it also introduced "a ton of great new colors" to the world of Lego blocks.
Photo-Illustration: retailer
This far more affordable set that also includes many of those recognizable coffee-shop elements comes recommended to us by Brian Kelley, who directs a Young Builders and Designers program for children in the Minneapolis–St. Paul area. "Every parent cringes when they hear the word Lego because their sets can be hundreds of dollars, but there are little sets like this one that are really functional," he says. Kelley, who told us he recently delivered Lego blocks to children in his area (with the assignment to build what they think should replace the burned-down Target), says this scene is one that "every kid can relate to" — and because it has half as many pieces as the City Park Café set above, this one "takes about 20 minutes to build." He likes that, once complete, the set comes with various figurines to use within it, including a doctor, businessman, construction worker, and, of course, a barista.
Photo-Illustration: retailer
Like many toys these days, Legos are not only found in boxes but on big and small screens alike. Lego Ninjago is a television series that Variety editor-at-large Kate Aurthur told us was the "gateway drug" for her 9- and 7-year-old sons' obsession with the physical blocks themselves. Golson shared similar sentiments, explaining that "Ninjago is one of the most popular Lego themes for kids today, both the TV show and new waves of sets" it inspired. If you know any children who watch the show, this particular set is based on a dragon they'll recognize from the series.
Photo-Illustration: retailer
Golson recommends this set — which is based on the workings of an ocean-rescue center and was designed in collaboration with National Geographic — for any animal- or ocean-loving children. Another from the Friends series, the set's more than 600 pieces are used to build a rescue boat, lighthouse, sea lions, dolphins, a coral reef, and more. It also includes two different figurines to use within the landscape when complete.
Editor's note: While available to purchase immediately, this set may not ship until July 11.
Photo-Illustration: retailer
Aurthur's children are also a fan of this Lego set based on (and made in collaboration with) the popular computer game Minecraft. When she asked her 9- and 7-year-old to recommend their all-time favorite set for this story, this is the one they selected. The set re-creates a cave that players will recognize from Minecraft, but Aurthur told us her children have since used elements of it as part of a large-scale Star Wars project they're working on. In their words, "Its parts have been so great for our base."
Photo-Illustration: retailer
Mother and life-insurance administrator Rebecca Stevens admits that "this isn't the biggest or flashiest Lego creation," but promises that "it has staying power for the beginning builder, and takes approximately 30 minutes with the help of an adult." Stevens adds that her 5-year-old "doesn't build often from sets, but really enjoyed this one." Because the boat comes mostly in one piece, the builder only needs to assemble the top, she says, making it "not too frustrating" for first-timers. Stevens adds that once assembled, its various parts (such as the boat, shark, and buried treasure) can all be used in free play. "Using this set, our figures have had boat races, diving missions, pirate adventures, and many close calls with the shark."
Photo-Illustration: retailer
Financial analyst Ramya Dwarapu told us she recently bought her 5-year-old daughter this set as a reward for doing well at school. She got it thinking she would have to build parts of it for her daughter, but reports that "surprisingly, she did it herself with minimal help, thanks to the excellent instruction book." Dwarapu adds that since her daughter finished it (in about 30 minutes), she has been role-playing with the set, "selling and buying ice creams, driving, skateboarding, and petting the dog that came with it."
Photo-Illustration: retailer
This 43-piece set is, in Kelley's eyes, a "phenomenal" value for its price. One of the best things about Legos, he explains, is that "even if a set costs just a few bucks, kids always find some new and fun way to be creative with it." In addition to being a price performer, the pack features a figurine and a push-cart popcorn machine that has "unusual color variations and objects," Kelley adds.
The
Best
LEGO
Sets
for
Adults
Photo-Illustration: retailer
If you're an adult wondering if you can really buy yourself a Lego set, our older panelists all say that the sooner you do, the happier you'll be. They point out that you won't be building the same things you did as a child, as Lego's more mature offerings range from replicas of homes designed by M