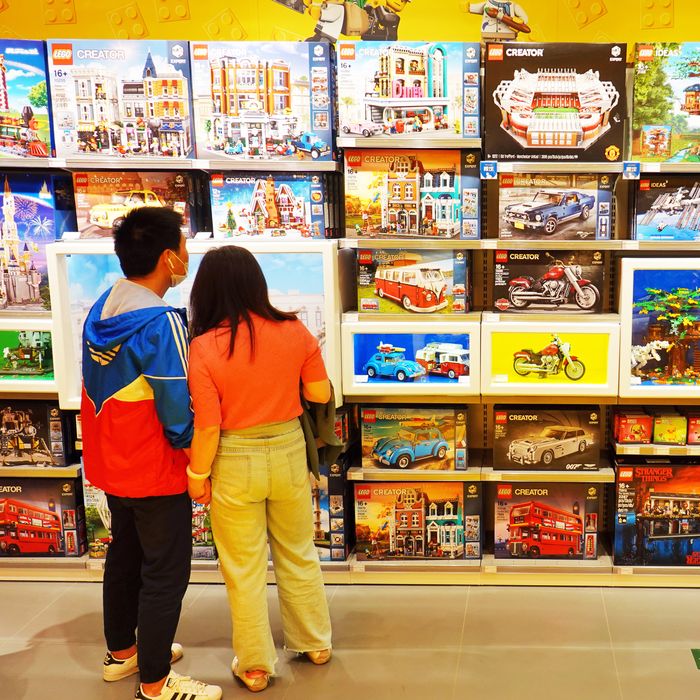 Photo-Illustration: Getty/Barcroft Media via Getty Images
Lego sets — from the smaller kinds for kids to the far more intricate (and expensive) ones for adult builders — have deservedly ascended to the pantheon of classic toys that will never go out of style. Anyone who played with the colorful blocks as a youngster knows what makes them particularly appealing: Hours can pass as you follow each step to complete a set, or just get imaginative and create a Lego-scape of very own. But a number of older fans we spoke with told us that Legos have a unique appeal for adults who want to relax and unplug, too. "They have been a lovely way to just sit, focus, and chat, away from screens and other distractions," says Canadian government analyst Stephen J. MacDonald.
MacDonald is one of multiple Lego fans — who range in age from 5 years old to 50-plus — that we talked to (some, via their parents) about their favorite sets. While all of our Lego fans' picks would generally be appropriate for builders of any age beyond toddlerhood, we've categorized them based on whether they come recommended for kids or adults because, according to Anna Golson, editor of Lego blog TheBrickBlogger, "while kids and adults may be interested in the same Lego sets and themes, their way of enjoying the hobby is usually different." Specifically, children play with Legos, she says, while adults are "more focused on the challenging building techniques, the accuracy of the models compared to their real-life counterparts, and their display value." (We've noted Lego's suggested age range for each set next to its name, too, for anyone who wants to heed those suggestions.)
The
Best
Lego
Sets
for
Kids
While they admit they aren't parents themselves (yet), two of our Lego people say that kids they know have really taken to the brand's "Friends" line, which refers not to the television series but to the five Lego friends that the settings are built for. The sets in the series feature "lifestyle scenes from sports games to school classes, camping, and volunteering," according to Golson, and all come with humanlike figurines that kids can move around the sets once they've finished building them. This magical treehouse is a favorite of multiple Lego fans, including Smith College student Kira Seshaiah, music teacher Liz Aleksander, and Women's Brick Initiative director Megan Lum. "There's a lot going on: It's got several different floors, a wind power generator, an elevator. It's super fun and has lots of play value, and it looks great on display," Lum says. "It's probably the most fun I've had building a set this year."
Photo-Illustration: retailer
Like many toys these days, Legos are not only found in boxes but on big and small screens alike. Lego Ninjago is a television series that Variety editor-at-large Kate Aurthur told us was the "gateway drug" for her 9- and 7-year-old sons' obsession with the physical blocks themselves. Golson shared similar sentiments, explaining that "Ninjago is one of the most popular Lego themes for kids today." If you know any children who have watched the show, this particular set is based on a dragon they'll recognize from the series.
Photo-Illustration: retailer
Golson recommends this set — which is based on the workings of an ocean-rescue center and was designed in collaboration with National Geographic — for any animal- or ocean-loving children. Another from the Friends series, the set's more than 600 pieces are used to build a rescue boat, lighthouse, sea lions, dolphins, a coral reef, and more. It also includes two different figurines to use within the landscape when complete.
Photo-Illustration: retailer
Mother and life-insurance administrator Rebecca Stevens admits that "this isn't the biggest or flashiest Lego creation," but promises that "it has staying power for the beginning builder, and takes approximately 30 minutes with the help of an adult." Stevens adds that her 5-year-old "doesn't build often from sets, but really enjoyed this one." Because the boat comes mostly in one piece, the builder only needs to assemble the top, she says, making it "not too frustrating" for first-timers. Stevens adds that once assembled, its various parts (such as the boat, shark, and buried treasure) can all be used in free play. "Using this set, our figures have had boat races, diving missions, pirate adventures, and many close calls with the shark," she says.
Photo-Illustration: retailer
Financial analyst Ramya Dwarapu told us she bought her 5-year-old daughter this set as a reward for doing well at school — and though she expected that she would have to build parts of it for her daughter, Dwarapu reports that "surprisingly, she did it herself with minimal help, thanks to the excellent instruction book." Dwarapu adds that since her daughter finished it (in about 30 minutes), she has been role-playing with the set, "selling and buying ice creams, driving, skateboarding, and petting the dog that came with it."
If you're looking for more budget-friendly options, Lego's Creator 3-in-1 sets, which allow you to build three different scenes using the same pieces, are great for providing as much bang for your buck as possible. Customer service representative Stephanie Regan picked up this ocean-themed set for her 8-year-old son Andrew because she was drawn to its bright colors. "Back when I was a kid, Legos just came in the primary colors, but now there's hundreds," Regan says. "This one has all the blues, the greens, the pinks." The set has three potential scenes: a dolphin and a turtle, a seahorse and a sea snail, and a fish and a crab, and Andrew was eager to build all of them. "There weren't that many blocks, so I think he was trying to figure out how it was possible to come up with three different configurations," she says.
Another "bang for your buck" build is this sleek race plane from the Technic line, which focuses on creating more advanced models that come with complex technical functions. Choral director Liz Puleo received it in a giveaway and called it "the coolest little set for ten bucks… I was blown away." Its intricate design allows the plane propeller to spin and the wings to fold in and out, but it's still held up after her 9-year-old son played with it. "No one's talking about these little Technic sets, but I thought it was so cool. I think it's one of Lego's unsung heroes," Puleo declares.
The open-ended Bricks and Functions set is a bit different from the sets above, in that the pieces don't fit together to form one complete model; instead, it comes with an assortment of pieces that encourages kids to use their imaginations to free-build whatever they can think of. Erin Laundry, a contestant on Season 3 of Lego Masters, likes it because "it has so many gear pieces, and it also has some very basic models for incorporating motion into your build." When Laundry hosts workshops to teach more advanced building techniques, she brings this set with her to recommend to parents whose "children are looking to learn a new skill."
Educator Karen Engelkenjohn, who has used Legos in her classrooms for over 25 years, recommends Duplo bricks for toddlers who are still developing their coordination and motor functions — they're scaled up to be twice the size of regular Lego bricks, so they're "easier for small hands to snap together, and if they put them in their mouth, they can't swallow them," Engelkenjohn told us. This 295-piece STEAM park set contains everything from slides to seesaws to steamboats, and helps teach science, technology, engineering, art and math concepts.
For the tween set, this Tallneck model, from the video game Horizon Forbidden West, was on Alixandria Wells's 12-year-old son's holiday wish list, since they enjoy playing the game together. "We're definitely a house of geeks here," Wells says, adding that she appreciated how the build uses more mechanical techniques. Toy photographer Anna Bitanga also keeps this same model on display in her office. "It's so striking. It kind of looks like Star Trek meets a giraffe," Bitanga says. "I think Lego did a really good job re-creating the look, which is sometimes not easy to do."
In 2016, Lego came out with a line called Brickheadz, which includes many holiday-themed and animal sets as well as re-creations of iconic characters from pop culture properties like Marvel, Star Wars, and Harry Potter — they're basically the Lego versions of Funko Pops. Bitanga says her 11-year-old son doesn't have the patience to puzzle through intricate builds, but Brickheadz are fairly simple to put together and "highly collectible, so he just likes to line them up." Wells and her sons are also Brickheadz fans, since they're "fun to make and more affordable than some of the bigger sets."
The
Best
LEGO
Sets
for
Adults
If you're an adult wondering if you can really buy yourself a Lego set, our older panelists all say that the sooner you do, the happier you'll be. They point out that you won't be building the same things you did as a child, as Lego's more mature offerings range from replicas of homes designed by Mies van der Rohe and Frank Lloyd Wright to iconic skyscrapers and landmarks, stadiums, luxury sports cars and space stations. And, like the real-life feats of design that inspire these sets, once complete, many are more like trophy items than playthings (which is why some come with far higher price tags and can be found in museum gift shops in addition to your local Target).
However, for adults who are just dipping their toes into the Lego waters or haven't touched a Lego brick since they were a kid, the super-sophisticated sets can be a bit intimidating, both in their complexity and their hefty price tag. Lum says this colorful display, which celebrates diversity, positivity, and kindness against a rainbow backdrop, is the "perfect set to introduce an adult to Lego" because "it's relatively easy to build but so eye-catching, and it really makes a statement around inclusion." Aleksander agrees that it's a "simpler build" than other ultra-elaborate Lego displays, but loves its message and how "aesthetically pleasing" it is.
In recent years, Lego's botanical collection has exploded in popularity (A$AP Rocky even gifted Rihanna a Lego bouquet for Valentine's Day). Ranging from orchids to sunflowers to bonsai trees, these realistic re-creations are perfect for those cursed with black thumbs. Laundry is a fan of the succulents in particular for their compact size and flexible display options: "You can have nine individual potted plants or you can connect them in a cluster," she says. "You can tuck them in your bookshelf or keep some on your desk." Seshaiah keeps a few scattered around the lounge in her dorm and says she and her friends "have a lot of fun moving them around. It's nice because you can't kill them but they still look really good."
Every year Lego unveils a new addition to its modular-buildings series, which contains some of the most complicated and time-consuming sets. This year, the company came out with the Boutique Hotel. According to Lum, the trademark of these buildings is "that they're highly detailed. So in this hotel, you have the ground floor, you've got the check-in lobby, you go upstairs and there's the hotel rooms. You've got the bed and the bathrooms and all of the furnishings." Bitanga adds that there's "a lot of storytelling in a modular set," which is very fun for her to photograph.
Photo-Illustration: retailer
Four older builders we spoke to told us their favorite sets come from Lego's "Architecture" line, which launched in 2008 and allows builders to re-create historic landmarks and skylines from around the world. Danish digital consultant Bubber Outzen told us he loves the architecture series, because "you can truly feel what each architect wanted to do with their work by building it yourself." (Some sets that Outzen has completed include replicas of the Guggenheim Museum and Flatiron Building along with skylines of Chicago, Berlin, London, Paris, Venice, San Francisco, and Sydney).
While some of the Lego Architecture sets can go for several hundreds of dollars, this replica of the Statue of Liberty is a more affordable option from the line. It comes recommended by MacDonald, who told us he first discovered Lego's Architecture series during a team-building exercise at his office: "I had so much fun with it, I kept buying more." Lady Liberty is among his favorite sets, in part because he put together its 1,685 pieces with his wife. "It's the biggest set we've built," he says, "and took us two nights to complete."
Photo-Illustration: retailer
When it comes to Outzen's favorite of all the Lego Architecture sets, he says nothing beats this one modeled after Frank Lloyd Wright's Fallingwater. He describes it as "another way to visit if you aren't able to go to the real thing" in Pennsylvania. According to Outzen, assembling the set's 811 pieces "gave me a sense of what Wright wanted to achieve with the building. When you start it's very solid and square, but then you discover a lightness through the terraces, the trees, the water. It really has all the elements, and you grasp that only through construction." By the time you finish, Outzen says, the sculpture has the same "solid, unbreakable feeling" that fans of the real thing say they feel in its presence. Just note that because the set is retired and new versions are no longer in production, it can be harder to find.
Photo-Illustration: retailer
Outzen also pointed us to this 800-piece Lego Architecture replica of Farnsworth House, German-American architect Ludwig Mies van der Rohe's historic residence outside of Chicago. "As you build, you can really feel the lightness of the whole construction, and when you're done, it's almost floating," Outzen says, contrasting its density to that of the Lego Fallingwater replica. In addition to their many pieces, all of the Lego Architecture series' sets come with booklets that explain the history of their structures, and Outzen says the one included with this set was particularly memorable. Again, because new versions of the set are no longer in production, it can be harder to find.
Photo-Illustration: retailer
If you're more interested in designing your own buildings than rebuilding other architects' famous creations, Paul Wellington, the founder of Lego Architecture–focused blog ArchBrick, recommends this 1,210-piece set for doing just that. He calls it his favorite of the Architecture line's many offerings, saying the stripped-down collection of "only white and transparent elements" and no fixed instructions "allowed me to focus on textures and patterns rather than color." Ultimately, he adds, this helped him "become a better builder."
Photo-Illustration: retailer
A considerably more affordable way to create your own inventions is this classic starter set, which contains 790 pieces and sweetly claims to be appropriate for ages 4 to 99. It comes recommended by the anonymous creator of popular Twitter account LEGO Grad Student. "You cannot go wrong with a Creative Brick Box," they say. "The pieces offer endless possibilities and the widest variety of colors and shapes to build some version of nearly any small item that comes to mind."
Photo-Illustration: retailer
Lego's line of luxury sports cars is one of "its most sophisticated yet," according to Huw Millington of online Lego database and set guide BrickSet. Millington says these are a great choice for someone who wants a longer project, as the "very challenging build will take even an experienced builder a good 10–12 hours." The Bugatti Chiron contains a whopping 3,599 pieces, including a lot that you can't see from looking at the outside of the car, such as a gearbox, engine, and tan-leather interior. And according to Lego itself, the instructions "mirror the way a real Bugatti is assembled."
One way Lego has responded to increased demand from adults in recent years, according to Golson, is through the launch of its "Ideas" line, which offers a range of sets specifically based on original ideas that older fans have submitted to the company. The Ideas line, Golson tells us, "covers everything from pop culture to space exploration and nostalgic favorites." This Grand Piano Ideas set comes recommended by Aleksander, who loves its interactivity and complex design: "The lid to the piano opens, the bench goes up and down, there's pedals and wheels that move." It can even connect to your phone via Bluetooth, and the keys will press down while playing music.
In keeping with the music theme, Aleksander also likes this more affordable set from Lego's Ideas line. While most characters in the Lego universe appear as minifigures, these jazz musicians in the midst of a jam sesh are more fleshed out. "They're so dynamic in all their different poses," Aleksander says. "All four of the characters have different skin tones, which is becoming more common in Lego, but not as common as it should be. And it's definitely true to the history of jazz as well."
The Strategist is designed to surface the most useful, expert recommendations for things to buy across the vast e-commerce landscape. Some of our latest conquests include the best acne treatments, rolling luggage, pillows for side sleepers, natural anxiety remedies, and bath towels. We update links when possible, but note that deals can expire and all prices are subject to change.