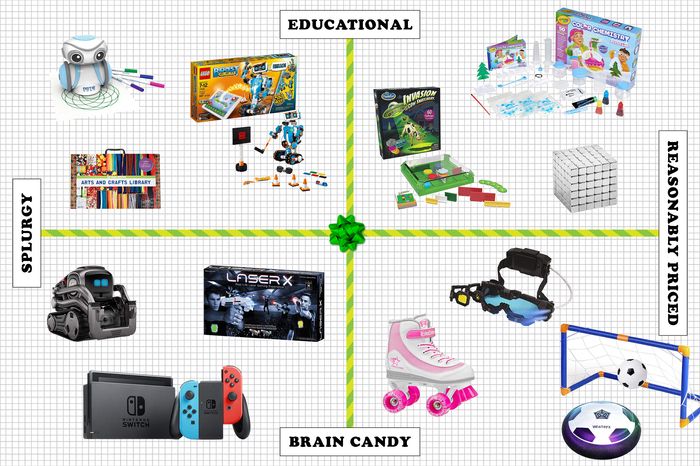 Photo: Photo-Illustration: Stevie Remsberg; Photos: Courtesy of the retailers
You know about New York Magazine's "Approval Matrix." Now, the Strategist has taken that model of what falls where on our taste hierarchies and applied it to toys. In this case, the four sides of the grid are "Educational" (say, a Crayon chemistry lab), "Brain Candy" (night-vision goggles), "Reasonably Priced," and "Splurgy." Each toy in every quadrant comes highly recommended — click here to learn more about our sourcing process and the dozens of experts involved — and every age up to double digits is covered, all of which you can see by also clicking here.
Here, for the portion dedicated to 6-year-olds, we must first say: It's not easy being 6. This is when children typically enter first grade, and, as play therapist Joseph Sacks notes, they face a huge challenge: transitioning from a play-based atmosphere to a work-based one. Thankfully, to suit the needs of this major life moment, there are the following gifts, which we surfaced with the help of professionals like Sacks, in addition to veteran toy buyers, elementary-school teachers, and even a 10-year-old Mensa member. You can jump directly to the section that interests you most — "Educational/Reasonably Priced," "Educational/Splurgy," "Brain Candy/Reasonably Priced," or "Brain Candy/Splurgy" — or read all the way through to get the full picture of what kids these days are into. Whether you're shopping for a birthday or a holiday or any other day, it's a list that keeps on giving.
Educational/Reasonably Priced
This fantastically named magnet maze game starts off pretty easily, but it gets quite challenging and engaging as the levels progress. Personally, this writer-dad has stepped over to help out a few times only to be stumped, at least for a moment: to play, kids arrange a series of cow magnets as displayed on a challenge card, then set a series of fences of varying height, also as stipulated. The goal is to fly your "UFO" (magnet) atop the clear-plastic game-board cover, snapping up each cow while dragging the ever-taller stack of "abducted" cows over the various fences (in most cases, there are only one or two ways to do it). Or, as one Amazon reviewer grippingly summarized it: "You're the pilot of a flying saucer, sent to Earth to capture cows for scientific study back home on your exoplanet. You have a powerful tractor beam, thanks to strong magnets, that allows you to scoop up cows and a lone bull from pastoral farmland somewhere in the Midwest. You have to negotiate your way around and over numerous obstacles — a grain silo, barn walls, crops, fences, and hay bale — to get the bovines onboard." It can be played collaboratively, but it is technically a single-player game, making it a great activity for the times when parents are cooking, cleaning, or doing other parent-y things.
This kit makes science actually appealing — not always an easy feat with young kids. "Learning about math, tech, or engineering in a classroom can be tough and scary subjects for many children," says Laurie Schacht, chief toy officer at The Toy Insider. "When kids have toys that introduce these concepts in a fun and playful way," as this one does with materials that change form or color when mixed with water or various powders and gels, "classroom learning simply reinforces what they've already learned and makes these subjects much more approachable." An Amazon reviewer, who wrote of finding this set after previous disappointment with other science kits, noted you can concoct slime, goo, glow worms, and dancing bubbles.
For Sacks, whose play-therapy practice places the emphasis on the individual child — "empowering the child … letting the child be the boss and develop his own emotions" — this magnetic cube is "amazing." Made up of 216 smaller magnetic pieces, it means "you can make all kinds of different shapes," whether castle or pyramid or staircase or necklace. "Kids play with it for hours."
The elegant simplicity of this precision-milled wooden assortment is almost never seen in the STEM-related toys of the moment. And maybe for that very reason, "it is one of my consistent best sellers," says Holly Magelof, veteran toy buyer for the Dolphin Bookshop, which has carried KEVA Planks for years. The kit challenges young builders to create everything from a marble run to a geometric tower using nothing more than identically sized slabs. Also, notes Magelof, "it's the perfect price point for a gift."
"These remote-controlled robots are very much in fashion," says Dr. Roberta Golinkoff, a professor of child psychology at the University of Delaware and co-author of Becoming Brilliant: What Science Tells Us About Raising Successful Children. "They're really fun for kids because they don't have control of these types of vehicles or robots in everyday life. They can also use it as part of their imagination and develop scenarios of cops and robbers and different chases. The stronger a child's imagination, the more creative they'll be in life and school, and that's a wonderful thing." Even though it may look a little complicated to assemble, kids can work with an adult to put it together.
Educational/Splurgy
"I have used it in my first-grade classroom every day since it was first delivered," says Ruth Bernay, an elementary-school teacher in Houston. The Genius Kit comes with number and letter blocks, geometric shapes, and the base needed to hold the iPad on which the associated app will run. Bernay says she is able to easily adapt the different programs to her students' needs — for instance, the "Words" program, which involves letter recognition, spelling, and vocabulary, and the "Numbers" program, which teaches counting with dice blocks as well as with numbers.
Multiple experts in different age groups recommended this kit. "These toys bring Legos to a whole other educational level," says Beth Beckman, co-founder of the forthcoming site FOMO FeedKids. Because it's not just a one-and-done creation that comes in the box: These sets include enough pieces (847, to be exact) to create five different robots. And kids can assemble these complex, working robots with minimal help thanks to the step-by-step instructions that are downloadable with an accompanying free app. (Once the bulldozer, guitar, or other variations are built, kids can control and interact with them via app as well — all honing design and engineering skills.) One Amazon reviewer with a 10-year-old son called the game, which was named Toy of the Year at the 2018 International Toy Fair, a powerful combination of "educational, fun, interesting, delightful, and entertaining."
This 3-D printer designed specifically for children works with the touch of a button — you simply pair it to an app, feed it "printer food" (made from all nontoxic materials), and choose your desired toy shape from the app's library of about 500 of them. And once printed, of course, you get to then go and actually play with that dinosaur or race car or mini-planter you watched come into existence. A pretty cool concept and also "an essential part of our student STEM experiential Makers programs," says Michelle Pollock, founder and CEO of Ethan & Co. education consultancy. "They enable children" — starting as early as pre-K — "to rapidly innovate and bring their ideas to life in minutes," from the phase of conceiving and planning to designing and, ultimately, creating. There is an option to upload your own designs as well.
Photo: Lindsay Olson/Copyright © 2019 Plow & Hearth, LLC
"This is a great robot to learn coding because it gives students tangible feedback instead of just words on a screen," says Mike Wimmer, a 10-year-old high-school junior, Mensa member, and robotics and app developer. "You can be creative while learning to code and have artwork to display for your efforts," he adds, referring to the drawings the little robot makes using your directions. And: "Artie has many coding languages, from beginner block to advanced script" — so Artie can grow with you as your programming skills advance.
Making friendship bracelets is a pastime that knows no gender. "Boys like them, too," Dr. Golinkoff says of these kits that come with all kinds of rainbow-colored string, beads, pipe cleaners, and beyond — all in a carrying case shaped like an old-fashioned briefcase. Kids this age "love to create, and we should be building on that."
Brain Candy/Reasonably Priced
"It's like having X-ray vision," says Magelof of this bit of "very high quality" wearable tech that makes kids feel like James Bond when the lights go down in their rooms. The adjustable headset has a built-in battery pack and LED lights that allow for night vision up to 25 feet away. Adding the largest praise a toy can receive, Magelof notes: "They don't get returned."
You will probably remember the original Bop It from your own youth, assuming you were born in the latter decades of the 1900s. This is an updated version with more features that challenge kids (and adults) to perform a series of tasks ever more rapidly and in a precise order. When you take the vaguely trumpet-shaped contraption out of the box, granted, it looks pretty weird at first. And it will take kids a minute to get the hang of it, learning how to follow commands to perform actions such as "Whip it," "Twist it," and of course "Bop it!" It's a challenge and a lot of laughs, especially for those watching you use it. And most especially when a parent keeps messing up, pulling it when they should have hammered it, say. For younger kids, start with "Classic Mode" that features just three commands, though most 6-year-olds will soon be ready for greater difficulty.
This is the definition of a perfect toy for a rainy day: The WisToyz Hover Soccer Set comes with a little net, an inflatable ball, and a soccer-ball-style disc with an internal fan that helps it glide over hard floors. Both the ball and disc are soft and non-marking, so kids can stay active playing a game of soccer indoors with minimal risk of destroying the house.
If roller skates went out of style in some circles, they never stopped being a fun way to get exercise and enjoy the outdoors or the rink. And now they're back, big time, and, in this FireStar version, "supercool and retro in eye-popping colors," says Jennifer Cattaui, owner of New York City kids shop Babesta. Parents will appreciate being able to tighten the wheels, keeping the skates on the slower side until their kid has them mastered.
There's no right or wrong way to paint the rocks that come in the kit ( "A new take on an always best seller," according to Magelof of the Dolphin Bookshop). And of course kids are free to gather their own rocks or any other object that they want to glow. Once the painting is done, the real awe comes when it's dark out (or inside the house).