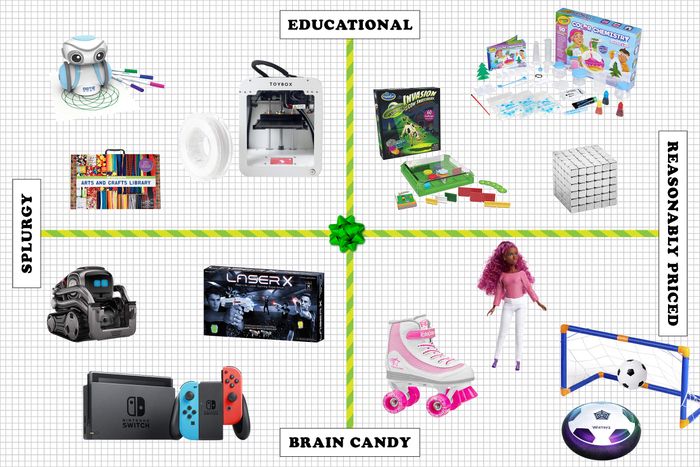 Photo: Photo-Illustration: Stevie Remsberg; Photos: Courtesy of the retailers
You know about New York Magazine's "Approval Matrix." Now, the Strategist has taken that model of what falls where on our taste hierarchies and applied it to toys. In this case, the four sides of the grid are "Educational" (say, a Crayon chemistry lab), "Brain Candy" (night-vision goggles), "Reasonably Priced," and "Splurgy." Each toy in every quadrant comes highly recommended — click here to learn more about our sourcing process and the dozens of experts involved — and every age up to double digits is covered, all of which you can see by also clicking here.
Here, for the portion dedicated to 6-year-olds, we must first say: It's not easy being 6. This is when children typically enter first grade, and, as play therapist Joseph Sacks notes, they face a huge challenge: transitioning from a play-based atmosphere to a work-based one. Thankfully, to suit the needs of this major life moment, there are the following gifts, which we surfaced with the help of professionals like Sacks, in addition to veteran toy buyers, elementary-school teachers, and even a 10-year-old Mensa member. You can jump directly to the section that interests you most — "Educational/Reasonably Priced," "Educational/Splurgy," "Brain Candy/Reasonably Priced," or "Brain Candy/Splurgy" — or read all the way through to get the full picture of what kids these days are into. Whether you're shopping for a birthday, a holiday, or any other day, it's a list that keeps on giving.
Educational/Reasonably Priced
This fantastically named magnet maze game comes recommended by Strategist contributing writer and father of two Steven John. He says the game starts off pretty easily, but gets quite challenging and engaging (even for adults) as the levels progress. To play, kids arrange a series of cow magnets as displayed on a challenge card, then set a series of fences of varying height, also as stipulated. The goal is to fly your "UFO" (magnet) atop the clear-plastic game-board cover, snapping up each cow while dragging the ever-taller stack of "abducted" cows over the various fences (in most cases, there are only one or two ways to do it). Or, as one Amazon reviewer grippingly summarized it: "You're the pilot of a flying saucer, sent to Earth to capture cows for scientific study. You have to negotiate your way around and over numerous obstacles — a grain silo, barn walls, crops, fences, and hay bale — to get the bovines onboard." It can be played collaboratively, but it is technically a single-player game, making it a great activity for the times when parents are cooking, cleaning, or doing other parent-y things.
This kit makes science actually appealing — not always an easy feat with young kids. "Learning about math, tech, or engineering in a classroom can be tough and scary subjects for many children," says Laurie Schacht, chief toy officer at The Toy Insider. "When kids have toys that introduce these concepts in a fun and playful way," as this one does with materials that change form or color when mixed with water or various powders and gels, "classroom learning simply reinforces what they've already learned and makes these subjects much more approachable."
This game helps kids practice simple math like adding and subtracting. But it also teaches kids grouping, according to Caitlin Meister, founder of the Greer Meister Group, a private-tutoring and educational-consulting practice in Brooklyn. "If I roll a two and a four, I can add them to get six, or I can subtract them to get two. So it's teaching them to look at different combinations with numbers," she says.
Editor's Note: Shut the Box is in stock but won't arrive before Christmas.
For Sacks, whose play-therapy practice places the emphasis on the individual child — "empowering the child … letting the child be the boss and develop their own emotions" — magnetic cubes like this are "amazing." Made up of 512 smaller magnetic pieces, it means "you can make all kinds of different shapes," whether castle or pyramid or staircase or necklace. "Kids play with it for hours."
Editor's Note: This toy is in stock but won't arrive before Christmas.
The elegant simplicity of this precision-milled wooden assortment is almost never seen in the STEM-related toys of the moment. And maybe for that very reason, "it is one of my consistent best sellers," says Holly Magelof, veteran toy buyer for the Dolphin Bookshop, which has carried KEVA Planks for years. The kit challenges young builders to create everything from a marble run to a geometric tower using nothing more than identically sized slabs. Also, notes Magelof, "it's the perfect price point for a gift."
Editor's Note: This toy is in stock but won't arrive before Christmas.
"Hexbugs are very much in fashion," says Dr. Roberta Golinkoff, a professor of child psychology at the University of Delaware and co-author of Becoming Brilliant: What Science Tells Us About Raising Successful Children. "They're really fun for kids because they don't have control of these types of vehicles or robots in everyday life. They can also use it as part of their imagination and develop different scenarios. The stronger a child's imagination, the more creative they'll be in life and school, and that's a wonderful thing." The Hexbug Vex Zip Flyer launches its propellers up to 30 feet in the air. It may look a little complicated to assemble, but kids can work with an adult to put it together.
Educational/Splurgy
"I have used it in my first-grade classroom every day since it was first delivered," says Ruth Bernay, an elementary-school teacher in Houston. The Genius Kit comes with number and letter blocks, geometric shapes, and the base needed to hold the iPad on which the associated app will run. Bernay says she is able to easily adapt the different programs to her students' needs — for instance, the "Words" program, which involves letter recognition, spelling, and vocabulary, and the "Numbers" program, which teaches counting with dice blocks as well as with numbers.
This 3-D printer designed specifically for children works with the touch of a button — you simply pair it to an app, feed it "printer food" (made from all nontoxic materials), and choose your desired toy shape from the app's library of about 500 of them. And once printed, of course, you get to then go and actually play with that dinosaur or race car or mini-planter you watched come into existence. A pretty cool concept and also "an essential part of our student STEM experiential Makers programs," says Michelle Pollock, founder and CEO of Ethan & Co. education consultancy. "They enable children" — starting as early as pre-K — "to rapidly innovate and bring their ideas to life in minutes," from the phase of conceiving and planning to designing and, ultimately, creating. There is an option to upload your own designs as well.