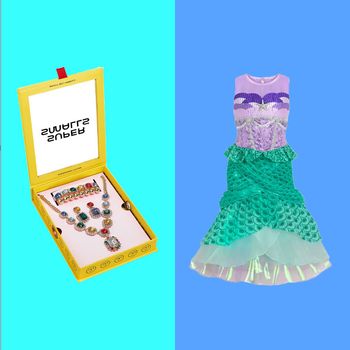 Photo-Illustration: The Strategist; Photos: Retailers
We all know at least one kid who refuses to wear anything but a princess dress — or a wizard cape, or a Spider-Man costume — from morning to night. And as silly as it can seem to adults, pretending to be someone else is critical to children's development. "It requires both focus to stay in character and creative thinking to adapt to fit your role," says Jocelyn Greene, founder of Child's Play NY, a theater program offering classes, camps, and party services. "When they engage in dramatic play, kids are practicing 'theory of mind,' which helps them differentiate themselves from others and is foundational for empathy."
Children get the most out of playing dress-up starting at around age 3, but any seasoned parent will tell you that the benefits of this type of play will continue for many years. Greene says these skills can't be taught; kids need play to learn them, and even the simplest costumes and props can spark their imaginations and support their brain development. Dressing up is also just plain fun, as any actor, fashion designer, or stylist can agree. And it doesn't have to be expensive. Greene likes adding personal items to a costume trunk like great-grandma's coin purse or a belt you wore in the '90s. Erin Boyle, mom of three and the writer behind Reading My Tea Leaves, suggests hitting up a local thrift store to find fun and affordable dress-up accessories.
But as with other products meant for kids, the younger the child, the more that safety should be a top concern. "Poorly made clothes and accessories with loose buttons or rhinestones can be tricky because my toddler puts everything in her mouth," says Natalie Ebel, co-founder of Backdrop. She also advises watching out for glitter costumes that are not well-made because the glitter will "haunt you forever." To find the best dress-up costumes and accessories, we spoke to five experts including parents, educators, and one toy expert about everything you need to build a fantastic dress-up trunk.
Greene and Boyle both recommended looking for dress-up items that are open-ended and can be adapted for many uses and functions, and named silk play scarves the best example of an open-ended dress-up prop. Boyle says that Sarah's Silks — a brand we have written about multiple times — is the easiest place to find play silks online but she also suggests buying handmade sets on Etsy. "They're colorful, they feel nice, and they're not prescriptive, so kids put them to use in a million different ways: ball gown one minute, knight's cape another, sail of a pirate ship the next," she says.
Wings, capes, hats, wands, and gloves
"In a dress-up starter kit I recommend some capes, wings, gloves, and lots of hats," says Greene, noting that accessories give children the flexibility to customize a look and put their own stamp on a character. She suggests providing a variety of options that range from realistic (like a firefighter hat) to magical (like a wand) to creature-based (like tails). This mix might result in unexpected storylines where, for example, they are "part firefighter, part cat, who uses their magical wand to rescue other animals," she says.
On a practical level, accessories don't take up as much space as complete costumes but get even more mileage, says Boyle. And Ebel tells us that accessories like headgear, wands, capes, and scarves are often more appropriate for younger children. "While my toddler loves putting on long flowy dresses, she often trips on them," Ebel says.
Whether it's from a thrift store, passed down from a friend, or bought new, costume jewelry is always a hit with kids. Need proof? Look at the runaway success of New York brand Super Smalls, a one-stop shop for high-quality play baubles that are designed with help from the founder's own kids. The chunky necklaces and headbands are among Ebel's (and her daughter's) favorite pieces. And this specific set comes recommended by Greene. "It's fun, glitzy jewelry that my 5-year-old wears all the time," Ebel says.
Strategist senior editor Jen Trolio recommends buying a rainbow of durable basics like T-shirts and leggings that kids can easily use as the base layer for any costume from dragons and unicorns to ballerinas and veterinarians. The colorful basics from kids' brand Primary are Trolio's favorite because they're affordable and they last. Target's in-house kids' clothing line Cat & Jack is another even more affordable option that Trolio and her kids often turn to — one of her daughters recently used a pair of the brand's black sparkle leggings as the foundation for a "glitter bat" look.
During the peak years of the pandemic, Greene says she saw an uptick in kids wanting to literally escape earth and journey into outer space. "We ran so many space parties," she says. Indeed, astronaut is a classic children's costume that Ebel's daughter comes back to all the time along with magician and vet. This astronaut costume from Melissa and Doug is realistic and well-made while also quite affordable and it has the added value of a shiny silver helmet and gloves.
"I've been seeing a trend of kids wanting to be heroes and do lots of rescuing and healing," says Greene. We have seen a similar trend in the toy reporting we do, especially where it concerns taking care of animals. And we've included vet kits in many of our toy gift guides for young children. This dress up set includes a vet's jacket, mask, cap, thermometer, stethoscope with sound effects, syringe, plush dog, and reusable name tag.
PlanToys is known for making durable and sustainable toys out of wood, fabric, and recycled plastic. This collection of chef props is one of 15 occupational sets the brand sells — others include a firefighter, makeup artist, detective, surgeon, and carpenter. Not all of the sets include clothing like the apron and chef's hat shown here, but the intricately designed props — from wooden lipstick to a canvas pet cone — will add a spark to any dress-up collection.
Mirabel, Spider-Man, and Other Favorite (Licensed) Characters
According to Greene and Ariel Grun, VP of merchandising at Camp, an experiential toy store with spaces in New York, Boston, Dallas, and Los Angeles, Encanto is one of the most popular kids' movies of the last few years. Greene even told us that Mirabel has surpassed Moana and Elsa in popularity. There are many choices when it comes to Mirabel dress-up clothes including the official Disney dress, Camp's collaboration with Disney. And even DIY ways to bring the character to life. For example, Trolio's daughters have a Mirabel dress, but used green pipe cleaners to make her glasses.
Of course your child will have their own opinions about which characters they prefer. Elsa is still a big deal and so are Harry Potter, Pikachu, Spider-Man, and — thanks to the popularity of Spidey and His Amazing Friends on Disney+ and the new Across the Spider-Verse movie — Spin/Miles Morales and Ghost Spider/Spider-Gwen. The recent live-action Little Mermaid movie has also created a wealth of new Ariel merchandise including dresses, bathing suits, shoes, wands, and jewelry for kids. Ebel loves the more elaborate costumes for older children as long as they can easily put the costume on by themselves. But you don't have to strictly purchase costumes. According to Trolio, many kids' clothing brands make hoodies and T-shirts that double as dress-up and regular clothes, perfect for those kids who like to live everyday as their favorite character.
Our experts:
• Erin Boyle of Reading My Tea Leaves
• Natalie Ebel, cofounder of Backdrop
• Jocelyn Greene, founder of Child's Play NY
• Ariel Grun, VP of merchandising at Camp
• Jen Trolio, Strategist senior editor and mom of two
The Strategist is designed to surface the most useful, expert recommendations for things to buy across the vast e-commerce landscape. Some of our latest conquests include the best acne treatments, rolling luggage, pillows for side sleepers, natural anxiety remedies, and bath towels. We update links when possible, but note that deals can expire and all prices are subject to change.