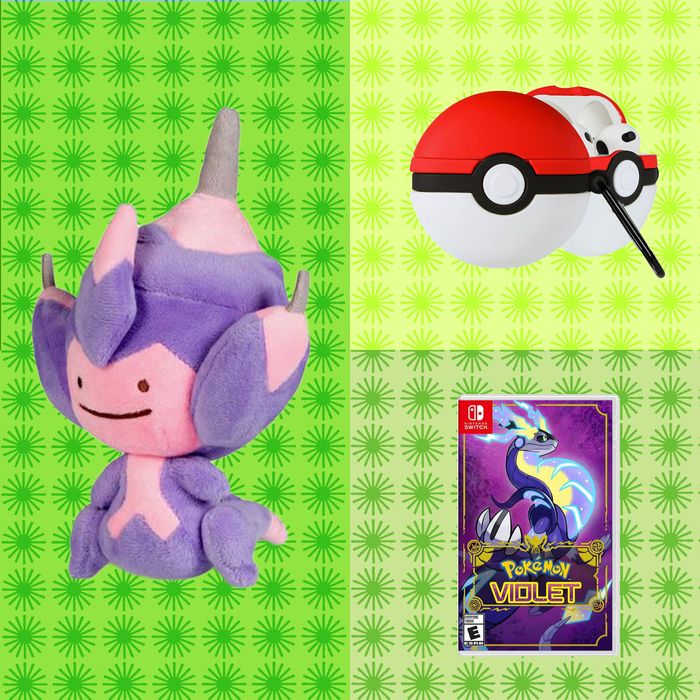 Photo-Illustration: The Strategist; Photos: Retailers
If the names Bulbasaur, Charmander, and Pikachu sound like pig Latin to you, the idea of finding the perfect gift for the Pokémon fan in your life may incite dread. But even if the 26-year-old franchise feels incomprehensible (or even dated) to some, it's as popular as ever, having found a whole new fanbase with every generation since it first became a craze in the late '90s. The "gotta catch 'em all" creatures are all over the toy aisle, video games, and nearly any other medium you can think of, and Kyle Klemmer, co-founder and COO of Mech and a lifelong Pokémon fan, says the brand is actually cooler now than when he was first introduced to it. (There is even a forthcoming collab with Squishmallow — another highly collectible, hugely popular brand.) "It's a lot different than when I was 11, 12 years old. I remember getting kind of harassed by the older guys at the comic bookstore," Klemmer says.
Pokémon's legion of fans now ranges in age from pre-K first-timers to adults who remember when there were just 151 species (there are 905 now, with more being added this fall). So we chatted with eight of the franchise's biggest devotees to find out the coolest gifts to give the Poké-fanatic in your life, including soft plushies, trading cards, and something called a Fuecoco.
The overwhelming frontrunner for the best gift for younger Pokémon fans is a set of cards. The cards your giftee will want most depends on a few factors, like the amount of damage each Pokémon can take. But according to 8-year-old Hattie, a basic starter set like this one is ideal for any fan who is still building their collection. Once they have a basic set, 7-year-old Finn says they can start to trade cards — "and then you could get other cards you really like." Klemmer points out that cards can be a good place to start when choosing a gift for fans of any age. "The cards are the coolest. And I think even kids are starting to see that now too," he says.
Two highly anticipated new Pokémon video games set to release on November 18 — one called Violet and one called Scarlet — were mentioned by all of the fans we talked to. Billed as "the first open-world RPGs in the Pokémon series," they promise new adventures, new Pokémon, and new challenges. Finn says that, if gifted either game, he'll be most excited to see the new Pokémon, and Klemmer says he's really excited about the "advancements that they are making and the gameplay and graphics." Author and Pokémon superfan Saurav Dutt is also holding his breath for the new game releases; he's looking forward to the new characters, "particularly Paldean Wooper which is a new form of Wooper native to the Paldea region," he says. "It lives in bogs and covers its body in a protective, poisonous film." The games are currently available for pre-order and exclusive to the Nintendo Switch.
"One thing I'm pretty sure a lot of Pokémon lovers would want is a rare card like a gold metal card," Hattie told us. For the more experienced fan, rare cards are an extra-special gift, because, as the name implies, they are harder to come by. This set, which comes with six laser-engraved cards and a protective case, is designed for collecting because of the artwork and weighty metal material. It's a wishlist item for Hattie, who says she would hold on to all six card designs rather than trading them.
Pokémon influencer and YouTuber RealBreakingNate, who has been a fan since Pokémon launched in the U.S. in 1998, says this two-player board game is the perfect introduction for fans who find the trading cards intimidating or confusing. "One of the questions I get asked the most is how to play the Pokémon Trading Card Game, and the Pokémon Battle Academy is a great entry point to learn at all ages," he says. "It comes with premade decks so there are no extra purchases you need to make in order to learn. You can use this to learn to play the Pokémon Trading Card Game or simply use it on a board-game night to play with friends and family."
"I had to sell these myself about ten years ago due to financial difficulties, and it has haunted me ever since," Dutt says of his original 1999 throwback version of this collector's set. This 2020 remake includes collector Mewtwo and Slowbro cards as well as booster packs.
"I love the new partner Pokémon for Scarlet and Violet, but my most favorite is Fuecoco, and its plush is amazing," says Pokémon collector and self-professed connoisseur Emmanuel Arizmendi. The two new games, Violet and Scarlet, are expected to introduce at least 17 new Pokémon, including two new Legendaries (which are one-of-a-kind Pokémon that pop up in games sparingly). This plush is likely to sell out, but if it does, there are other Fuecoco products, such as this Fuecoco keychain.
Superfan and Pokémon Go champ Amanda McLoughlin considers Pokémon not just a hobby, but a huge part of her life. After she was gifted a Ditto as a Vanillite plush by her fiancé, she decided that "now I need the entire series." Ditto is a shapeshifting Pokémon, and there are dozens of plush figures of the creature designed as other creatures, but they can be hard to find in stock because the original collection was a 2017 Pokémon center release (though many can be found via resellers on eBay).
"Inspired by the Magikarp hat you can wear on your avatar in Pokémon GO, this hat will let Trainers instantly show off their love for Pokémon no matter where they are," says Michael Steranka, product director of the Pokémon GO live game at Niantic Labs. Part gag gift, part very serious hat for diehard fans, the Magikarp's mouth is the opening of the hat so it'll look like the Pokémon is suctioned to its wearer's head.
Eleven-year-old Margot's favorite Pokémon character is one of the most recognizable: Pikachu, whom she likes "because he is yellow and cute." (Just because he's everywhere doesn't mean he isn't beloved, especially by younger Pokémon fans.) Margot is hoping to receive a Pikachu plushie because plushies are so "cuddly and soft."
"After five years with my fiancé, he insists the best present I've ever gotten him is this $10 Pokeball Airpod case," McLoughlin tells us. "It makes him feel like a trainer every time he puts on a podcast."
Most of the Pokémon fans we talked to said Pokémon video games are a must-have — and they don't have to be a new release to be appreciated. Finn enjoys playing Shield, which came out in 2019 and has 100 levels to complete and "tons of Pokémon that you can catch." A companion game, Sword, allows players to capture a different set of Pokémon. Both games are available exclusively on Nintendo Switch.
If you are going to opt for a gift outside of video games and cards, Klemmer says "everyone should have an appreciation for" Funko Pop figures. And if you're not sure which character your fan will actually want, Klemmer advises that the rarer they are, the better. The easiest way to identify a rare Pokémon is to check the bottom of the trading card; if it has a star symbol, the character is considered rare.
If the fan in your life plays Pokémon GO — the mobile AR game that went massively viral when it debuted in 2016, and now has 70 million players — they may be familiar with the biggest annual Pokémon GO event, Pokémon GO Fest. Steranka says there's a limited-edition Pokémon GO Fest T-shirt released each year that would make a great gift. "These are some of the nicest Pokémon T-shirts out there," he tells us, and this one will stand out from more readily available, Pikachu-centric designs.
RealBreakingNate says this cuddly sleeping bag is both a practical and a hilarious gift. "Snorlax is known for taking a lot of naps, so combining it with a product that is based on sleeping is perfect," he explains. It's also desirable, he says, because when it comes to receiving Pokémon gifts, he prefers "unique and creative products like this."
The Strategist is designed to surface the most useful, expert recommendations for things to buy across the vast e-commerce landscape. Some of our latest conquests include the best acne treatments, rolling luggage, pillows for side sleepers, natural anxiety remedies, and bath towels. We update links when possible, but note that deals can expire and all prices are subject to change.