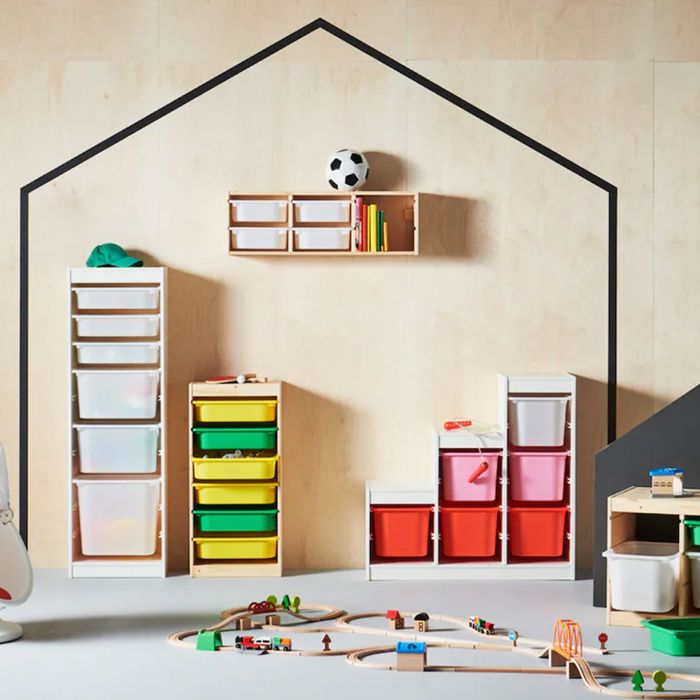 Ikea's Trofast storage units made our list because of how adaptable they are.
Photo: Retailer
Kids require a lot of gear — strollers, car seats, cribs — from day one. As they get older, they start to accumulate a lot more, especially toys. Before you know it, their stuff begins to overtake every part of the house, try as you might to keep up with cleaning up after their messes. Many of the professional organizers we talked to say that getting little ones involved in tidying can help when it comes to those messes. As Kadi Dulude, the owner of cleaning and organizing company Wizard of Homes, explains, "Teaching your kids the importance of being clean and organized is super important — not only because your home is nicer, but that is also how you bring up responsible adults who take care of their space and who respect their surroundings."
Professional organizer Katy Winter, a mother of three, says kids as young as 2-years-old can begin to pitch in. "Give them a small task, like putting all the blocks away," she says. "Being specific gets them used to participating." Another way to keep clutter in check is to "be intentional about cycling out toys that have been outgrown, broken, damaged, and not played with anymore — or ever," according to professional organizer Tanisha Lyons-Porter, another mom of three. Still, the toys they hang on to do have to go somewhere. To find the best stuff for storing kids' toys, we spoke to Dulude, Winter, Lyons-Porter and nine more professional organizers about the solutions they recommend. Their suggestions range from storage units to shelves to baskets to bins to rolling carts, so there's something for most everyone — and every toy. The recommendations are arranged by style of storage and, where applicable, each category begins with any storage that came up the most.
Best units for toy storage
Many of our experts turn to Ikea for its affordable line of storage units and shelving for organizing toys. Three of the organizers we spoke to — Winter, Boston-based professional organizer Corinne Morahan, and Natalie Schrier, the founder of Cut the Clutter, recommend the Kallax cube shelving unit for its versatility and basic (in a good way) look that they say will blend in with any existing décor. Schrier told us the unit "is versatile enough to keep in a living or family room." And as Morahan notes, "You can put baskets in if that's your aesthetic, or keep it more minimal." To those who want baskets, Lyons-Porter likes the Kuggis containers; this size will fit snugly within the Kallas's cubes.
Ikea's Trofast toy storage system is another popular choice: both Lyons-Porter and Morahan recommend it for how adaptable it is. Unlike the Kallax, which is more of a shelving unit, the Trofast is essentially an open dresser that you can fill with three different sizes of drawers — slim, double-height, and triple-height. Morahan explains that this gives you the ability to better store toys of various sizes in the same unit because you could have a row of slim drawers that she says are ideal for Legos above a row of deeper ones for stuffed animals. Lyons-Porter calls the storage drawers "perfect for categories of items that are 'grab-n-go'" and notes they "can easily be labeled with a picture of the item or words." You can get the particleboard units in two different finishes; shown in a solid pine, it also comes in white (for $61). This particular model comes with three slim drawers and three double-height drawers, but you could swap all those out for three triple-height ones if you want because you can buy individual drawers (in different colors, too) a la carte. The Trofast range also includes lots of other units depending on what your space may require.
Professional organizer Rolanda Lokey recommends these modular storage shelves that come in various sizes, starting from an eight-cube unit (shown here) to one with 20 cubes. As she explains, it's a great option for "parents who do not have space for a separate playroom" because the unit comes with doors for each cubby that are detachable. This, Lokey says, "allows parents to combine function and design by designating certain spaces on the shelf for concealed storage and others for displaying vases, art pieces, or books by just removing the doors."