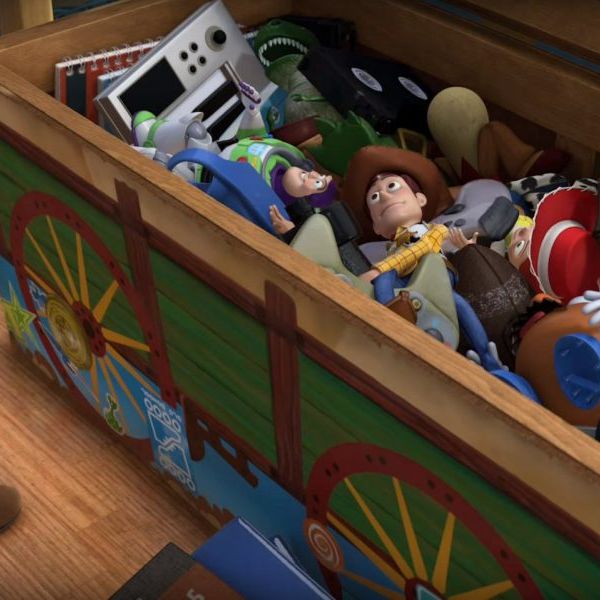 Photo: Pixar/Walt Disney Studios
For such small people, kids have a lot of stuff. Beyond essentials like car seats and strollers, there are the dozens of toys that children inevitably accumulate — enough to drive parents crazy when they're scattered throughout the house.
"Teaching your kids the importance of being clean and organized is super important," says Kadi Dulude, owner of cleaning and organizing company Wizard of Homes, "not only because your home is nicer but that is how you bring up responsible adults who take care of their space and who respect their surroundings." To start that process early and get kids in the habit of cleaning up after themselves, we asked professional organizers to recommend their favorite toy-storage products for all types of toys and all rooms of the house.
Best storage for stuffed animals
Take advantage of stuffed animals' squishy nature by using them to fill this beanbag-style piece, a top pick of Patty Morrissey, an organizer certified in the KonMari method. "These hold a ton of stuffed animals and double as ottomans," she says. "They look attractive in children and family spaces."
Little animal lovers will get a kick out of these toy chests and bins decorated with elephants, bears, hedgehogs, or rhinos. The zoo critters are also a visual cue to remind kids these are where to keep their stuffed animals. They're favorites of both Nicole Abramovici of Genius Organizing and organizing expert Christina Giaquinto, who says, "I am a firm believer in storage being aesthetically pleasing but also functional, and this accomplishes that. They are very sturdy, so they hold toys really well."
Keep favorite teddy bears and other stuffed animals on display in the kids' room with this hammock, recommended by Abramovici. "Kids can think of it as a game to toss [toys] up and land them in the hammock — motivating kids to clean up," she says. "Parents have more control of which toys can be in play at any given time, since all the toys in the hammock aren't out on kid level anymore."
Best storage for Legos
Lego sets, with their little pieces that inevitably end up strewn across the floor, can be the bane of a parent's existence. In fact, Boston-based professional organizer Corinne Morahan, founder of Grid + Glam, says the "No. 1 question" she gets from parents is how to organize Lego blocks. She typically recommends pieces from Ikea's Trofast system, like this one with skinny drawers that lets kids organize their Legos by color or set.
Morrissey agrees that Legos need their own storage system. She likes this ten-drawer cart because "the long, shallow drawers make it easier [for kids] to find the exact pieces they're looking for when building their own creations." The colored drawers can also guide kids where to put different color pieces.
There's no mistaking what goes in these block-shaped drawers. "This is one of those products I wish I invented," says Giaquinto, "because any child knows that they should put the Legos back in the Lego. It is genius."
Best living-room toy storage
Instead of letting toys take over the living room, try these minimal shelves from Ikea that can blend in with your existing décor, whether that's walnut wood or bright white. "You can put baskets in if that's your aesthetic, or keep it more minimal," says Morahan. Natalie Schrier, founder of Cut the Clutter, also likes the Kallax pieces because they "are versatile enough to keep in a living or family room."
Pieces with built-in storage like ottomans and benches completely camouflage toys in adult spaces. "I adore leather ottomans with lids on them," says Abramovici. "They act as footstools, tables, and extra seating, and you can chuck all the toys inside and close the lid when guests come over." This angular wood-and-leather model feels a little more inspired than other utilitarian options.
Attractive enough for any room, organizer Mary Cornetta, founder of Sort and Sweet, likes to keep these baskets around the house to help kids clean up at the end of the day or when playtime's over. "Any toys that they dragged out to the main living area get thrown in their basket, and they have to put them away in their room that night," she says.
Sylvana Ward Durrett co-founder of Maisonette says parents are looking for kids' pieces that can blend in with their style, and some of her best-selling pieces are ones that, she says, "when you're done using them for your kids, they're perfectly appropriate for your apartment as well." She likes these Petit Pehr baskets that are easily foldable and look great in any space as well.
Best kids'-room toy storage
If you want kids to get involved with putting away their toys and keeping their room clean, it's important to choose methods that'll be easy for them to use. "One general tip is to remember that younger kids generally want to be able to drag and dump whatever bin is holding their toys, so keeping things in drawers is not necessarily so user-friendly for them," says Schrier. She likes this soft bin for stuffed animals and balls. Its simple design and color reduces visual clutter, as well.
Organizers agree that toy chests on wheels have an edge over their stationary counterparts. "When emptied, kids can sit in it and play train, or just pull it around as they clean up the floor," says Dulude, who likes this blue-and-white option. The small size also fits with her system of only having a handful of toys available to kids at a time. "Ideally, there would be just one or two toy boxes for kids to have easy access to and the rest of the toys would be stored on high shelves in a closet," she says. "Adults would rotate the toys as they see kids getting tired of the toys in the toy chest."
Another wheeled toy box — this one with a black-and-white graphic print that would be at home in a minimal or Scandinavian-style kids' room.
Bookcases are multifunctional pieces that can hold toys, and even serve as a play surface when kids are little, and then transition to holding books once they hit reading age. Ward Durrett stocks mostly three-shelf bookcases, which she finds are the perfect height for kids — "Not super tall that they're climbing on the shelves." She calls this pinewood version with colorful dots "fun and whimsical with a modern feel."
Storing toys in very small rooms can be even more of a challenge. "Lack of space makes it really hard to organize a room aesthetically," says Zaida Khaze, founder of Wiggletot. Khaze's space-saving solution for her two daughters' clutter is this bunk bed with built-in drawers, great for siblings or sleepovers.