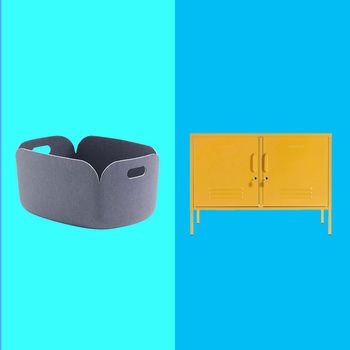 Photo-Illustration: The Strategist; Photos: Retailers
We hate to be the ones to say it, but you're going to have to put your swimsuits and sandals away for the season — plus the sand toys, beach umbrellas, and all the other summer stuff that's in a big heap by the door. The whole process of returning to the real world in September can be a crazy-making puzzle, especially when you don't have loads of closet space or a basement to toss everything into. So this week, we're sharing home organizational essentials to make the transition a little easier. It's Straighten Out Your Space Week on the Strategist.
Despite any parents' best intentions not to have too much stuff, kids' gear, particularly toys, accumulates at a rapid clip. Keeping Legos, blocks, stuffed animals, and Hot Wheels cars reined in — and finding a system that makes it easy for your kid to help clean up — is helpful for everyone's sanity. As Kadi Dulude, owner of cleaning and organizing company Wizard of Homes, explains, "Teaching your kids the importance of being clean and organized is super important — not only because your home is nicer, but that is also how you bring up responsible adults who take care of their space and who respect their surroundings."
Professional organizer Katy Winter, a mother of three, says kids as young as 2 years old can begin to pitch in. "Give them a small task, like putting all the blocks away," she says. "Being specific gets them used to participating." Another way to keep clutter in check is to "be intentional about cycling out toys that have been outgrown, broken, damaged, and not played with anymore — or ever," according to organizer Tanisha Lyons-Porter, also a mom of three. Still, the toys they hang on to do have to go somewhere.
To find the best stuff for organizing kids' toys, we spoke to over a dozen professional organizers and design-minded parents about the solutions they recommend. Their suggestions range from storage furniture and shelves to bins and baskets to rolling carts, so there's something for most everyone — and every type of toy.
Best storage furniture for toys
Many of our experts turn to Ikea for its affordable line of storage units and shelving for organizing toys. Four of the organizers we spoke to — Winter; Boston-based professional organizer Corinne Morahan; Natalie Schrier, the founder of Cut the Clutter; and Tova Weinstock, owner of Tidy Tova — recommend the Kallax cube shelving unit for its versatility and basic (in a good way) look that they say will blend in with any existing décor. "I generally recommend the eight-cubby unit set up horizontally, so bigger toys can sit along the top. You can allocate a cubby or two to books, one to puzzles, and the rest for big toys," says Weinstock, who also suggests putting bins on the bottom for corralling smaller items. "This system works great since everything is accessible for little kids and they can see what they have," Weinstock added. To those who want baskets, Lyons-Porter likes the Kuggis containers; this size will fit snugly within the Kallax's cubes.
Best hard-sided bins and baskets for toy storage
In addition to bins that pair with the larger storage units above, many experts told us about stand-alone options that folks who don't need a full piece of furniture might prefer. Unsurprisingly, a lot of professional organizers love the Container Store and its in-house lines. Winter's go-to products are the brand's shoe box and sweater box: "I start every organizing project with these," she says. "90 percent of all toys will fit in them." Winter particularly loves how well they stack. "They have a lid, so you can use vertical space by stacking them," she explains, adding that these will pretty much fit on any shelves you may already have in your home, too. For large spaces, the Container Store sells both boxes with bulk pricing, making them even more affordable.
Like the Ikea Kallax system, the brand's extensive collection of Kuggis bins has many fans among the organizers and parents I talked to. "We use these stackable bins for all our craft and art supplies. Affordable, low-maintenance, conceals the mess inside," says Weinstock. In Low's home, "We use them for storing tools, extra extension cords, my stamp collection, Lego, Lego, Lego, our stash of instant ramen noodles, party supplies, everything." Their versatility and appealing shape make them a winner in every room in the house: "They have this perfect little round cutout on the front that I just love to look at. They just look so nice. Form and function!" enthused Low.
Best soft bins and baskets for toy storage
Little animal lovers will get a kick out of these toy chests and bins decorated with a menagerie of llamas, dragons, owls, pandas, and more. They're favorites of both Nicole Abramovici of Genius Organizing and organizing expert Christina Giaquinto, who says, "I am a firm believer in storage being aesthetically pleasing but also functional, and this accomplishes that." Giaquinto adds that the bins are "very sturdy, so they hold toys really well." The critters are also a visual cue to remind kids these are where to keep toys like stuffed animals.
Best toy storage for arts and crafts supplies
If you want to match a specific color, need to fit a precise set of dimensions, or are looking for a different slate of cart-friendly accessories, you should also browse Ikea, Michael's, and Target, which all make similar rolling carts as part of their own product lines. Strategist senior editor Jen Trolio uses the Lexington cart from Michael's Simply Tidy brand for her kids' art stuff, along with a matching lid that limits the height of what you can put in the top tier, but provides a neater look and a flat surface for stacking something else when the cart's contents are not in use.
Best toy storage for bath toys
At my house, we keep our bath toys in a Tubtrugs bin, made of a flexible, rubbery material. "They're indestructible and the round shape works well if you have a little corner or nook," says Libre, who also recommends this style. "We also use their biggest ones for sports equipment," she adds. The bins are easy to carry, and can be used inside the house and out — for anything from gardening to storing Legos.
Best toy storage for sports equipment