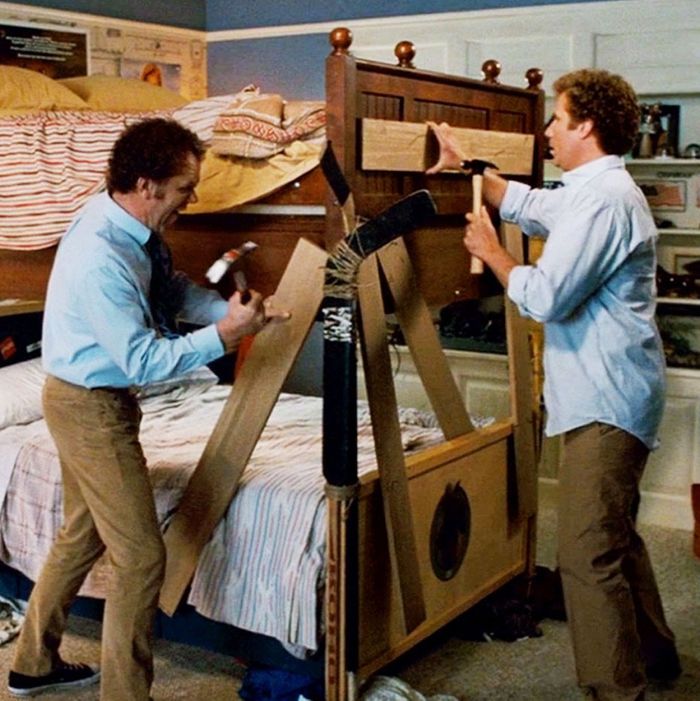 Here at the Strategist, we like to think of ourselves as crazy (in the good way) about the stuff we buy, but as much as we'd like to, we can't try everything. Which is why we have People's Choice, in which we find the best-reviewed products and single out the most convincing ones. (You can learn more about our rating system and how we pick each item here.)
And while we've written before about bedroom furniture — including metal bed frames, kids' bedroom decorations, and bedside lamps  — here we've rounded up the best bunk beds as praised by the most enthusiastic reviewers on Amazon.
Best-rated bunk bed
Dozens of reviewers of this twin-over-twin bunk bed say this set is sturdy and easy to put together, all at a "great price." As one satisfied customer puts it, "This bed is an outstanding deal. It was no more difficult to assemble than our Ikea furniture and a similar price point, but much better quality." They continue, "The bed looks beautiful, is very sturdy, and is better made than any of the more expensive ones we saw in person." Another reviewer says, "We looked at several other options in-store and unless it was a $2,000 set, none were more sturdy than this bunk bed right here." Several reviewers also note that this bunk bed feels like solid wood. As one satisfied parent writes, "The materials are high quality, the wood is solid, and there is no play at all when performing the 'shake test.' It has only been two weeks but my girls love it and so do we." Another feature that gets a lot of praise is the ladder. Parents love that it has wide steps and that it's slanted as opposed to vertical, so, as one explains, it's "easier to help kids into the top bunk." It's also easily removable, which purchasers describe as an important safety feature: "I love that the ladder has the option to be removed, because my two-year-old can safely use it without me in the room."
Best-rated (less expensive) bunk bed
Reviewers give the Zinus Aileene bunk-bed set high marks for its low price, sturdy metal frame, and easy assembly. Most purchasers say they were able to put this together in under an hour. "Took me 59 minutes, 21 seconds," writes one, adding, "Yes, I had a stopwatch going. I saw the 'one-hour assembly' as a challenge." One mother speaks to the sturdiness of this metal bed frame, explaining, "I have two crazy boys and this bunk bed so far survived their craziness! Last bunk bed broke in a month and we have had this one for three months so far. I love it and it was so worth the money." Another reviewer calls this bunk bed "one of the best purchases I've made on Amazon thus far," explaining "there has been no squeaking or shakiness on this bunk bed. It feels so well made, I would highly recommend this product to anyone interested in purchasing a bunk bed."
And now, some micro-picks for every type of bunk bed you might be looking for.
Best solid wood bunk bed
"I was shocked to find this made of real wood at such a good price," says one purchaser of this bunk bed, which is a popular choice among reviewers looking to find a wooden bunk-bed set without spending too much money. As one satisfied customer writes, "This bunk bed definitely surpassed my expectations. It is VERY sturdy and well-built, and I love that it is made out of solid wood." Another adds, "It's really beautiful wood, which I didn't expect." And in addition to "looking really nice," many describe this bed as very sturdy: "When you climb to the top you don't feel that shaggy bunk-bed type of thing." And though a parent says, "I won't be doing somersaults on it myself or anything. But totally solid for my 4- and 9-year-old sons."
Best bunk bed for boys
Lots of reviewers love the navy-blue color of this solid-wood twin bunk bed from Storkcraft. "The price is reasonable and the color is fantastic," writes one purchaser. And that combination of color and price is one reason why this bed makes it into so many boys' bedrooms. "They are one of the best purchases I have ever made for my boys room. They are still in great shape and sturdy, and that's saying a lot with my boys," says one parent. Another describes it as "solid, sturdy, easy enough to put together. My boys are happy with it and I feel confident that no one is going to get hurt while using it — so it's a win all around." However, girls also appreciate this blue bunk bed, at least according to one reviewer, who used this in a remodel of their daughter's bedroom: "Not only does she love the color, which compliments her purple room bedroom beautifully, but it is very sturdy and well-made."
Best bunk bed with storage
Many reviewers appreciate the flexibility offered by this bunk-bed set, with optional add-ons like a trundle pullout and extra storage drawers. "I love all the extras that you can purchase with it or at a later date. 'What extras?' you ask. Well, you can get the extra set of drawers that fit right under it or the trundle bed for all those sleepovers and guests you are sure to have." The optional under-bed storage drawers "have plenty of room for bedding and extra clothing," and reviewers say they're "great quality, easy to assemble and a nice addition to the bunk beds." The trundle add-on gets high marks as well. It "fits perfect" under the bed, and as one reviewer puts it, "Looks great and works wonders for my kiddos or when they have friends over."
Best bunk bed for teenagers
Many purchasers suggest that this metal bunk-bed set is good for teenagers (and tweens) because it's very sturdy and durable: "Ours are used by a 12- and 13-year-old. There's lots of exhausted (and at times, exasperated) 'flopping' down on the bed that happens and they've held up so far." One parent writes, "I bought the bunk beds two years ago for my teenage sons, who were 13 and 14 at the time. Two years later, it's still just as sturdy as the first day." Another happy customer says they bought this bunk bed because "I needed something my kids could grow into. I was looking for a trendy bed that [would] last more than a year and I found it! My youngest (12) loves the top bunk and my oldest (14) hasn't complained yet about the bottom (and he complains about everything)."
Best metal bunk bed
Dozens of reviewers praise how easy it was to assemble this metal bunk-bed set. "Received the beds at 5pm and had them put together by 6pm," writes one handy purchaser. "I didn't even need to pull out my toolbox, the tools were included. My 7- and 10-year-old helped put it together by tightening the bolts and inserting the mattress supports." Another says, "These are amazingly easy to install. I've built four sets of bunk beds in my life, and these were far and away the easiest." One reviewer boasts, "Assembly was perhaps 30 minutes with good music on." And while purchasers warn that the metal components are quite heavy — "prepare for a long heavy box," writes one — they say that the end result is a "strong and sturdy" frame.