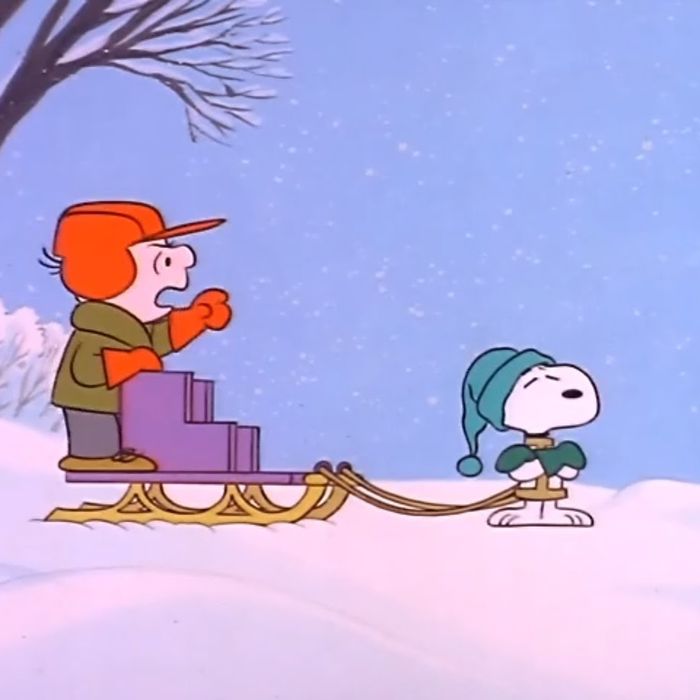 Here at the Strategist, we like to think of ourselves as crazy (in the good way) about the stuff we buy, but as much as we'd like to, we can't try everything. Which is why we have People's Choice, in which we find the best-reviewed products and single out the most convincing ones. (You can learn more about our rating system and how we pick each item here.)
And while we've written about lots of snow essentials — including the best ski and snowboard gear and the best winter boots for women — here, we've rounded up the best snow sleds, as praised by the most enthusiastic reviewers on Amazon. 
Best-rated snow sled
Reviewers find that this sled's steel construction is good for speed. "Because it is steel it holds its shape and therefore flies down the slopes at crazy speeds," one writes, while another warns, "Danger — this sled will make your kids snots fly out of their head." The steel also means this sled is sturdy. "This steel snow saucer is absolutely awesome," one customer writes. "I have purchased several of the plastic versions over the years and each and every one of them cracked after a few uses mainly due to the plastic freezing from contact with the snow and then being cracked by the jarring from riding down a slope. This saucer is thick steel and will not crack." That also means reviewers of all sizes can use it. As one explains, "Most sleds seem designed for tiny, lightweight humans, but this one is sturdy enough for an average-sized grown up." And this sled isn't just useful in winter. "This disc is awesome not only for snow sledding but for the sand dunes too," one reviewer notes, while another says, "I turned it into a Captain America shield and came out very well."
Best-rated (less-expensive) snow sled
This is "the perfect toddler sled," according to one reviewer, who explains, "When we took our 1-year-old up to the mountain for Christmas she enjoyed being pulled around in it, and unlike a regular sled she was able to sit up and not fall out." Reviewers agree that the best feature is the seat back on this sled, which keeps their little ones upright. One customer, who says this is "perfect for my big three-month-old baby" writes, "he can sit up and I can pull him around and my six-year-old can pull him too." Another says, "There is back support which is high enough to make my toddler enjoy his snow ride even for an extended period of time." Sturdy is another word used in dozens of reviews to describe this sled. "The snow was deep so I worried about it tipping, but it was very stable," one raves. According to this user, this sled is missing just one thing: "Now if only it could self-propel so I don't have to drag my toddler all over the place."
And now for some micro-picks for every type of snow sled you might be looking for.
Best plastic snow sled
"My son is a sledding freak," one reviewer writes, and says, "The first time he took it out, he flew down the hill … He came all the way up to the house from the sled hill (not a short jaunt!) just to say, 'OH MY GOSH! This is the best and fastest sled I ever had! Thank you!' He said it's the only brand he wants from now on." Many other reviewers love this sled for its speed, but lots also call out how durable the plastic is. "The sled didn't feel as heavy-duty as I imagined," one user admits, but adds, "However, it withstood two solid days of sledding being pulled behind a 4-wheeler with adults riding on it." Another says, "This is durable, it's flexible enough not to shatter during use even at cold temperatures," while another calls it, "Very well made and durable." Its toboggan style also lends itself to being perfect for two people, a bonus among reviewers, like one who says, "Perfect to ride tandem with my 3-year-old."
Best snow sled with control bar
The control bar is called out by many reviewers as the best feature on this sled. As one explains, "There is an area to sit and then your feet extend forward, beyond the sled, with the control bar in between your feet." And the ability to maneuver this sled is one reason why so many customers love it. "The handle in middle gives the rider control over speed (by pushing it forward or back) and minimal control to turn slightly to the side while sledding," one writes. Another reviewer says, "It was nice to be able to have some steering control and for the kids to end every run still seated on their sled rather than spilled out into the snow." Not only does it help kids stay securely in the sled, but dozens of reviewers note that this is good for all ages. One user, who says they are "6'7' and 260 pounds," writes, "Three trips sledding and two trips to the chiropractor later, I still love this sled."
Best snow tube