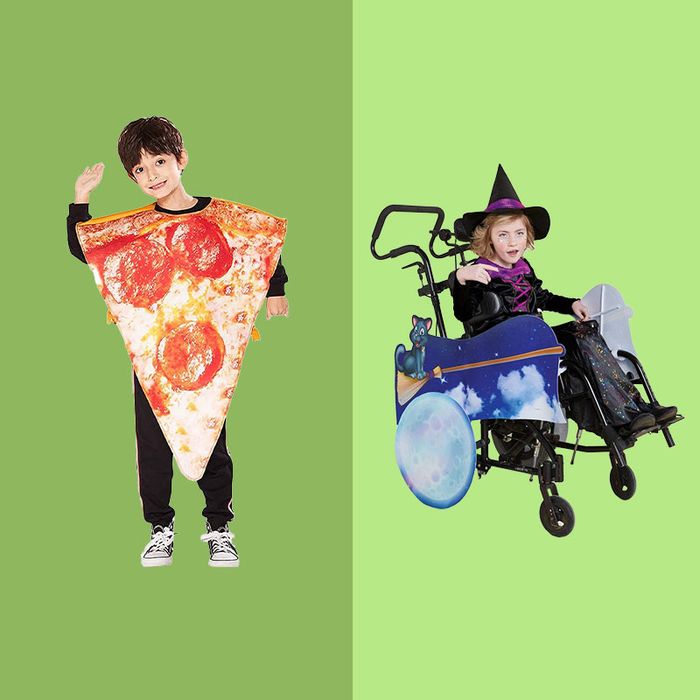 Photo-Illustration: Retailer
Here at the Strategist, we know that finding the "best" product really depends on exactly who you ask — which is why we've devoted this series to squeezing in as many informed, trustworthy opinions as possible. And we've come up with dozens of ways to do this, among them: surfacing reader reviews from across the internet, taking quick polls (among our most devoted fans and fellow shopping-obsessed Strategist editors), and partaking in some advanced internet snooping.
In this installment, we've rounded up the best Halloween costumes for kids. While it's relatively easy to choose a costume for a baby, older kids tend to have stronger opinions about what (or who) they'd like to dress up as — which means they're going to want more creative control. But if you or your child is in need of inspiration, you're in the right place. We asked multiple parents what they're planning for their kids this year, polled tweens about what's in, and did some window shopping of our own to find cool costumes. Read on for the French superhero, spotted lanternfly, and celebrity-approved astronaut that'll stand out during trick-or-treating.
Editor-Approved: The pajamas turned tiger a Strategist editor DIY-ed …
If you want to make your children's costumes, Strategist senior editor Winnie Yang pointed to Primary's list of excellent ideas — all of which can be largely assembled from its clothing, of course — including an aerobic instructor and ballerina. (The company's pajamas, as we've heard previously, are worthy dupes of popular-but-pricier Hanna Andersson's.) Last year, for her then 5-year-old daughter Andie, Yang put together a tiger using a tangerine-hued Primary sleepwear set. (The elementary-schooler has had a longtime obsession with wildcats with lots of leopard and cheetah prints in her wardrobe.) Yang stitched on a velour belly and painted on some stripes, accenting the outfit with a tiger-themed mask and socks. "She was psyched when she heard the paint was dry and wanted to try it all on immediately," Yang says, adding that Andie did "a fair amount of roaring" on Halloween.
Editor-Approved: … and the status-y Hanna Andersson PJs that'll last long past Halloween
As hinted above, Scandinavian-inspired children's clothing brand Hanna Andersson is a well-established parent favorite. One reason is that the company's high-quality pajamas make great hand-me-downs. I learned about them from Strategist senior editor Jen Trolio and Verge photo editor Amelia Holowaty Krales when putting together our baby costume guide and thought they deserved a spot here, too. Trolio has used the stripey version of these long-johns when creating costumes for her two kids (they served as the base layer for a deep-sea diver and a robot). But the brand also sells some more specifically costume-y styles like the pirate above (there's a "Mischievous Mummy," too), in addition to Halloween-themed prints like gummy bears, ghosts, black cats, and bats that would make for an easy ensemble come October 31. You can also add on accessories like a pirate hat and parrot, dragon wings or bat wings, or a lion's mane and claws.
Quick Poll: The Ghostbusters jumpsuit chosen by a die-hard Stranger Things fan
When I texted my 12-year-old cousin Alex about what he wanted to go as this Halloween, he didn't hesitate in sending me this Ghostbusters getup. (His sister, 10-year-old Olivia, is hoping to dress up as Eleven in her totally tubular '80s romper.) Inspired by Stranger Things  and a recent rewatch of the legendary '80s movie, Alex decided this year was the time to go for it. "I'm such a huge Halloween fan and it's a classic," he told me. He's clearly onto something: Grace Rubenstein, co-founder of podcast consulting and production company SeedPod Media (and mother to Strategist deals editor Sam Daly's half-brothers), told us her 3-year-old and 5-year-old sons are planning on being a Ghostbuster and ghost, respectively. "Kids love to feel important and powerful and helpful, and pretending to be Ghostbusters lets them do that," she says.
Ask a Cool Person: A French superhero beloved by a discerning 6-year-old
Dodo Kids video editor Erin Hug's 6-year-old is currently obsessed with the French children's show Miraculous: Tales of Ladybug and Chat Noir, centered on two supervillain-fighting Parisian teenagers whose alter-egos are the eponymous Ladybug and Chat Noir. Hug's husband is French, and her daughter considers the show a "really cool connection to her country," even watching the show en français. This polka-dotted unitard matches the one Ladybug wears, and comes complete with a coordinating mask and wig with ribboned pigtails. (To finish the outfit, Hug bought Ladybug's magical yo-yo, which is used to tie up villains in the cartoon.) "As soon as she put it on, she started posing and jumping around like a superhero," Hug says.
Quick Pick: A very timely spotted lanternfly
Here at the Strategist, we've made an annual tradition out of rounding up the best pop-culture-related costumes. This year, our list includes the pretty-but-perilous spotted lanternfly. (The "stylish invasive species," as our friends over at Curbed have called the insects, are now so ubiquitous that SNL just did a whole bit about them. They're also so dangerous to crops that entomologists recommend stomping on any that you see.) To transform your child into the winged pest, we suggest starting with an antennaed ladybug outfit, then using paint and cardboard to add another set of wings. Top it off with a bug zapper to make the costume instantly recognizable. (Plus, it may help if there are any actual lanternflies around while you trick-or-treat.)
Ask a Cool Person: The sequined mermaid that channels a familiar Disney princess
Art advisor Elizabeth Dimond's 3-year-old twins, Piper and Charlee, haven't seen The Little Mermaid yet — but they do love mermaids, which is why they proposed going as the sea creature for Halloween (it's the first time they've picked out their own costumes). Dimond took it upon herself to find something that would please her toddlers' "ever-changing minds" but wouldn't be too pricey (just in case). This sparkly set includes a shell-adorned headband and familiar red wig that recall Disney's animated Ariel. The costume is already in heavy rotation at home with one twin wearing the wig daily. To keep her 8-month-old, Quinn, on theme, Dimond is dressing her up as Ursula the sea witch.
Ask a Cool Person: A glow-in-the-dark, adorably poofy pumpkin
Alisa Richter, head of public relations at the Sill, has bought Pottery Barn Kids' Halloween costumes for her 3-year-old son Finn for the last three years in a row. The brand is a popular source for costumes among parents in the know, and has an extensive selection. This year, Richer chose this classic jack-o'-lantern costume for him. It features a glow-in-the-dark grin and a hat topped with a pumpkin stem. (Finn's 6-month-old baby sister, Cecilia, is going to be a strawberry). Richter also bought a coordinating light-up pumpkin trick-or-treat bag to complete the look. We heard praise for PBK's costumes from Lucy Rosenfeld, an associate vice-president at marketing agency Shadow. "They're not your average 'store bought' costumes — they're made to last and will be able to be passed down from kid to kid," Rosenfeld says. (Her son's Lightning McQueen costume is now sold out, but the company still has lots of other options in stock.)
Snooping: The shiny silver astronaut seen on America Ferrera and Andy Cohen's kids
Other apparent fans of Pottery Barn Kids' costumes are America Ferrera and Andy Cohen: When my curiosity over the costumes that celebrities choose for their kids led me to a BuzzFeed listicle from last year, I couldn't help but notice that Ferrera (mother to Sebastian and Lucia) and Cohen (whose son's name is Benjamin) put their kiddos in similar silvery spacesuits. After close inspection of the details — including the petal-like flames on the jetpack and the star-embroidered chest patch — I'm confident the outfit is from PBK. It also comes in baby- and toddler-size versions, and if you want to stay fully on theme, the company sells a coordinating rocket-ship treat bag that can be personalized with your kid's name or initials.
Expert-Recommended: A silly pizza slice for a kid who loves carbs
In an act of "peak preschool-slash-sibling humor," the 6-year-old daughter and 3-year-old son of Chloe Varelidi, founder of play-set maker Follies, are dressing up as a duo of pasta and pizza. (Varelidi attributes the idea to a family trip to Italy this past summer.) She particularly liked the "questionable Photoshop skills" involved in the making of this slice: "My rule is always that when the idea for a costume is ridiculous, it really needs to be very obviously ridiculous," Varelidi says. As a bonus, her very active son can easily run around in the slice, which slips on over his head and shoulders.
Ask a Cool Person: A tutu-ed, caped crusader for a kid who's into superheroes and sparkles
Lila, the daughter of Katie Bishop, supervising producer of Vox Media's Criminal Productions, is a big fan of the PBS animated show Hero Elementary, which follows a group of students enrolled in a school for "budding superheroes." (Her favorite character is a boy who can wondrously make bubbles.) The 4-year-old also can't resist sparkle — so Bishop bought her this set that includes a starry tulle skirt alongside a lightning-bolt-emblazoned cape and mask. "Lila has started saying that she also wants to be a cat? And a unicorn? While also being a superhero? And I feel like in a pinch we could make that happen with a few headbands plus this costume," Bishop says.
People's Choice: A ready-for-duty firefighter with almost 3,000 Amazon reviews
This set from beloved toy brand Melissa & Doug boasts a 4.8-star rating on Amazon across more than 2,800 reviews. Reviewers praise the costume's quality with one joking that their grandson "put out a tremendous amount of fires" with it on and another explaining that the hat-and-jacket combination is tough enough for intense pretend play. The jacket features reflective panels, a name tag, and Velcro bands to hold an included fire extinguisher. Note that the bullhorn can get "excessively loud," per one recent review, but a piece of packing tape over the speaker can be a quick fix.
Expert-Recommended: The best Halloween makeup for kids, according to a professional face-painter
To put the finishing touch on any costume — or to turn any kid into a cat, jack-o'-lantern, or other simple-to-paint design — you'll want to have some face paint on hand. In our guide to the best Halloween makeup, Stacy Chen, co-founder of face-painting company Silly Cheeks, turned us onto Go Green's paints. Chen warns against using markers or other art supplies you may have at home, because they can irritate a child's sensitive skin; instead, she suggests going with organic cosmetics like these. Chen likes that Go Green's paint is ready to apply and doesn't require water to activate.
Quick Pick: Target's clever costumes for wheelchairs
As the Strategist's self-appointed Halloween expert-slash-obsessive, I'm no stranger to Target's Hyde & Eek! line, which is well-known for décor like posable skeletons and a vast assortment of costumes and accessories. A quick peek at this year's offerings led me to its adaptive costume selection. It's difficult to find adaptive clothing, let alone Halloween costumes. So the brand's inclusivity — as well as variety — is welcome and appreciated. Options include a rocket ship, a rainbow, a mermaid, and a dragon, but this "flying witch" is probably my favorite. The costume comes with covers to make a wheelchair resemble a nighttime sky and a witch's hat.
Ask a Cool Person: A Pokémon trainer to catch 'em all
Pokémon is forever, it seems, and there's a new Pokéfever going around right now, with multiple kids we talked to for our back-to-school guide expressing their love for Pikachu and all the rest (especially the related merch). I heard about the resurgence again from Catherine Smart, co-founder of sauce company Not Just Co., whose first-grader Jack loves the franchise. "All of a sudden, Jack was begging for cards — even proposing chores for card money — and his social life started revolving around a binder of cards and shrewd trades with his friends," Smart says. So there was no competition for what he would be this Halloween. Smart appreciates the practicality of this "trainer" costume, as Jack can wear a long-sleeve shirt underneath the jacket or switch between pants and shorts.
Quick Poll: A Halloween-fanatic-approved zombie and werewolf combo
Debbie Varias Derritt, a senior analyst at JetBlue Airways, is famous in her circle for going all out on her family's Halloween costumes — one year, when her two kids were younger, she dressed them in a Napoleon Dynamite theme with her daughter Tessa wearing a "Vote for Pedro" tee and her son Grayson carrying a "Lafawnduh" sign. These days, her kids — who are now 7 and 4 — are big fans of the Zombies musicals on Disney+. "They have watched all three movies about 100 times," Derritt jokes. For Halloween they want to dress up as their favorite characters, Willa the werewolf and Zed the zombie. (Derritt plans on adding finishing touches like purple eyeshadow for Tessa.) Perhaps they'll meet some fellow Zombies fans when it's time to trick-or-treat: Party City's vice-president of Halloween, Odette Welling, told me the film franchise is a runaway hit with customers right now — a costume for another character from the series, Addison the alien, is one of the company's top sellers in the kids' category.
People's Choice: The scrubbed-in surgeon with more than 1,400 Amazon reviews
Another popular costume on Amazon is this one-size-fits-most surgeon uniform, which boasts a 4.5-star rating across more than 1,400 reviews. Customers were especially impressed by the quality — one reviewer praised how the set "feels like scrubs and looks like scrubs," down to the stitching. The ensemble comes with a long list of accessories that you'd see in a doctor's office, including a stethoscope, otoscope, thermometer, injection needle, and blood-pressure gauge. Another reviewer said their son "got into character right away" once he put on the scrubs, "listening to our hearts and bandaging owies."
Quick Pick: The comfiest costume we could find after 20 minutes of research
I found a few strong contenders when I Googled Halloween costumes — including a rainbow complete with a cloud umbrella (but it's sold out in many sizes) and a lamé, googly-eyed octopus. But this "Monster Mash" one-piece won out because it's versatile, gender-neutral, and supremely easy. It has horns and spikes, yet looks plenty cozy and cuddly to keep your kid warm in chilly October temps. They could say they're a dinosaur, or an extra from Monsters, Inc. And as a bonus, there's an adult version if you're hoping to find matching costumes for the whole family.
Ask a Cool Person: Captain America and Spider-Man for two mini Marvel fans
"I very much want my kids to be the ones to decide their own costumed fate," says James Beard Award–nominated journalist and mom of two Hannah Selinger of her Halloween philosophy. As long as her 5-year-old and 3-year-old sons, Nathaniel and Miles, respect her policy of not choosing costumes that have guns as accessories, she tries to give them as much freedom as possible. With that said, Selinger always searches for uncomplicated getups because "I guarantee you that you'll have 30,000 bathroom breaks in between the time you get dressed and get out the door," she says. The best costumes are "visually compelling, inexpensive, and don't have too many bells or whistles," she explains. These two fit the bill for this year, as her sons are very into Marvel movies at the moment. The ensembles are "essentially leotards," accompanied by corresponding character headpieces (Captain America comes with a star-emblazoned shield).
The Strategist is designed to surface the most useful, expert recommendations for things to buy across the vast e-commerce landscape. Some of our latest conquests include the best women's jeans, rolling luggage, pillows for side sleepers, ultra-flattering pants, and bath towels. We update links when possible, but note that deals can expire and all prices are subject to change.
Every editorial product is independently selected. If you buy something through our links, New York may earn an affiliate commission.