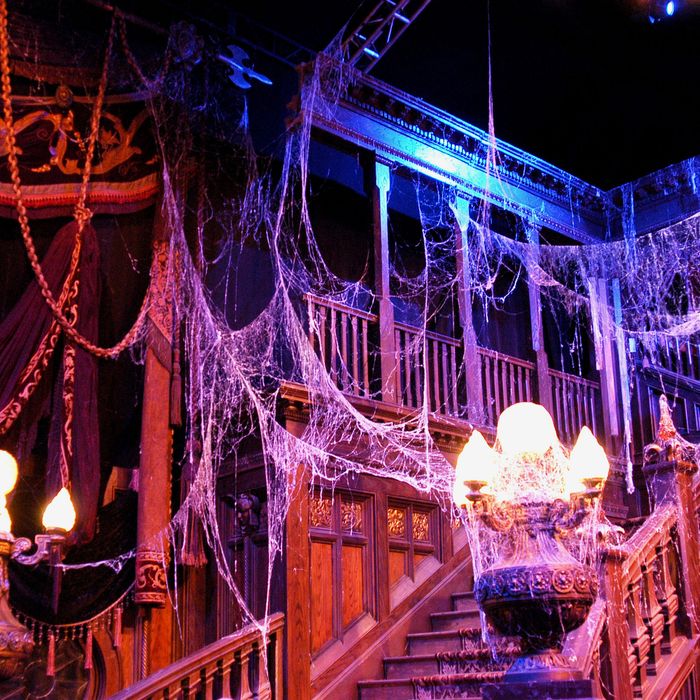 Photo: Barry King/WireImage
Whether you're hosting a Halloween party and want to scare your guests, preparing your porch for trick-or-treaters, or trying to impress your neighbors, you need Halloween decorations. But even though crazy inflatables and cheap cobwebs are readily available, you can find plenty of tasteful-yet-spooky, even professional-grade, Halloween décor for sale online. And if you're placing outdoor Halloween decorations, you also want to make sure they're sturdy enough to withstand variable October weather. So to help you find the best Halloween lights, yard decorations, props, and even scents, I asked five haunted-house designers and architects for advice on turning your home into a haunted house, both inside and out.
Best cobwebs and wall decorations
Leonard Pickel, a haunted-house architect with over 40 years of experience in the industry and over 300 professional haunts under his belt, and Kris Golojuch, founder of haunted-house consulting and design firm Scareventures, both recommend steering clear of black plastic trash-bag-like material, called visqueen, when decorating. "It's just a massive fire hazard," says Golojuch. "People tend to want to build tunnels out of them and they can be very scary if that were ever to catch on fire. It looks very cheap and tacky from the outside anyway." A better alternative, according to Pickel, is Creepy Cloth, which is basically loosely woven, cheeseclothlike material that you can drape over lamps, doorways, furniture, and hallways.
Most of the professional haunted-house designers I spoke with also dismissed cotton cobwebs from a bag because they glob into big masses when they get wet and are difficult to work with. Their recommendation is to instead repurpose beef netting, used by butchers to keep sausages and cured meats together. According to Golojuch, this stretchy material is also used in professional haunted houses to create cobwebs. "Knott's Berry Farm was one of the pioneers using beef netting to make big spider webs, and we still use that," he says. "It's just a popular look. It doesn't always look real, but there's a lot of fun things you can do with it. Universal used it to create the Upside Down for Stranger Things." And because the beef netting is sturdy and will keep its shape, you can use it either inside or outside.
Best Halloween lights
Light is another easy way to create a spooky atmosphere, both indoors and out. "Darkness is your friend, but less is more," says Pickel. "So when you're thinking about doing your Halloween party, now you're talking about really dimming down the light." That means using a dimmer or replacing your regular bulbs with super low-watt versions. "We're talking 15 watts. Even a 30-watt bulb is way too bright to light your house," he says.
You can also use so-called colored "party bulbs" to set the mood. "Inside, yellows and oranges and reds is probably the direction I would go. It's going to make you feel more on edge. Those are the kind of colors that you put in a fast-food restaurant to get people moving around." Pickel recommends CFL bulbs to incandescent ones because they generate less heat and therefore present less of a fire hazard.
For effective outdoor lighting, Pickel recommends pointing a purple or green light straight up at your house. "The landscapers even call the concept of shining lights up at trees or up at a building the Dracula effect because when the sun is out, all the lighting is coming from the top down, and that's how people see their houses, even at night," he explains. "So if you flip that, it gives the structure a completely different look and a completely different feel," specifically a spooky one. These lights are solar-powered, so they charge all day and shine all night; to add color, simply slap on a theatrical lighting gel.
Best Halloween decorations for large spaces
One recent trend in professional haunted houses has been the use of animations and video projectors to create an immersive experience. And though it looks quite professional, it's an effect that easily translates to the home, especially if you already own a small projector or have limited floor space for props. "You either put it on the window so it's seen from outside, or you put it on the wall," inside your house, explains Brett Hays, president of the Haunted Attraction Association (HAA), a trade organization for haunted-house designers and other folks in the industry. That way, when trick-or-treaters see your house from the outside, "it looks like zombies are all clawing at the window, trying to come in, or there's a character that shows up in the doorway," which can spook party guests. Both Hays and Dan Hower, secretary of the HAA, recommend the animations from AtmosFX. This collection would be great for a window projection, with a looping zombie-swarm animation.
These so-called Ghostly Apparitions can be projected inside your home, so it looks like ghosts are flying out of the walls or doorways.
If you don't have a projector but want to use these effects, AtmosFX also sells an all-in-one projector with 14 preloaded scenes.
A quick way to set a mood or decorate a large outdoor area, like your yard, for Halloween is with a fog machine. Froggy's Fog is the industry standard, used in haunted houses and in theatrical products, and even by fire departments trying to train firefighters, according to Pickel, and they make both fog machines and high-quality fog fluid — or "fog juice" — that is nontoxic and won't gunk anything up in your home.
A ground fog machine, which cools down the fog and keeps it low to the ground, is another space-effective option. "It'll lay low and it'll kind of cover the whole area," says Hays. "So it covers a lot of ground and sort of brings everything into it without a lot of expensive decorations everywhere."
If you want to take your fog one step further, Hays recommends adding scents, also manufactured by Froggy's Fog. "We've been doing that for a few years, but I think that is kind of a neat thing that really completes the effect," he says. "You can purchase every different kind of scent. If it's a graveyard, you have a kind of a musty earth kind of smell, or if it's a hospital setting, you have a really clinical chemical smell. There are just unlimited variations: campfire, cotton candy, forest, gun smoke, pine."
You don't need a fog machine to take advantage of these scents, though, and turn your home into an immersive Halloween experience. Froggy's also sells stand-alone scent-distribution boxes that release very convincing smells, according to Hays. Though he offers one word of warning: "The absolute worst one is called slaughterhouse. It really stinks, [but] it's really effective because it's really strong."
Best Halloween props
If you're looking to buy effective, cost-effective Halloween props, all of the experts recommended hitting up Home Depot, which has become a go-to source for high-quality but affordable Halloween decorations. "Some of these animatronics are almost as good as the professional-quality props," says Hower. "I've seen a lot of pneumatics and moving animations that are now there that five years ago wasn't even an option for a home haunter, but now is reasonably priced." The best deal, however, is probably the skeletons, which are durable and well-formed, according to Golojuch. "It's very lightweight and it accepts paint, it's easy to age, add things to it. You can dress them up, and it doesn't take a whole lot to stand them up if you use some rebar."
Golojuch is also excited about the selection of animal-shaped bones at Home Depot. "There's always new creatures. They've had fish, they've had dogs. They have full-size horses. They have dinosaurs. They had a big T-Rex last year," he says. "They're pretty good because they're very anatomically correct. The sculpting department has done an awesome job with those, so if I was doing a home haunt, I would definitely be loading up on those." Simply place a little dog skeleton by your front door to greet guests, and you'll be all set to scare.
The Strategist is designed to surface the most useful, expert recommendations for things to buy across the vast e-commerce landscape. Some of our latest conquests include the best acne treatments, rolling luggage, pillows for side sleepers, natural anxiety remedies, and bath towels. We update links when possible, but note that deals can expire and all prices are subject to change.
Every editorial product is independently selected. If you buy something through our links, New York may earn an affiliate commission.