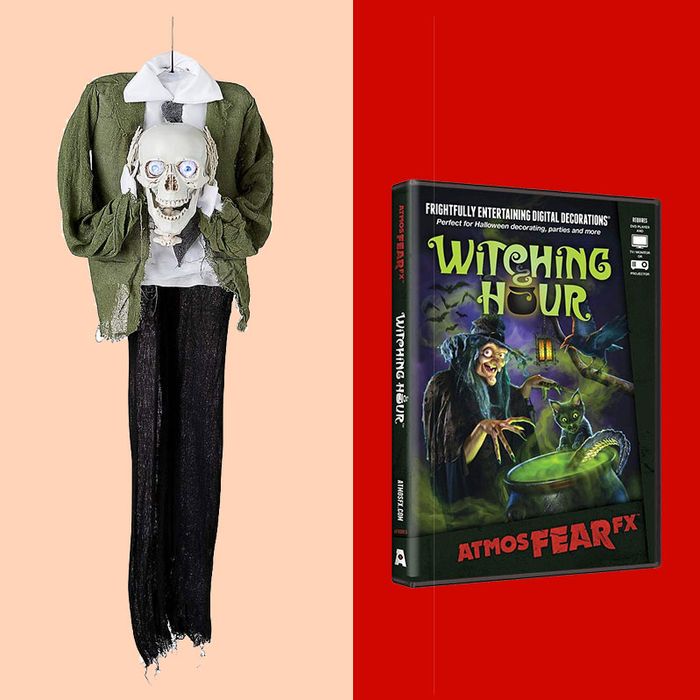 Photo-Illustration: RETAILERS
Sure, we expect to see a sea of green tracksuits, stickered faces à la Sour, and vaping Mare Sheehans haunting neighborhoods this Halloween. But costumes aren't the only way to get into the spirit. Whether you're hosting or handing out candy, spooky decorations are a must. To help you find the best Halloween lights, yard decorations, props, and even scents, we asked five haunted-house designers and architects how to turn your home into a house of horrors.
Best cobwebs and wall decorations
Leonard Pickel, a haunted-house architect with over 40 years of experience in the industry and over 300 professional haunts under his belt, and Kris Golojuch, founder of haunted-house consulting and design firm Scareventures, both recommend steering clear of the black plastic trash-bag-like material called visqueen when decorating. "It's just a massive fire hazard," says Golojuch. "People tend to want to build tunnels out of them, and they can be very scary if that were ever to catch on fire. It looks very cheap and tacky from the outside, anyway." A better alternative, according to Pickel, is Creepy Cloth, which is basically loosely woven, cheesecloth-like material that you can drape over lamps, doorways, and furniture. These tattered spiderwebs are among the best cheap but expensive-looking Halloween décor you can find on Amazon that we've written about in the past, too.
Most of the professional haunted-house designers we spoke with also dismissed cotton cobwebs from a bag because they glob into big masses when they get wet and are difficult to work with. Their recommendation is to instead repurpose beef netting, used by butchers to keep sausages and cured meats together. According to Golojuch, this stretchy material is also used in professional haunted houses to create cobwebs. "Knott's Berry Farm was one of the pioneers using beef netting to make big spider webs, and we still use that," he says. "It's just a popular look. It doesn't always look real, but there's a lot of fun things you can do with it. Universal used it to create the Upside Down for Stranger Things." And because the beef netting is sturdy and will keep its shape, you can use it either inside or outside — for all of your neighbors to see from a distance.
Best Halloween lights
Light is another easy way to create a spooky atmosphere, both indoors and out. "Darkness is your friend, but less is more," says Pickel. When it comes to creating dimmer lighting indoors — even if it's just for the benefit and fright of immediate members of your household — all you need to do is replace your regular bulbs with super-low-watt versions. "We're talking 15 watts. Even a 30-watt bulb is way too bright to light your house," says Pickel.