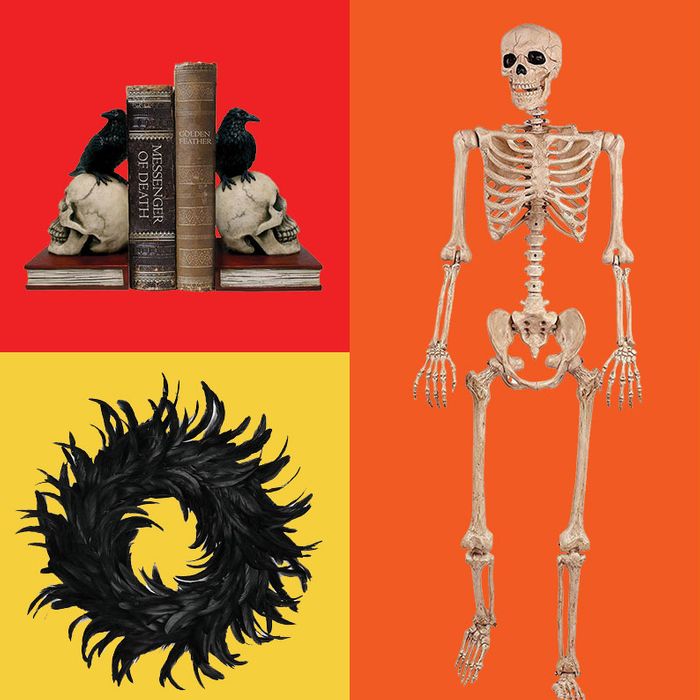 Photo: Courtesy of the retailer
Believe it or not, it's time to start thinking about Halloween. Decorating for Halloween is always a bit of a free-for-all: You have jack-o'-lanterns, skeletons, witches, vampires, spiders, and ghosts to choose from. Or you can go in the more minimalist direction and just embrace the orange-and-black color theme. There are tons of options and that's what makes it so fun, but it also means things can easily get a little kitschy. We combed through the holiday options on Amazon to find inexpensive, unique Halloween decorations that don't look like they all came from a party-supply warehouse.
Hung from your front door, this creepy feather wreath will let trick-or-treaters know you mean business.
A black macrame wall hanging for those who prefer to quietly embrace the holiday theme.
Or, some black tattered spiderwebs for those who want to really go for it.
Channel the occult with this reproduction of an antique palmistry woodblock print.
We think these purple and orange string are a bit more interesting than your average jack-o'-lantern or ghost string lights.
Create some spooky red shadows by placing a candle in this lantern.
These miniature black "spell" candles are understated and affordable. Put them in an old candlestick to amp up the spookiness.
Some orange pillar candles to add a little color to your holiday display. (There's a lot of black in this list, we know.)
Of course we had to include a skull candle.
Having looked through dozens of Halloween balloon options, we think these are the nicest inexpensive ones around. The bold shapes and expressive faces feel more graphic design-y and less pop-up holiday gift shop.
Glittery spiders, and ravens, and bats!
We prefer the slightly abstract look of these sticky bats to other more realistic–looking bat decorations that are more readily available.
This is a real black rose that's been treated with a preservation process. The product description says it "can last 3 to 5 years" — we are skeptical — but if you take the maker at its word, odds are good that this melodramatic centerpiece will last for another Halloween or two.
A moody bouquet of a dozen tinted roses.