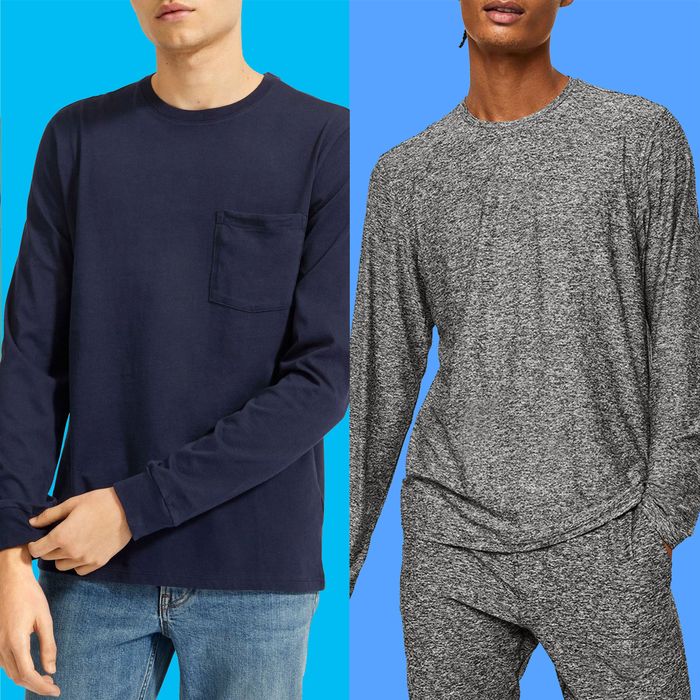 Just like their bicep-exposing counterparts, long-sleeved T-shirts have long been a staple in the wardrobes of many people. "Short-sleeved tees may get all the love," explains stylist and fashion designer Jordan Page, the curator of the fashion-history Instagram account @veryadvanced. "But the long-sleeved tee is often the more appropriate choice, for both style and function." When it comes to style, Page explains that long-sleeved tees "can look classier than regular ones because they're less loose and more complete." Function is found in the added coverage provided by their longer sleeves, which Page says make the shirts "more comfortable for layering because you don't get that direct, sometimes itchy on-skin contact from outer layers made of more textured fabrics like wool."
But as our previous reporting on the best men's T-shirts has taught us, not all clothes — even simple staples — are created equal. To find the best men's long-sleeved T-shirts, we asked 14 cool people to tell us about the ones they reach for the most. While a clear favorite emerged, we also heard about a variety of worthy tees at a variety of price points. So our list leads with the long-sleeved tee we heard the most about, before breaking down the other recommendations by retail price, in order to help shoppers of every budget.
Best overall men's long-sleeved T-shirt
"In 2021, no one should be spending that much on wardrobe basics," says actor and model Kyle Andrew. "They should be buying stocks that 18-year-olds recommend on Reddit." All joking aside, Andrew says that for anyone who wants to "improve their look without breaking the bank," you can't do better than Gildan. He says its Ultra Cotton long-sleeved T-shirt is a "great option, especially for layering," not least because it comes in no less than 70 colors. Andrew is among a growing cadre of cool guys who've recommended Gildan's long-sleeved tees to us. Another one of those guys is Chris Black, who has called them a "wardrobe staple." A third is pop-music critic Jon Caramanica, a former Critical Shopper columnist for the New York Times, who told us Gildan's long-sleeved tees are not only "durable" with an "unflappable crew neck" but that their "personality begins to emerge" after a couple washes.
Best under-$25 men's long-sleeved T-shirts
While our best overall long-sleeved T-shirt is pretty affordable, those who want to spend even less can do so on this long-sleeved Hanes tee (with a handy front pocket) that comes recommended by Mark Miguez, a co-owner of the Friend of a Barber barbershop. He describes the fit as "boxy but sits on the body" and, like the Gildan tee above, says this one also "gets better with every wash." It's available in 13 colors; Miguez owns it in black and gray and says he wears both "all the time: at work with jeans and sneakers, on the beach with shorts, and dressed up with a leather jacket."
Creative producer Yale Breslin described Everlane's long-sleeved tee in a way that really resonates with us: It's the "one long-sleeve I always hope is clean, ready to wear, and not in the laundry pile," he says. It too "has that perfect pocket that nobody uses whatsoever but looks damn cute," he notes. Breslin calls its look "classic and no fuss," adding that the tee is "completely durable." It's available in four more neutral colors, including charcoal and black, in addition to the navy shown.
L.L.Bean is right up there with Everlane in terms of brands we tend to write about over and over again. Andrew Favorito, who works in marketing for Tatcha, gave us our latest reason to write about it: this long-sleeved pocket tee, which he says deserves as much attention as the brand's tote bags, slippers, and fleeces. "It's exactly what you'd expect from L.L.Bean in regard to quality, cost, and styling," he says. "No frills, no fluff, no ridiculous markup — just a good shirt." It comes in 11 colors, from the bright orangey-red Cayenne shown to a (surely) red-wine-inspired port to plenty of neutrals. And sticklers should note the price is technically $24.95 — we've just rounded up.
This isn't the only long-sleeved waffle shirt we heard about, but it is the most affordable one. Tim Melideo, who runs the men's fashion website Stay Classic (which focuses on affordable style), told us he owns a couple and that the tee is "supersoft, fits well, and washes well." With its signature button-neck, he adds that a henley is a great style to go for when you want something that's "not as plain as a solid long-sleeved tee." Shown in olive heather, it's available in five more neutral tones.
Best under-$50 men's long-sleeved T-shirts