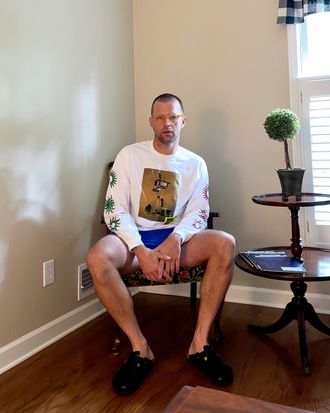 If you're looking for the most powerful hair dryer or the handiest chef's knife, those things can be easy enough to find. Other objects of desire are a little more taste-based. What's the next status water bottle or hand wash, for instance? If you have a burning question about the next fanny pack or Noah rugby shirt, Chris Black is here to answer it in a regular column.
Can you point me to some next-level hiking gear, from the coolest pants to shoes to water bottles?
My lack of enthusiasm for the outdoors is well documented. My time outside is running on concrete in urban environments or "hiking" from the East Village to Union Square to see my therapist. But, lucky for you dear reader, I have friends that love nature. Aaron Bobrow is an artist and design director whose multidisciplinary practice focuses on the intersection of art, design, and the outdoors. He has excellent taste and has put together a collection of must-have functional gear that will have you looking (and staying) cool on any trail this summer. Aaron will take it from here …
Limiting exposure to summer sun is a good thing, and, contrary to popular belief, short sleeves are not always cooler. I like this long-sleeve shirt from Columbia: It has a looser fit, so it hangs in a way that allows for some airflow. What's more, it's made using Columbia's proprietary Omni-Freeze fabric. To quote contributor Steven John, who is also a fan of Columbia gear made with this fabric, "Once dampened by your sweat, it helps enhance your body's natural evaporative-cooling process." The shirt is also UPF 30, so it will not only cover your arms from the sun, but shield its harmful rays, too.
My go-to hiking bottoms are a DIY twist on Dickies hard-wearing 874 pants that Chris and other cool dudes have praised on this site before. When you cut off the legs, they make perfect hiking shorts — the durability and styling is truly unmatched. And they're probably cheaper than most shorts that are marketed specifically for hiking.
Made from astonishingly soft and breathable Tencel jersey, these Patagonia boxers perform like most things from the brand: exceptionally well. They don't ride up, you can't feel them while hiking, and they are outstanding in the temperature-regulation department. Worth every penny.
After testing a bunch of hiking socks last year, a clear favorite emerged: Keen's North Country Lite Crew socks. They're made of a merino-wool blend and the tops of the socks are thin and breathable, while the bottoms are well (but not overly) cushioned. Unlike other pairs in the wool-sock category, these puppies also hold up great after many machine washes.
The Moab, or Mother of All Boots, is the Air Force 1 of hiking shoes. A true sneaker-boot hybrid, it's the number-one footwear on the trail for many reasons, including its out-of-the-box flexibility, rugged outsole, and durable, breathable upper. The brand updated the style a bit for this pair made in collaboration with Outdoor Voices: These are less bulky around the tongue, have a better liner inside, and the color is unique for the collab.
Pa'lante makes high-quality, super-lightweight packs designed to move with your body on long hikes. Wearing one of these feels more like wearing a featherweight jacket (with extra pockets) than a backpack. The downside: All the packs are released periodically in small batches, so they sell out fast (their bigger backpack is sold out, and this smaller day pack is in limited stock). The brand alerts buyers to new product releases on social media, though, so be sure to check in if you can't get the one you like right away. They're also a local operation: Pa'lante packs are designed in Colorado and manufactured in Utah and Arizona.
I've yet to find a more durable way to stay hydrated than this. Its double-wall insulation keeps my preferred bev at the right temp for days. Some might say it is too heavy, but I find its sturdiness to have a grounding effect. Bonus: No bladder-cleaning tools necessary, as the Rambler is dishwasher safe.
I discovered blüBandoo at a gas station in New Mexico. The floppy bucket hat features water-activated cooling crystals that dissolve into a cool gel to help regulate temperature when you wet the hat. The hat dries fast, but the gel dries slower, eventually returning to crystal form (at which point you can rewet the hat again). In addition to this technology, the hat features UPF 50-plus sun protection, and this set comes with a neckerchief of sorts treated with the same cooling technology. If you don't like the tan color shown here, Amazon has it in a few other options.