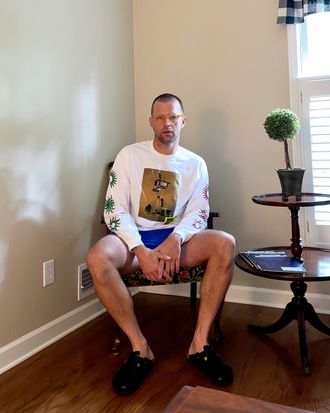 If you're looking for the most powerful hair dryer or the handiest chef's knife, those things can be easy enough to find. Other objects of desire are a little more taste-based. What's the next status water bottle or hand wash, for instance? If you have a burning question about the next fanny pack or Noah rugby shirt, Chris Black is here to answer it in a regular column.
Can you point me to some next-level hiking gear, from the coolest pants to shoes to water bottles?
My lack of enthusiasm for the outdoors is well documented. My time outside is running on concrete in urban environments or "hiking" from the East Village to Union Square to see my therapist. But, lucky for you dear reader, I have friends that love nature. Aaron Bobrow is an artist and design director whose multidisciplinary practice focuses on the intersection of art, design, and the outdoors. He has excellent taste and has put together a collection of must-have functional gear that will have you looking (and staying) cool on any trail this summer. Aaron will take it from here …
Limiting exposure to summer sun is a good thing, and, contrary to popular belief, short sleeves are not always cooler. I like this long-sleeve shirt from Columbia: It has a looser fit, so it hangs in a way that allows for some airflow. What's more, it's made using Columbia's proprietary Omni-Freeze fabric. To quote contributor Steven John, who is also a fan of Columbia gear made with this fabric, "Once dampened by your sweat, it helps enhance your body's natural evaporative-cooling process." The shirt is also UPF 30, so it will not only cover your arms from the sun, but shield its harmful rays, too.
My go-to hiking bottoms are a DIY twist on Dickies hard-wearing 874 pants that Chris and other cool dudes have praised on this site before. When you cut off the legs, they make perfect hiking shorts — the durability and styling is truly unmatched. And they're probably cheaper than most shorts that are marketed specifically for hiking.
Made from astonishingly soft and breathable Tencel jersey, these Patagonia boxers perform like most things from the brand: exceptionally well. They don't ride up, you can't feel them while hiking, and they are outstanding in the temperature-regulation department. Worth every penny.